FILM FESTIVAL PArtner Perks
Show your AGH Film Festival ticket stub, 10-pack pass or Film Lover All-Access Pass during the AGH Film Festival (October 17 – 27) at the following locations across Hamilton and enjoy these discounts and offers!
Contact filmfestival@artgalleryofhamilton.com with any inquiries.
Join us before or after your screening at the locations below and enjoy your Festival Partner Perks. A great meeting place for your friends too! See the Menu Partners and Discounts & Offers sections below for details for each location.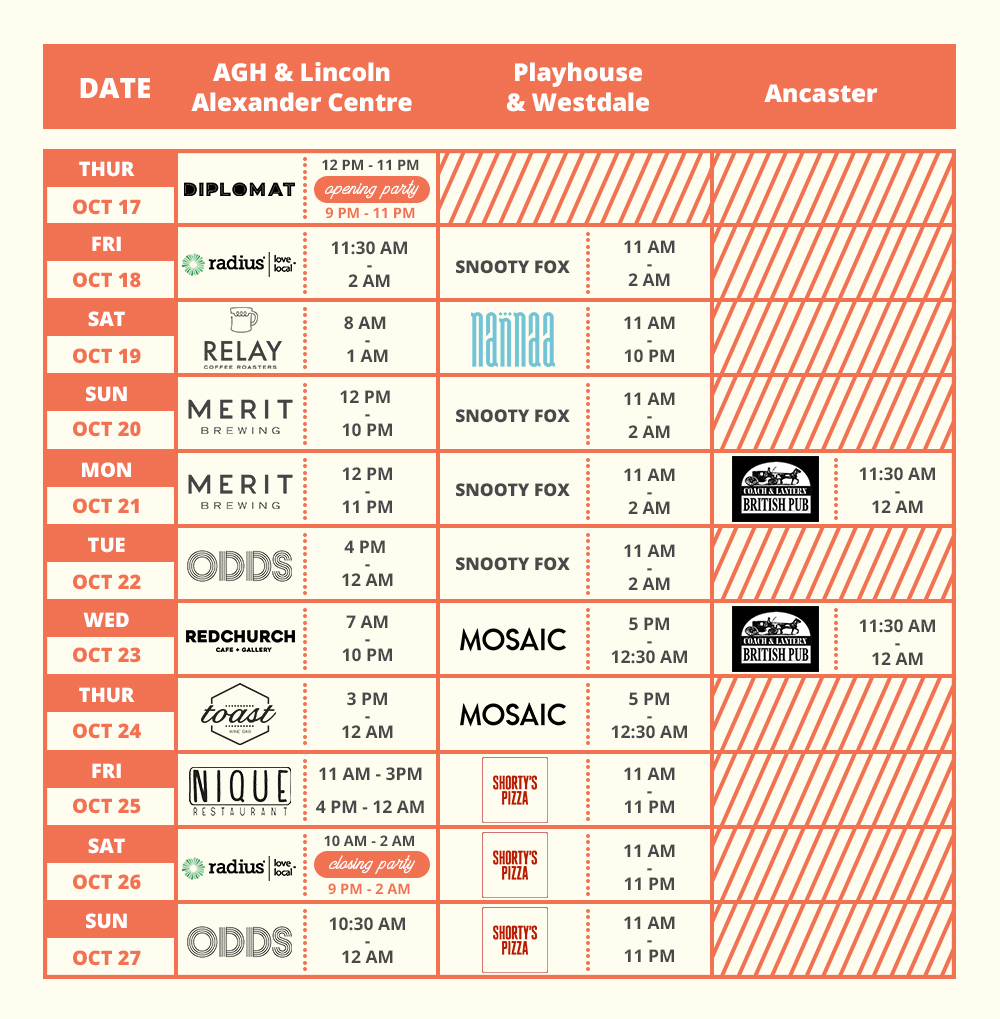 | | | |
| --- | --- | --- |
| Partner | Perk | Location |
| Castelli Cucina | 3 FOR $30 MENU + 1 WALK-IN RESERVED TABLE | 337 James St N, Hamilton, ON L8L 1H3 |
| Charred Rotisserie House | PRIX-FIXE MENU | 244 James St N, Hamilton, ON L8R 2L2 |
| The Diplomat | $7 SNACK MENU | 43 King William St, Hamilton, ON L8R 1A2 |
| Odds Bar | 3 COURSE PRIX-FIXE MENU FOR $35 | 164 James Street South, Hamilton, L8P 3A2 |
| Radius | PRIX-FIXE LUNCH & DINNER MENUS | 151 James St S, Hamilton, ON L8P 2Z5 |
| | | |
| --- | --- | --- |
| Partner | Perk | Location |
| 193 Bench Kitchen | 15% DISCOUNT | 193 King St E, Hamilton, ON L8N 1B3 |
| 541 Eatery & Exchange | BUY 1 GET 1 FREE SPECIALTY DRINK | 541 Barton St E, Hamilton, ON L8L 2Z2 |
| Coach & Lantern | 15% DISCOUNT | 384 Wilson St E, Ancaster, ON L9G 2C2 |
| The Diplomat | FEATURED DRINK & MENU | 43 King William St, Hamilton, ON L8R 1A2 |
| Earth to Table Breadbar: James St | 20% DISCOUNT, FEATURED DRINK | 14 James St N, Hamilton, ON L8R 2J9 |
| Fresh Kravings | 10% DISCOUNT | 109 James St N, Hamilton, ON L8R 2K6 |
| The House of Java | 10% DISCOUNT | 166 James St S, Hamilton, ON L8P 3A2 |
| India Village Restaurant | 15% DISCOUNT | 370 Wilson St E #13, Ancaster, ON L9G 4S4 |
| Merit Brewing | 30% DISCOUNT ON FLIGHT OF BEER | 107 James St N, Hamilton, ON L8R 2K6 |
| Mezcal Tacos & Tequila | $7 MARGARITAS, 3 FOR $15 TACOS | 150 James St S, Hamilton, ON L8P 3A2 |
| Mosaic | 20% DISCOUNT ON BEER FROM LOCAL BREWERIES | 431 Barton St E, Hamilton, ON L8L 2Y5 |
| My Thai | 15% DISCOUNT | 42 Wilson St W, Ancaster, ON L9G 1N3 |
| Nannaa Persian Eatery | 10% DISCOUNT | 1010 King St W, Hamilton, ON L8S 1L4, Canada |
| Nique Restaurant | 15% DISCOUNT, FEATURED COCKTAIL | 30 Vine St, Hamilton, ON L8R 2K8 |
| One Duke Restaurant | 2 PUB PASTA/PIZZA FOR $30 | 1 Duke St, Hamilton, ON L8P 1W9 |
| Paisley Coffeehouse & Eatery | 10% DISCOUNT | 1020 King St W, Hamilton, ON L8S 1L4 |
| Phin Coffee Bar | 20% DISCOUNT, FEATURED DRINK | 804 King St W Unit 1, Hamilton, ON L8S 1K1 |
| Pita Pit | FREE COMBO WITH PITA PURCHASE | 1056 King St W, Hamilton, ON L8S 1L7 |
| Planted in Hamilton | FREE COOKIE WITH $10 PURCHASE | 225 John St S Unit 1, Hamilton, ON L8N 2C7 |
| Radius | 10% DISCOUNT | 151 James St S, Hamilton, ON L8P 2Z5 |
| RedChurch Cafe + Gallery | DAY: Latte + Cookie $5, NIGHT: Lager + Grilled Cheese $10 | Victoria Hall, 68 King St E, Hamilton, ON L8N 1A6 |
| RELAY Coffee Roasters | 20% DISCOUNT ON COFFEE, TEA, AND BAKED GOODS | 27 King William St, Hamilton, ON L8R 1A1 |
| Shorty's Pizza | DRINK + SLICE PAIRING | 1099 Cannon St E, Hamilton, ON L8L 2J6 |
| Smalls Coffee | $1 OFF ANY DRINK | 8 Cannon St E, Hamilton, ON L8L 1Z5 |
| Snooty Fox | 15% DISCOUNT, DRINK SPECIALS | 1011 King St W, Hamilton, ON L8S 1L1 |
| TCBY | BUY 1 GET 1 FREE SMALL FROZEN YOGURT | 1059 King St W, Hamilton, ON L8S 1L8 |
| Toast Wine Bar | FEATURED DRINK | 10 John St N, Hamilton, ON L8R 1G9 |
From the Contemporary Art Collection
We run in packs 2015
DaveandJenn (David John Foy Canadian b. 1982; Jennifer Saleik German b. 1983)
resin, acrylic and oil paint, Purchase, Permanent Collection Fund, 2015
© Courtesy DaveandJenn
See This Collection