BECOME A 2022 AGH FESTIVAL SPONSOR!
In 2022, the Art Gallery of Hamilton will be taking a big step in the evolution of our fall Festival, with the goal of intensifying the regional and multi-disciplinary connections which have made past Festivals so resonant. The Festival will expand its focus beyond film to include cultural practices such as visual art, music, live performance, and literature with the help of our vital key presenting partners.
The AGH Festival has a wide range of sponsorship opportunities for partners to promote their brands and increasing their community involvement to a large and engaged audience. We offer sponsorship and advertising packages with an option to customize packages to suit your marketing or brand objectives. If a specific topic is a priority, we are more than happy to discuss and customize ways to focus your support.
For more information on how your business can be part of the AGH Festival, please call Shawna White, Head of Partnerships & Development at (905) 527-6610 x275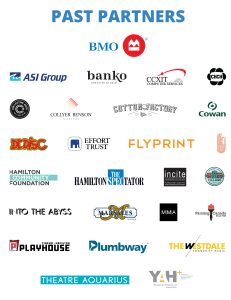 From the Contemporary Art Collection
Lucky, Lucky, Lucky 2010
Tim Whiten (Canadian b. 1941)
laminated and sculpted glass, Gift of the artist, 2015
© Courtesy Tim Whiten
See This Collection