At the Art Gallery of Hamilton, we're proud of our long-standing commitment to the preservation and promotion of the arts and education in our community.
Member and donor support makes this work possible. As a non-profit charitable organization the AGH relies on the support of its communities and supporters like you. Click "Donate Now" to make your contribution to the area of your choice.
Whether you're a member, volunteer, or donor (or all three!), there are many ways to become involved with your Gallery. Thank you to our generous supporters and community.
Help Us Keep Miss Rodney's Event in Hamilton!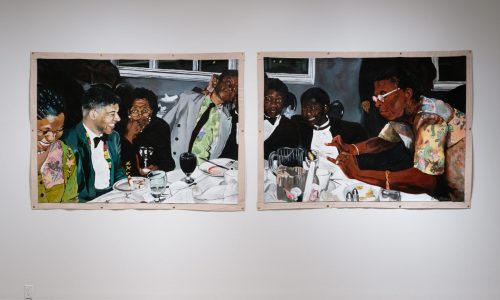 Support the AGH in acquiring important work, Miss Rodney's Event, by Hamilton artist Kareem-Anthony Ferreira.
An anonymous donor has stepped forward with an offer to match donations up to $35,000 towards the purchase. Donations of any amount will be matched dollar for dollar to ensure that this work stays in Hamilton.
From the Contemporary Art Collection
Self Validation, Columbia Icefields n.d.
Carl Beam (Canadian 1943-2005)
monoprint – photo lithography, ink wash and acrylic on paper, Gift of Wintario, 1980
© Carl Beam (Licenced by Copyright Visual Arts-CARCC, 2016)
See This Collection