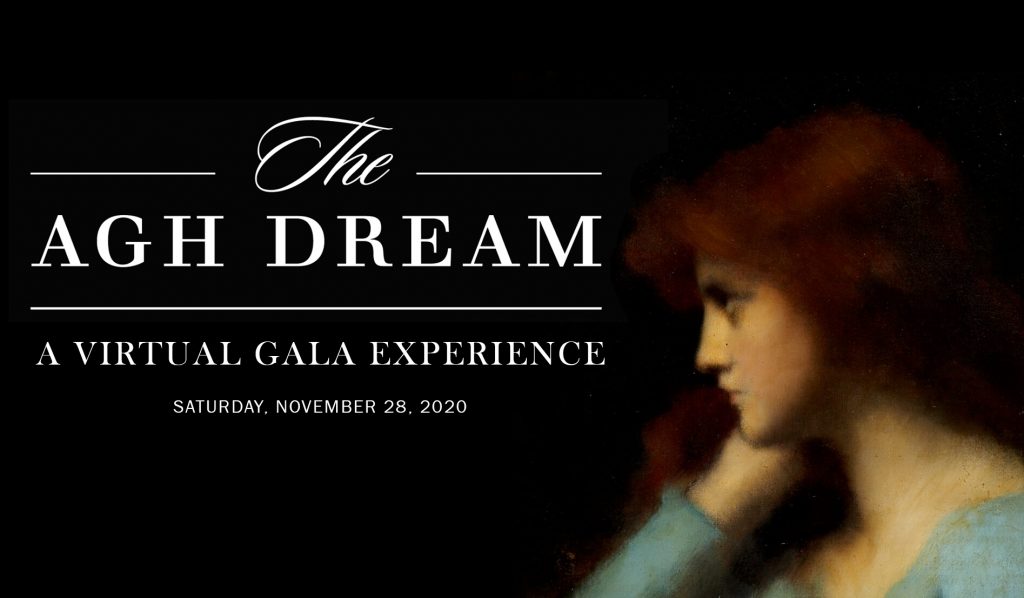 Thank you to our generous 2020 participants, attendees, donors, supporters, and sponsors. Your support goes directly toward funding research, programming, and education at the AGH.
For information about sponsoring our 2021 Gala, please
contact gala@artgalleryofhamilton.com  or (905) 527-6610 ext. 235
One day we will all look back on 2020 and wonder, "was it all a dream?" Until then, in an effort to keep our community safe and healthy, we are bringing the Art Gallery of Hamilton's Annual Gala to you virtually this year with the AGH Dream: A Virtual Gala Experience. 
Now more than ever, your support of this major annual fundraiser will make a critical impact on the future vibrancy of the Gallery and the communities we support. The AGH Dream: A Virtual Gala Experience is a demonstration of our collective spirit and ability to come together in new ways. As one of the most influential events of the season, we're pleased to welcome you to enjoy behind-the-scenes Gallery footage, video performances by Terra Lightfoot, Logan Staats, and the Hamilton City Ballet, along with access to our ever-popular auction – all celebrated virtually from the comforts of your home. Enhance your experience by adding a specialty, locally sourced culinary package, available by delivery to your home or curbside pickup at the AGH.
Whether you decide to tune in to the AGH Virtual Dream Gala from home during a private evening for two, or you host a small gathering in your home, we will provide everything you need to organize an elegant evening celebrating and supporting the AGH! All proceeds from the AGH Dream: A Virtual Gala Experience go toward building and serving communities through AGH exhibitions and public programs.
What is a Virtual Gala?
A virtual gala brings all the entertainment, food and beverages, auction, and inspiration right to your home. This means you will purchase tickets, bid on auction items, and take part in the celebration – all online.
Is there a deadline to register/buy tickets?
General access tickets will be available right up until the event starts on Saturday, November 28, 7:00 pm. If you wish to include food and beverage services with your registration, you must purchase your tickets by Monday November 23, 5:00pm.
Do I have to commit to a delivery address when I register/buy tickets?
Yes. If you select the delivery option, you will need to provide a committed delivery address. Scheduled delivery times will be communicated the week leading up to the Gala. This service is limited to the Greater Hamilton Regions and the City of Burlington. Please ensure that someone aged 19+ is available to receive your delivery.
How can I communicate my dietary requirements?
You can indicate this when registering online. Follow up for food sensitivities and allergies can also be made by contacting us at gala@artgalleryofhamilton.com by November 23, 5:00 pm.
How far do you deliver?
Dining delivery will be available for the Greater Hamilton Region as well as the City of Burlington. Curbside pick-up options are also available. Please note, should you like to order tickets that include food & beverage services, you will need to register by Monday, November 23, 5:00 pm.
How can I become a sponsor?
Sponsorships are available at the $5,000 and $10,000 level. You can treat up to 12 guests with a gourmet food and beverage package depending on your sponsorship level. Sponsors will be recognized through digital logo placements and social media recognition.
Sponsors can email gala@artgalleryofhamilton.com for more details.
How long will the auction run?
The online auction bidding and ticket registration will open on Tuesday, November 10, 2020. Bidding will continue until Saturday, November 28, 10:00 pm.
How do I pay for and collect my won item(s)?
Email notifications will be sent to bid winners on Monday, November 30. All transactions will be made through credit card. Curbside pick-up for auction wins will be arranged upon payment.
We know the AGH Gala is going to look and feel different this year, but we hope that you will show your appreciation and support for your Gallery by celebrating with us.
The AGH needs your help more than ever to care for our community through the arts before, during COVID-19, and into the new year!
Thank you for your unwavering support to the Art Gallery of Hamilton.
We so look forward to celebrating with you.
From the Canadian Art Collection
The Victorian Dress c.1914
Helen McNicoll (Canadian 1879-1915)
oil on canvas, Gift of A. Sidney Dawes, Esq., M.C., 1958

See This Collection