Shelley Niro: 500 Year Itch
Shelley Niro: 500 Year Itch is the first major retrospective exhibition of the multi-media work of Mohawk artist Shelley Niro, who is based in Brantford, ON. Spanning four decades of her photography, film, painting, installation, sculpture and mixed media practice, the exhibition highlights the themes she constantly returns to: Indigenous Matriarchy, Memory, Performance/Actors, and Relations/Family. Her persistent vision is to represent Indigenous women and girls, advocating for self-representation and sovereignty. Her highly empathetic approach moves viewers to understand the issues at hand through her visually impactful and politically powerful manner. She uses parody, feminism, and spirituality to examine identity, and in turn, brings political power to the realm of the personal.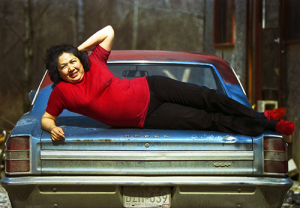 Image: Shelley Niro. The Rebel, 1987/reprinted 2022. hand tinted gelatin silver print. 20.3 x 25.4 cm / 8 x 10 in. Collection of the Artist
Canadian History, hand tinted gelatin silver print. 20.3 x 25.4 cm / 8 x 10 in.
Featuring over 70 works by Shelley Niro, some in series (totalling 136 pieces) coming from public and private collections across Canada and the US, including new work to be debuted in Hamilton. The exhibition will be accompanied by a heavily-illustrated 304-page publication designed by Barr Gilmore, including texts by invited authors, in addition to curatorial essays: Lori Beavis, Sally Frater, Adrianna Greci Green, Bryce Kanbara, Madeline Lennon, and Hulleah J. Tsinhnahjinnie To be released in Spring 2023.
Shelley Niro: 500 Year Itch is organized and circulated by the Art Gallery of Hamilton with the Smithsonian's National Museum of the American Indian (NMAI), with curatorial support from the National Gallery of Canada (NGC). Co-curated by Melissa Bennett, AGH Senior Curator of Contemporary Art, Greg Hill, Independent Curator, formerly Audain Senior Curator, Indigenous Art, National Gallery of Canada, and David Penney, Associate Director of Museum scholarship, Exhibitions, and Public Engagement at the Smithsonian National Museum of the American Indian.
The multi-year exhibition tour will include five venues, beginning with NMAI New York in May 2023. Exhibition tour dates:
May 27 – Dec 31, 2023
Smithsonian National Museum of the American Indian, New York, NY, USA
February 10 – May 26, 2024
Art Gallery of Hamilton, Hamilton ON
June 14-August 18, 2024
National Gallery of Canada, Ottawa, ON
September 21, 2024 – February 2, 2025
Vancouver Art Gallery, Vancouver, BC
Spring 2025
Remai Modern, Saskatoon, SK
Born in Niagara Falls, New York, in 1954, Shelley Niro is a member of the Turtle Clan of the Kanien'kehaka (Mohawk) Nation, from the Six Nations of the Grand River territory. Her visual art and film works have been featured across Canada and internationally. In 2009, her first feature film, Kissed by Lightning, premiered at Toronto's imagineNATIVE Film + Media Arts Festival and won the Santa Fe Film Festival's 2009 Milagro Award for Best Indigenous Film. Her short film The Shirt was presented at the 2003 Venice Biennale and the 2004 Sundance Film Festival. Films include: Honey Moccasin, It Starts with a Whisper, The Incredible 25th Year of Mitzi Bearclaw and a feature film to be released in 2023, Café Daughter.
In 2019, Niro received an honorary doctorate from the Ontario College of Art and Design, where she completed her undergraduate studies; she was also was the 2019 Laureate of the Paul de Hueck and Norman Walford Career Achievement Award for Photography. In 2017, Niro received both the Governor General's Award in Visual and Media Arts and the Scotiabank Photography Award, two preeminent contemporary art awards in Canada. In 2017, Niro also received the Hnatyshyn Foundation REVEAL Indigenous Artist Award, and the Arts and Culture Award from the Dreamcatcher Charitable Foundation. She was the inaugural recipient of the Aboriginal Arts Award presented through the Ontario Arts Council in 2012. She completed her Master of Fine Arts at the University of Western Ontario.
Exhibition Feature Image: Shelley Niro. Abnormally Aboriginal. 2014-2017. Colour Inkjet prints on canvas. 137.2x 86.4cm / 54 x 34 in. each. Collection of the artist
Exhibition Header Image: Shelley Niro. Black Whole, 2021. Oil on canvas. 59 × 90 ⅝ inches / 149.9 × 230.2 cm. Collection of the artist.

Exclusive Transportation Provider