FILM FESTIVAL EDUCATION – AGH:ON-SCreen
Book your class for an educational screening at the Lincoln Alexander Centre during the 2019 AGH Film Festival. Following the screening, students will work together on an integrated response activity designed to engage new thinking and cross-curricular discovery.
Contact filmedu@artgalleryofhamilton.com to book your class.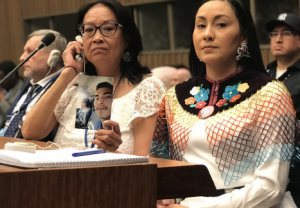 nîpawistamâsowin: We Will Stand Up
Tuesday, October 22 – 10:00 am
Directed by Tasha Hubbard, Canada, 2019, 98 minutes, English/Cree
Suitable for grades 9-12, Civil Rights, Canadian History, Political Science, Social Justice
This documentary follows the story of Colten Boushie, a young Cree man who was killed in the Canadian Prairies at the hands of a property-owner who shot him and was later acquitted. The film goes on to follow the injustices of the Canadian legal system, and exposes the systemic racism that occurs on multiple levels of the Canadian social landscape. Director Tasha Hubbard contributes her personal history and adoption, as well as setting up a historic account of the colonialism that exists in the Prairies. What remains is the hope for a future in which Indigenous children can live safely on the land.
The Filmmaker
Tasha Hubbard is known for her work on Two Worlds Colliding (2004), and Birth of a Family (2017).
Education
How does the colonial mindset in Canada exist in different levels of power – institutional, political, social? What can we do to address the systemic racism that still exists within our communities – how can we help promote spaces for healing and learning about our colonial history? How does Colten Boushie's story make you feel about how our country addresses Indigenous rights?
External Resources
https://mediaspace.nfb.ca/epk/we-will-stand-up/
https://canadianart.ca/essays/nipawistamasowin-we-will-stand-up/
https://www.cbc.ca/cbcdocspov/episodes/nipawistamasowin-we-will-stand-up/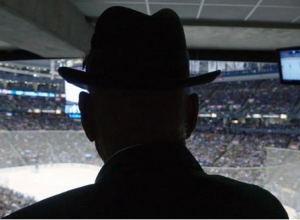 WILLIE
Wednesday, October 23 – 10:00 am
Directed by Laurence Mathieu-Leger, Canada, 2018, 89 minutes, English
Suitable for grades 6-12, Civil Rights, American History, Sports, Social Justice
This documentary follows the story and life of Willie O'Ree, the National Hockey League's first black player. O'Ree was also burdened with the secret of being blind in one eye, however, this did not impede his playing ability, and he went on to skate in 45 games in the NHL before competing in the minor leagues. Here, director Laurence Mathieu-Leger parallels O'Ree's breakthrough into the NHL with the possibility of O'Ree's induction in the Hockey Hall of Fame. This documentary shows the necessary strength and resiliency that comes with breaking barriers in competitive sport.
The Filmmaker
Laurence Mathieu-Leger is known for her work on The Injustice System (2017), and Keystone XL: Driving the US Pipeline Route (2018).
Education
How does the Hockey Hall of Fame's lack of acknowledgement of Willie's achievements in the sport parallel the racial discrimation that he faced upon entering the National Hockey League? What are the ways in which Willie changed perspectives when it comes to selection in competitive sports organizations? Do you think that Willie's induction to the Hockey Hall of Fame changes perspectives for racialization within other sports administrations – why?
External Resources
https://www.williedoc.com/
https://www.nhl.com/news/willie-oree-documentary-to-premiere-at-film-festival/c-305686716
https://perspectives.scotiabank.com/posts/the-story-of-willie-how-a-great-documentary-got-financed-and-made/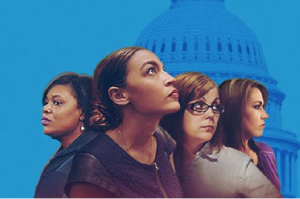 Knock Down the House
Thursday, October 24 – 10:00 am
Directed by Rachel Lears USA, 2019, 86 minutes, English
Suitable for grades 9-12, Political Science, Civics, Media Literacy, American History
This documentary focuses on the stories of four American women, each of whom challenges existing Democrats for congressional seats leading up to the 2018 midterm election. It illustrates the progressive strides being made in today's politics for representatives that truly care for community needs. Here, director Rachel Lears sheds light on America's political landscape, providing documentation for the voices of these four women who hope to change their country for the better.
The Filmmaker
Rachel Lears is known for her work on The Hand That Feeds (2014), and Aves de paso (2009).
Education
The United States is fraught with political turmoil – how can this film change perspectives on the inner-workings of government decision-making? In today's political climate, it is difficult to fight against the status quo – what are the ways in which the candidates draw attention to what needs to change during their media campaigns? These women share their stories in order to relay their connection to the struggles of their communities, do you think personal history influences all politicians and their work?
External Resources
https://knockdownthehouse.com/
https://www.vox.com/culture/2019/5/1/18522772/knock-down-house-netflix-streaming-review-aoc
https://www.refinery29.com/en-us/2019/05/232976/cori-bush-knock-down-the-house-vote-run-lead-essay
From the Contemporary Art Collection
Lake Huron/Tobermory #1 2006
Robert A. Burley (Canadian b. 1957)
from the series Great Lakes, digital chromogenic print ed. 2/25, Gift of the artist, 2008
© Robert Burley, Courtesy of the Stephen Bulger Gallery
See This Collection