On Saturday May 26, 2018 the Art Gallery of Hamilton will host AGH Splash, this year's annual fundraising Gala.
This fundraising tradition began sixty-four years ago on January 24, 1954 when the first AGH "Ball" was held in the new Gallery at Main St. West and Forsyth Ave.  The Gallery had officially opened the previous month on December 12, 1953. The Women's Committee (now the Volunteer Committee) had made a significant contribution to the building fund through its efforts and had, the previous November, begun planning a ball to celebrate the new building. They had no idea that they were establishing a tradition, which has continued to the present day.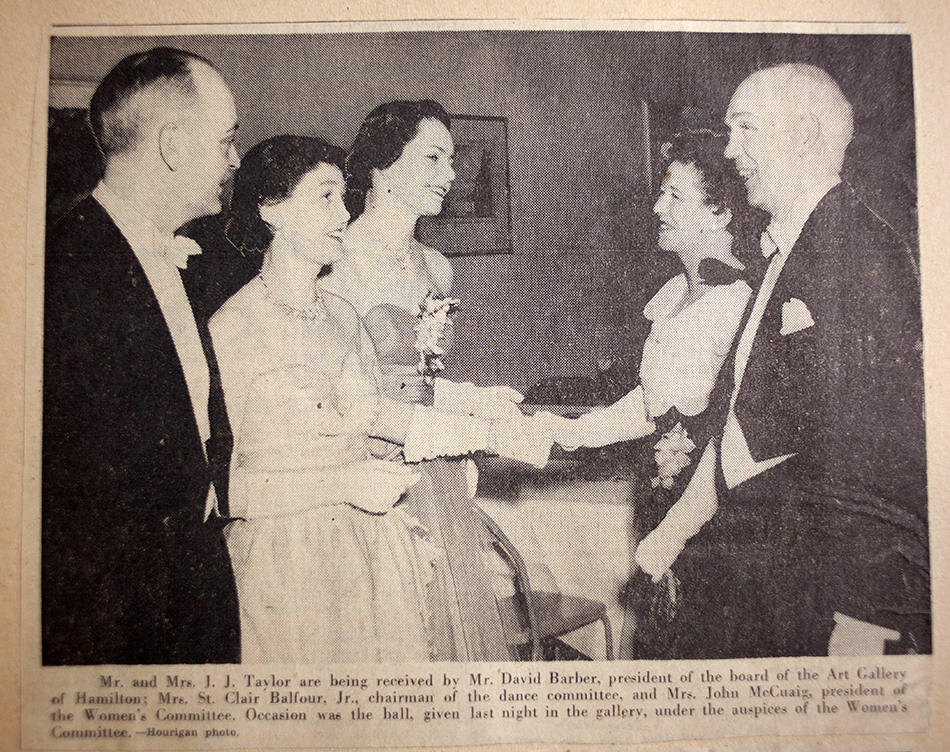 After much discussion, ticket prices were set at eight dollars per couple – expensive for the time – and 242 couples attended. Among the guests were Mayor Lloyd D. Jackson and Mrs. Jackson and President Gilmour of McMaster University with his wife.
The ball was held in the largest gallery of the new building and its theme and decor was a closely guarded secret, adding to the excitement of the evening. We don't know exactly what the theme was, but it was reported to have had an element of fantasy and featured four large classical statues rescued from the façade of a building in the downtown area. The statues were decorated with glittering necklaces and other adornments, including floral wreaths and armfuls of flowers, and the tables were decorated with metallic and gauze butterflies.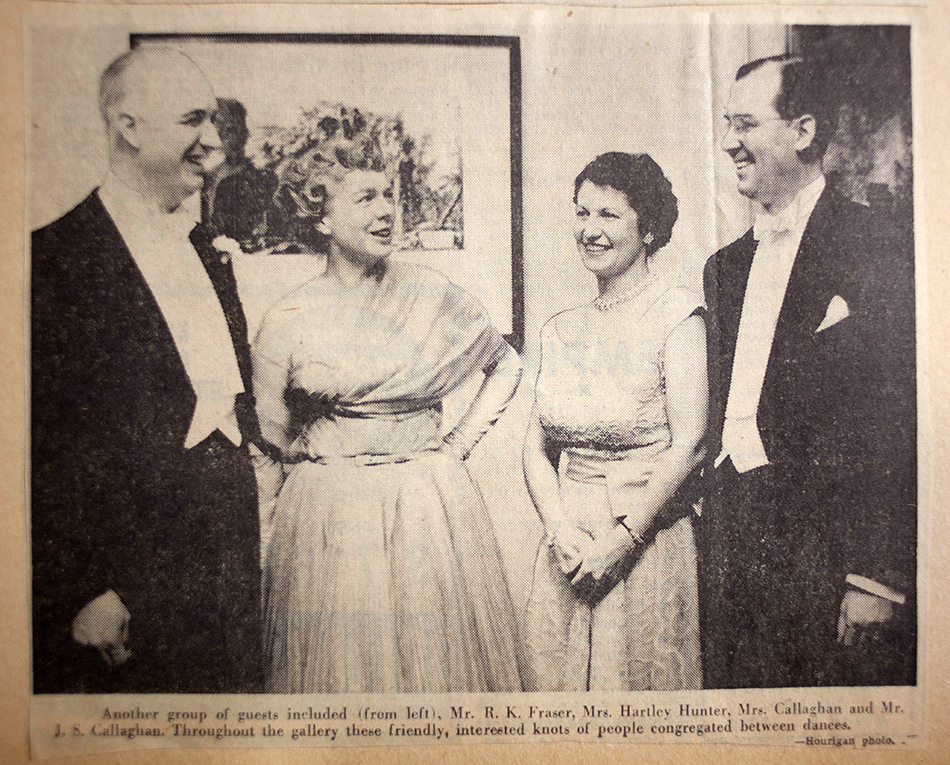 In those days, newspapers and magazines covered local social events in great detail and the ball received wide coverage in the Hamilton Spectator on January 30, 1954. The Spectator reported, "The artistic decorations added beauty and novelty to the background of the brilliant scene". Guests danced until 1 a.m. to the music of D'Iril Coons and his nine-piece orchestra playing what was described in the newspaper as "an up-to-date and most enjoyable dance program".  The Spectator even described eight gowns and some of the corsages worn by the ladies. Here is an excerpt:
"Mrs. R.K. Fraser's French gown was of grey-blue shade its bodice scrolled with seed pearls … Mrs. Hartley Hunter in a Hardy Amies original model of pale green pleated organza, was wearing a matching stole. Mrs. T. E. Nichol's simple, distinctive gown of rich crimson taffeta, was waltz length, strapless, and extremely full as to the skirt."
The ball was a great success socially and financially, allowing the Women's Committee to support the AGH and its collection. A tradition was born.