Included in the Art Gallery of Hamilton's new contemporary art exhibition, are you experienced?, is Dorian FitzGerald's Hacker-Pschorr Beerhall, Oktoberfest, Munich of 2005. The painting measures an incredible 5.5 metres high by 3.6 metres wide. It is so large that it is made up of four different canvases, which are held together from behind with a metal brace. Needless to say, it was quite the feat to install it.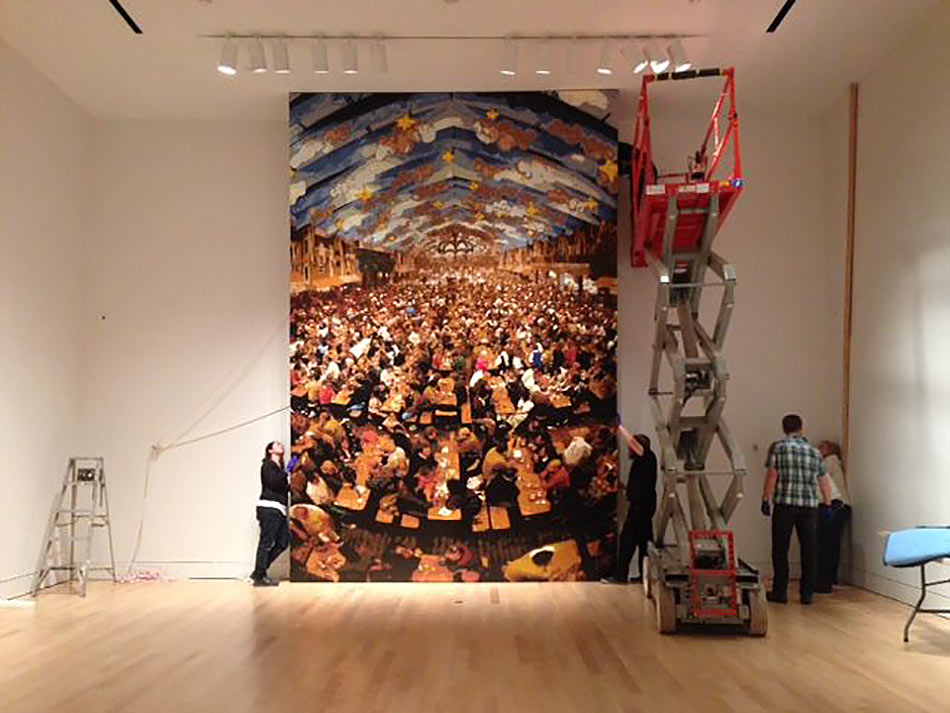 In fact, this is the work's first public unveiling, as no other venue has been able to present it due to its size. Even the wall on which it is currently hung is too short! The painting is approximately six cm taller than the wall, meaning that it had to be installed on an angle, with the top portion of the painting suspended approximately 60 cm from the surface of the wall.
The installation took a week to complete, but you can see a time-lapse video of it below.
AGH 'are you experienced?' Behind the Scenes: Installing Dorian FitzGerald's 18ft painting.
In the painting, FitzGerald depicts a fake Bavarian street scene during Oktoberfest. The beerhall is a place that was constructed for tourists, and the painting intentionally maintains all the associated clichés. Seven thousand figures fill the hall, which is pictured with a deep single-point perspective.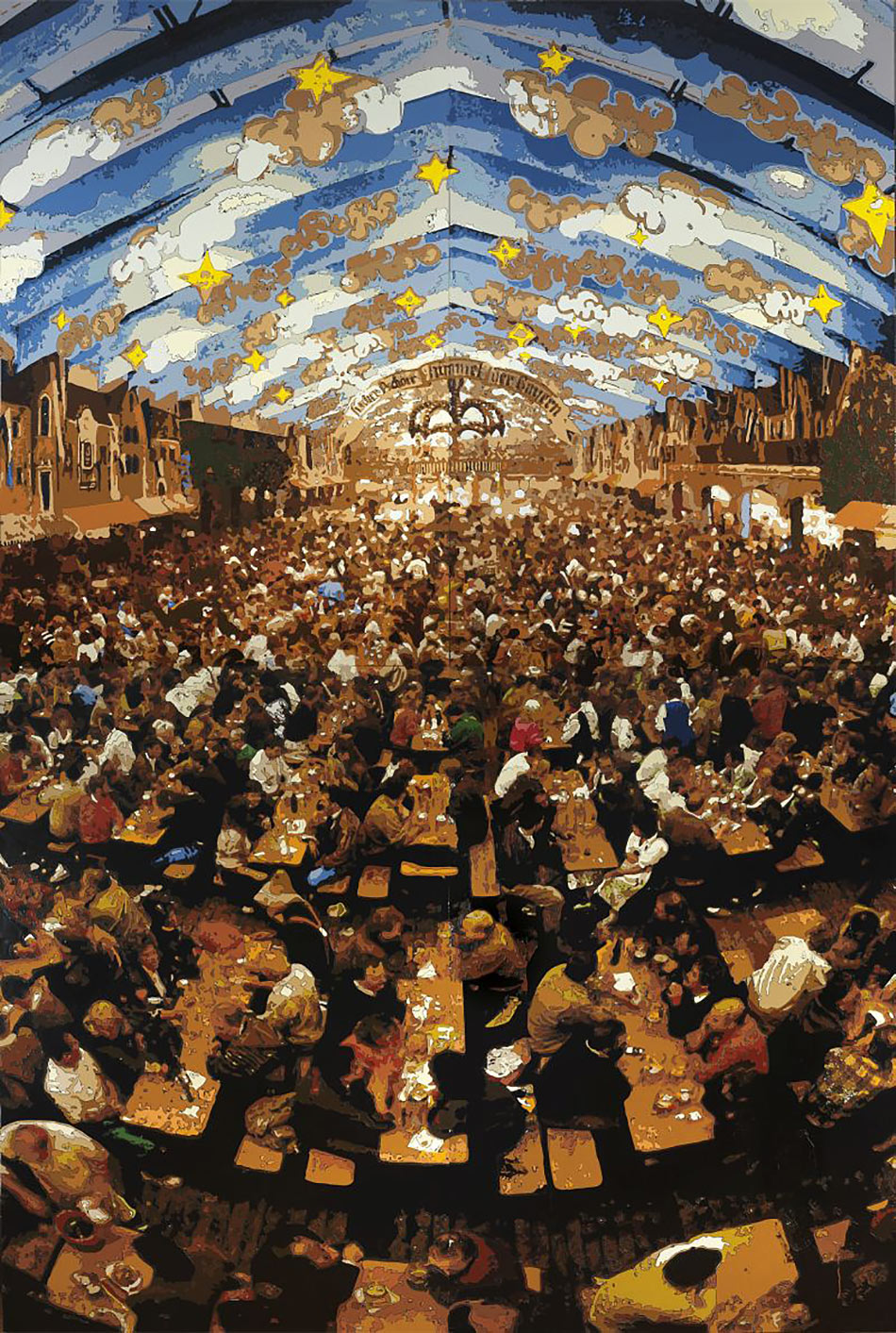 The process by which FitzGerald created the painting is intricate: he printed a version of the photograph onto acetate, transferred that to canvas, which was coated in a thick acrylic, and then traced the outlines with caulk and filled in the tiny spaces with paint. When viewed up-close, the image is hard to read in its incredible detail. From a distance, however, the small areas of colour work together to depict the larger scene. Only then can the viewer experience the work as a whole.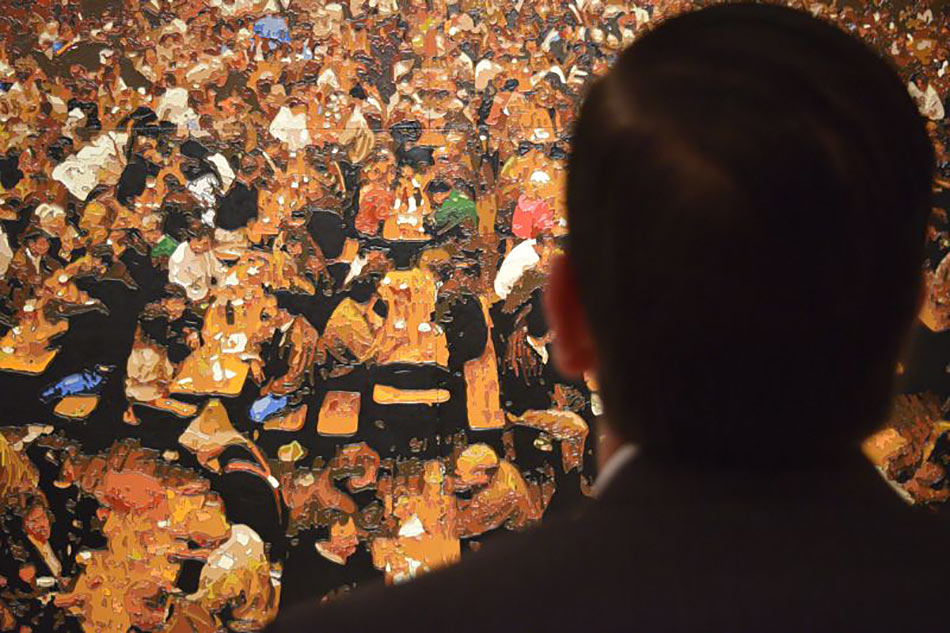 A second painting by FitzGerald, called The Throne Room, Queluz National Palace, Sintra, Portugal, is also included in are you experienced? It was made in 2009 using the same method.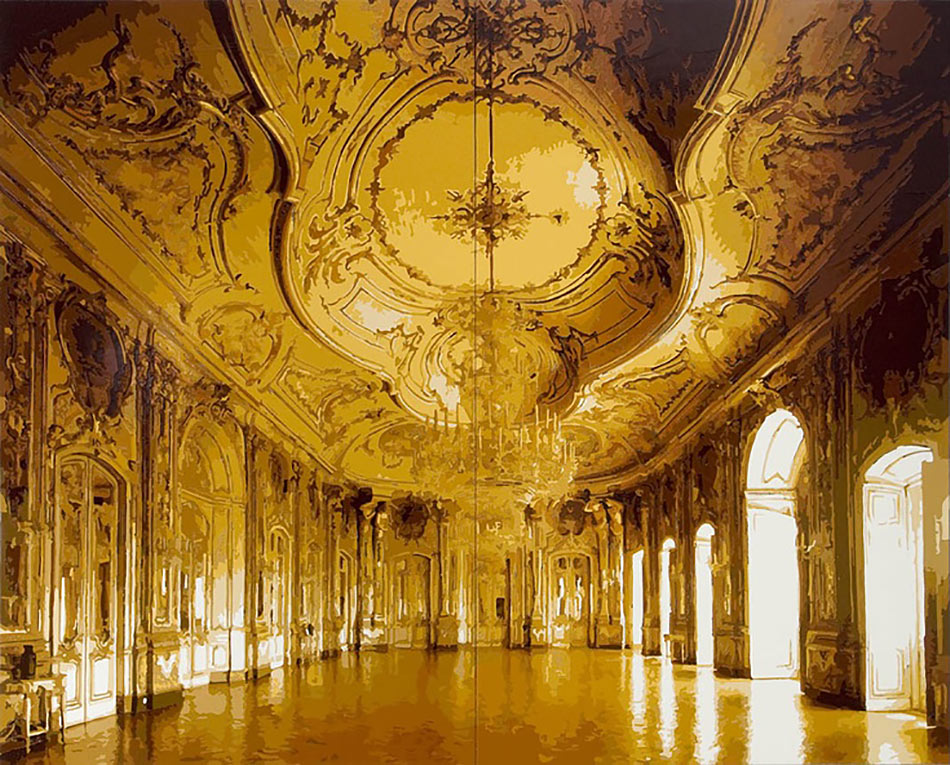 Dorian FitzGerald (b 1975 Canada)
Dorian FitzGerald makes monumental paintings of materially excessive situations. Past subject matter includes the dining room of Stefano Gabbana's yacht; the throne room of the Queluz National Palace in Lisbon; table decorations for a party thrown by Oprah Winfrey for Sidney Poitier; a Fabergé Egg ornamented by a rose trellis; a Cartier bracelet and an image of Elton John's sunglasses collection at his estate in Old Windsor, England. Recent and upcoming group exhibitions include MOCCA (Toronto), Galerie de l'UQAM and the Musée des Beaux-Arts Montréal. He is a 2001 graduate of the Art and Art History Program of the University of Toronto Mississauga and Sheridan College, and lives and works in Toronto where he is represented by Clint Roenisch Gallery.