For casual gallery-goers, the sheer volume of art showcased at galleries like the AGH can be overwhelming, you're likely to walk away remembering only a handful of pieces. AGH staff, however, are exposed to the collection on the daily, each with their own personalized lists of best works.
Want the inside scoop on what collection pieces our Gallery employees prefer? Here are some quotes from the following AGH employees, and what pieces captured their hearts.
Briar Vonderkall she/they
Lead Hand- Event Setup
Selection: Catherine Gibbon (1949-2021) Crown Fire, 2001. Chalk pastel on wood acrylic ground. Gift of the artist, 2015. Photo: Mike Lalich, 2022.
"I love a painting that makes the viewer feel small, and 'Crown Fire' does that excellently," said Vonderkall. "Building upon itself, the piece's physical size only makes the pine tree feel that much larger, which in turn makes the explosive flames that leap off of the canvas feel like they're about to encircle and trap the viewer. The sheer power that Gibbon manages to capture within the movement of the flames of the piece is always jaw dropping- no matter how many times I see it, I always feel trapped in front of it like a deer in headlights."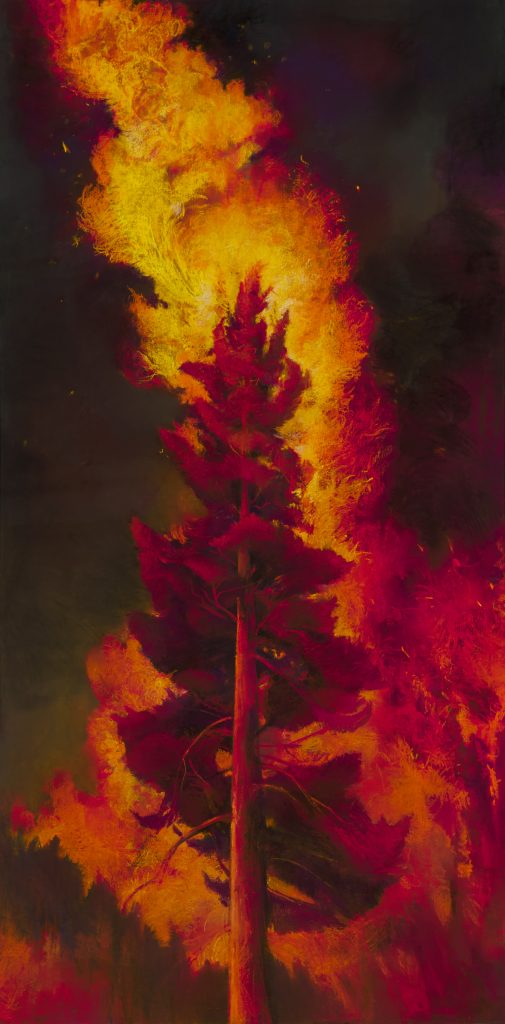 Ty Tekatch he/him
Videographer
Selection: Tim Whiten, Siege Perilous, 1989, plywood, paint. Gift of the artist, 2001. Photo: Mike Lalich, 2010.
"'Siege Perilous' by Tim Whiten is one of my favourite pieces in the AGH collection," said Tekatch. "I don't remember when I first saw it, but I do remember how it hit me. Its starkness and pallor unsettled me, it also stirred up those feelings of the ineffable that powerful art is capable of. All of Tim's work is concerned with transcendence and spirituality, which are themes that I find most compelling."
Marcus Farrell he/him
Security Supervisor
Selection: William Kurelek, This is the Nemesis, 1965. (Canadian, 1927-1977) Mixed media on Masonite. Gift of Mrs. J. A. McCuaig, 1966.
"My favorite work in the gallery is 'This is the Nemesis' by William Kurelek," said Farrell. "When I first started working at the AGH, this was the first piece to really catch my eye. I take two meanings from this piece. First of all, it is a reminder of what our world could become. It is also a foil, to reflect upon. Perhaps the world we know today, isn't as far from the apocalypse as we might think. In my years in security, I've seen a lot of people who were defeated and left behind by the world. This might just be how those people see society today."
Rebecca Frerotte she/her
Development Officer
Selection: Shelley Niro, Raven's World, 2015, oil on canvas. Purchased in part through the support of the Elizabeth L. Gordon Art Program, a program of the Gordon Foundation and administered by the Ontario Arts Foundation, and the Permanent Collection Fund, 2021. Photo: Bob McNair, 2021.
"My favourite collection item tends to change often, depending on my mood and what is out on display, but as of right now it is 'Raven's World' by Shelly Niro," said Frerotte. "The work is so magical and hopeful, with Niro's granddaughter pictured looking to the stars.
I am also proud that we were able to purchase this work in part through the support of the Elizabeth L. Gordon Art Program, a program of the Gordon Foundation and administered by the Ontario Arts Foundation. It was an honour to work with our curatorial team on this grant to help acquire this work! I am excited that it will soon travel to the Smithsonian National Museum of the American Indian as part of 'Shelley Niro: 500 Year Itch', a touring exhibition the AGH is organizing with NMAI and curatorial support from the National Gallery of Canada."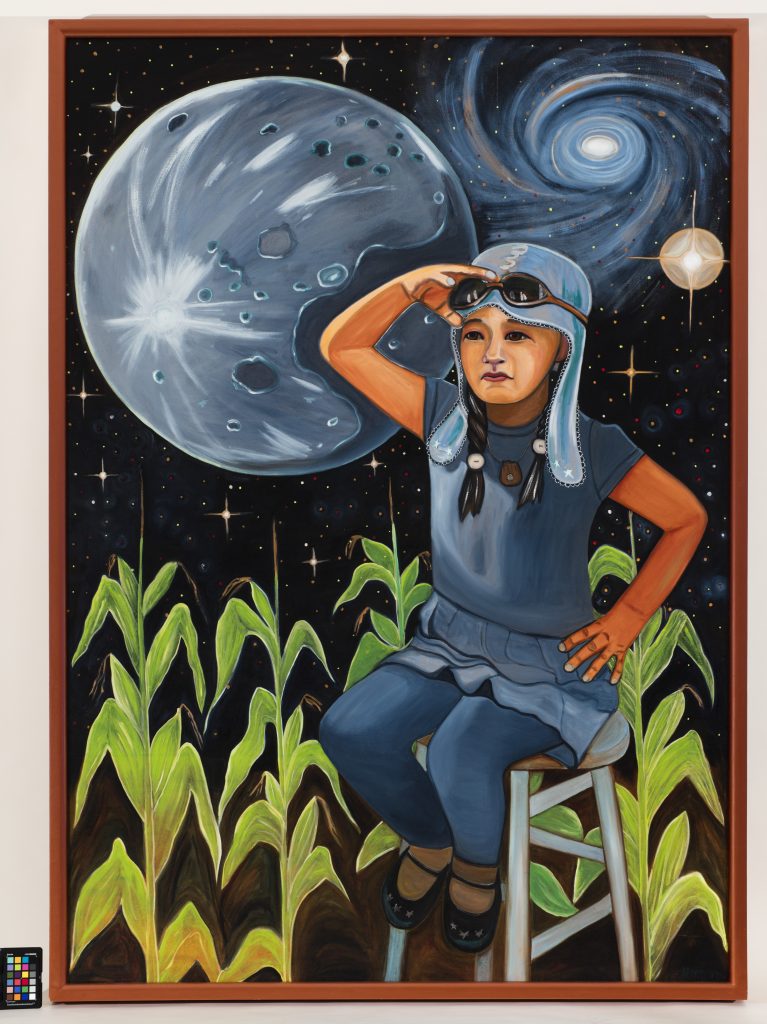 Tobi Bruce she/her
Director, Exhibitions and Collections & Senior Curator
Selection: Clara S. Hagarty (1871-1958), Lake Como, c. 1925, oil on board. Gift of Gordon Conn, 1956. Photo: Mike Lalich, 2008.
"This is only one of my favorites, it's like children, you can't have a favorite!" said Bruce. "I want to be the fourth person at that table. I'd give anything to know what they're talking about, in their hats, and somehow diminished by that interior. It's such a fascinating composition."
Christine Braun she/her
Collections Manager and Research
Selection: Guido Molinari (Canadian 1933-2004) Mutation athematique brun-rouge, 1967, acrylic on canvas. Presented from the Ontario Centennial Art Exhibition by the Province of Ontario Council for the Arts, the Centennial Planning Branch of the Department of Tourism and Information and the Cultural Exchange Program of the Department of Education, 1969.
"This is a hard choice for me to make, mostly because I work with the permanent collection every day but also because the collection holds so many amazing works by a wide variety of artists from different times and places," said Braun. "Works that I am drawn to of course can change depending on my mood, and whatever might be going on in my life, the world and the gallery. However, I always come back to this work by Guido Molinari. Not only is it a strong example of his quintessential sixties hard-edged abstraction, but it has a such a great visual rhythm and the bold colours never fail me to remind me of a xylophone, as my eyes flit from bar to bar: analyze, compare, repeat."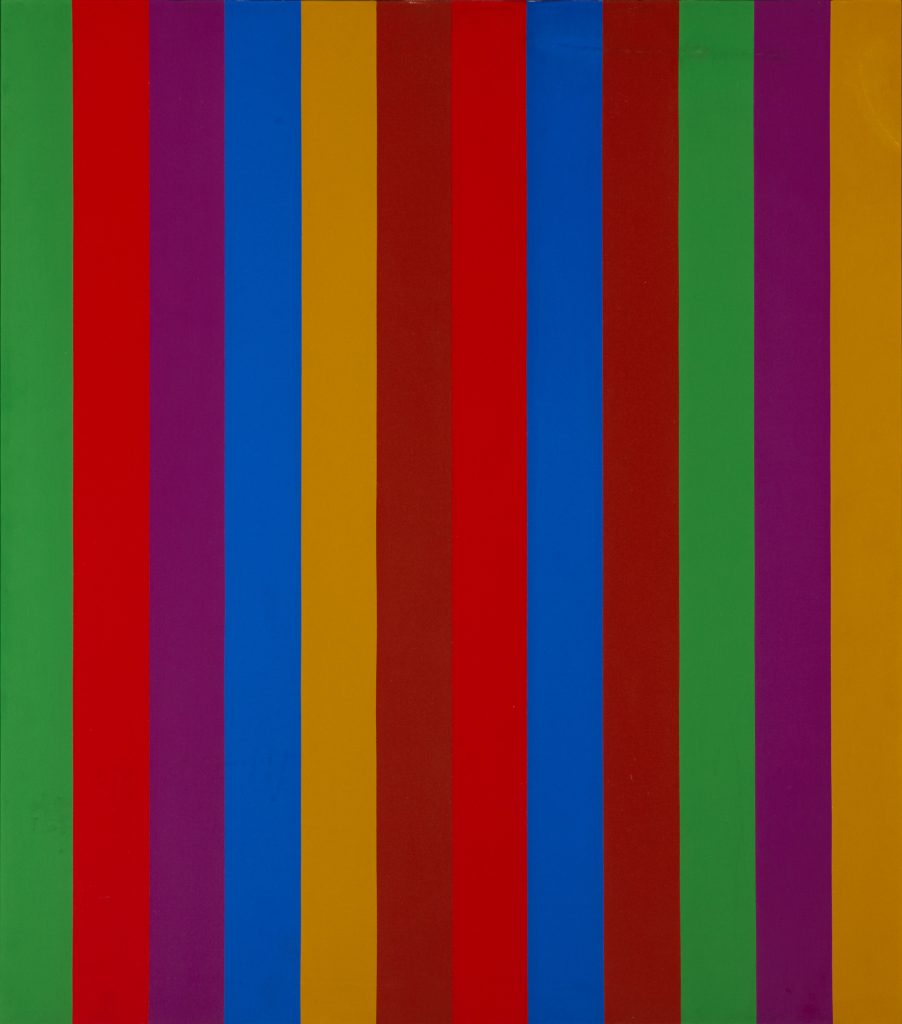 Paula Esteves Mauro she/her
Preparator
Selection: T.R. Macdonald (Canadian, 1908-1978) The Red Skirt, 1939. Oil on canvas. Gift from the Collection of Dr. Steven and Olga Lichtblau, 2009.
"This is definitely one of many works in the collection I consider my favourite," said Mauro. "It hangs in the vault on a very prominent rack so anybody that visits the vaults, or as I like to call them, 'company,' will see it. I think SOMEBODY is very selective about where permanent collection works are stored, and I walk by this painting everyday."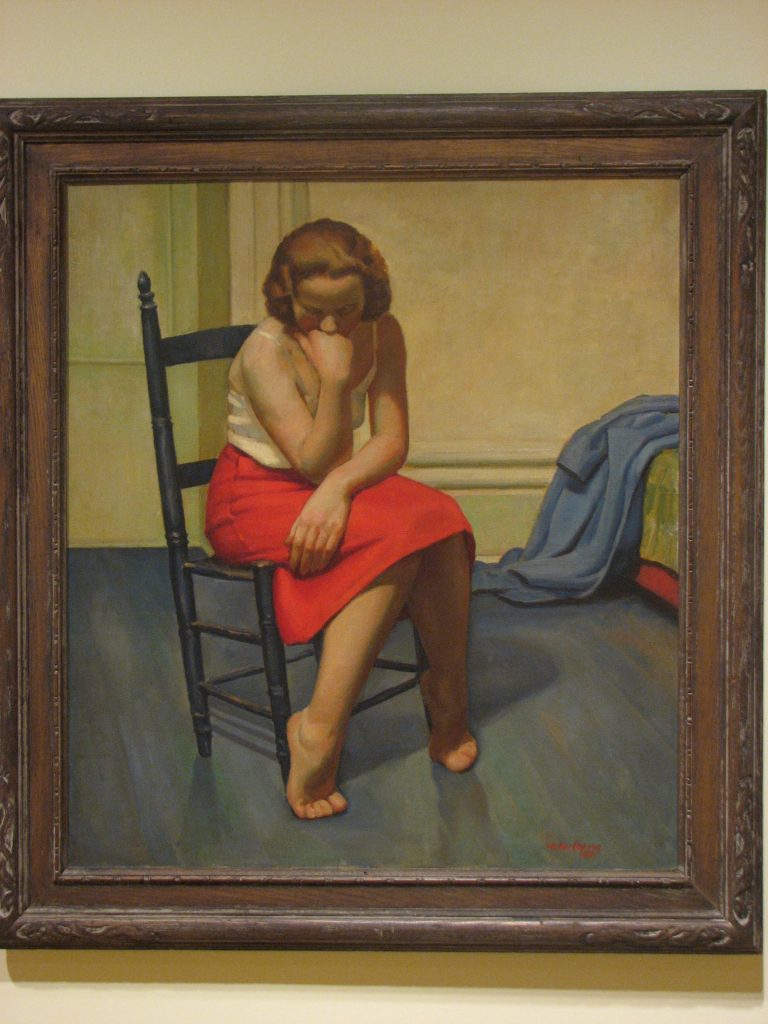 Andrea Howard she/her
Digitization Collections Assistant
Selection: Bill Woodrow (British, born 1948) H.F. Dumpty-Momart Christmas, 1990, red bronze. Gift of Micheal Davey and Delwyn Higgens, 2021.
"This is one of my favourites in the collection at the moment," said Howard. "It's an artist's multiple, commissioned by MOMART- a British art logistics company- that since the 1980s has invited UK artists to design their annual Christmas card.
According to the V&A, Bill Woodrow is interested in coins as motifs to explore concepts of consumerism in his practice. One might think the decision to produce this work as a multiple helps to reinforce these themes of consumption. But on the "flip side of the coin," I think about multiples as a possibly participatory and networked artist's practice, whereby people can purchase pieces at accessible price points, cultivating a really rich group of collectors, dispersed, and not exclusively wealthy, that share a united love and reverence for the work.  
Woodrow was also very interested in concepts of unity, and particularly its tension with concepts of division. The verso of the coin, completely at odds with the sweet and smiling Humpty Dumpty, is a military tank wrapped up in a ribbon- a reference to the highly televised 90s Croatian war. The work is loaded with contradictory thoughts and feelings- even visually it's very simple, but it navigates complex concepts like war and neoliberalism with thoughtfulness. I like it a lot!"