Over the past 12 months, the Online Film Series has proudly presented over 30 feature films to our audience, delivering some of the best regional, national, and international film around. Each month brings a new suite of films to our online platform, along with a space for discussing the works at our free monthly Film Club sessions delivered over Zoom. 

Accompanying this month's suite of films, enjoy this special message from AGH Film Program Curator Ryan Ferguson welcoming in the new films, giving film fans a sneak peek at everything in store. Plus, learn a bit about each of this month's offerings below!
---
Shiva Baby
A young Jewish woman's steamy secrets are unearthed during one emotionally frantic shiva, in Emma Seligman's comedy of discomfort. We are proud to present a free Q&A with Seligman to accompany the film!
Emma Seligman's Shiva Baby focuses on twentysomething Danielle (Rachel Sennott), a perennial student who's been lying to her supportive but overbearing parents about her faltering academic career. Then again, she has a lot of secrets she's keeping, including her relationship with an older man, Max (Danny Deferrari), who also gives her money. Hauled off to a shiva by her parents, she's mortified to encounter her embittered ex Maya (Molly Gordon from Booksmart), followed by other people who make things increasingly more awkward for Danielle. Much to her chagrin, she finds out that many of them have secrets of their own. (Like many people who aren't especially truthful, she's deeply offended when she discovers someone's been lying to her.)
Shiva Baby is a caustically affectionate comedy about tightly knit families and communities, and the comfort and anguish they're often responsible for. Seligman expertly structures the film, as Danielle lurches from one potentially catastrophic encounter to another — each one threatening to expose her multiple fabrications — while navigating spilled drinks, wailing babies, and an endless string of friends and relations anxious to give Danielle advice. Seligman's stellar ensemble cast, led by Sennott and including Polly Draper and Fred Melamed, is spot-on.
---
No Ordinary Man
For decades, the life of American Jazz musician Billy Tipton was framed as the story of an ambitious woman passing as a man in pursuit of a music career. In No Ordinary Man, Tipton's story is re-imagined and performed by trans artists as they collectively paint a portrait of an unlikely hero. This film also features a free accompanying Q&A session with the filmmakers!
Together, the filmmakers join Tipton's son Billy Jr. to reckon with a complicated and contested legacy: how do you tell the story of someone who was hiding in plain sight yet desperate to be seen? No Ordinary Man features leading voices in the trans community, including Marquise Vilsón, Scott Turner Schofield, Susan Stryker, C.Riley Snorton, and Thomas Page McBee, among others.
---
The Inheritance
Pennsylvania-born filmmaker Ephraim Asili has been exploring different facets of the African diaspora—and his own place within it—for nearly a decade. His feature-length debut, The Inheritance, is a vibrant, engaging ensemble work that takes place almost entirely within the walls of a West Philadelphia house where a community of young people have come together to form a collective of Black artists and activists.
Based partly on Asili's own experiences in a Black liberationist group, the film interweaves a scripted drama of characters attempting to work towards political consensus with a documentary recollection of the Philadelphia liberation group MOVE, which was the victim of a notorious police bombing in 1985. Asili's film is an endlessly generative work of politics, humor, and philosophy, referencing the legacies of the Black Arts Movement and featuring Black authors and radicals, members of MOVE, as well as poets Ursula Rucker and Sonia Sanchez.
---
Kid Flicks
Challenging expectations and reflecting growth and resilience, NYICFF Kid Flicks is a fantastic trip on the road to growing up. This program of short films is FREE to enjoy!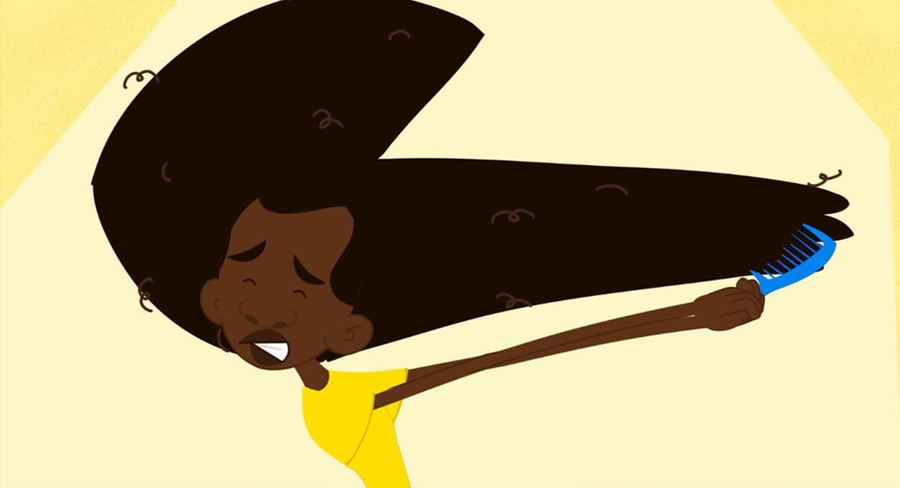 Surprises in a dumpling bring good luck, and many reflections, in the beautiful stop motion animation The Coin. In The One You Never Forget, a young teen tries to keep his first date under wraps, but his parents have other ideas. In Home Away 3000, a space traveller's funky space van konks out on an unknown planet with plenty of surprises.
Please note that at the time of this publication, the AGH is temporarily closed. We continue to follow the advice and directives of the local public health officials, the provincial government, and our Board of Directors, so stay tuned to our Plan Your Visit and COVID-19 Guidelines page for updates. We hope our visitors remain connected to our programs and exhibitions through AGH at Home and Shop at AGH Online.