Acquiring Kareem-Anthony Ferreira's stunning painting titled Miss Rodney's Event is an unparalleled opportunity for the Art Gallery of Hamilton to enrich its collection and captivate visitors with his exceptional artistic talent! You can help make this possible.
An anonymous donor has stepped forward with an offer to match donations up to $35,000 towards the purchase of Miss Rodney's Event, donations of any amount will be matched dollar for dollar to ensure that this work stays in Hamilton! All donations above $20 will receive a charitable tax receipt.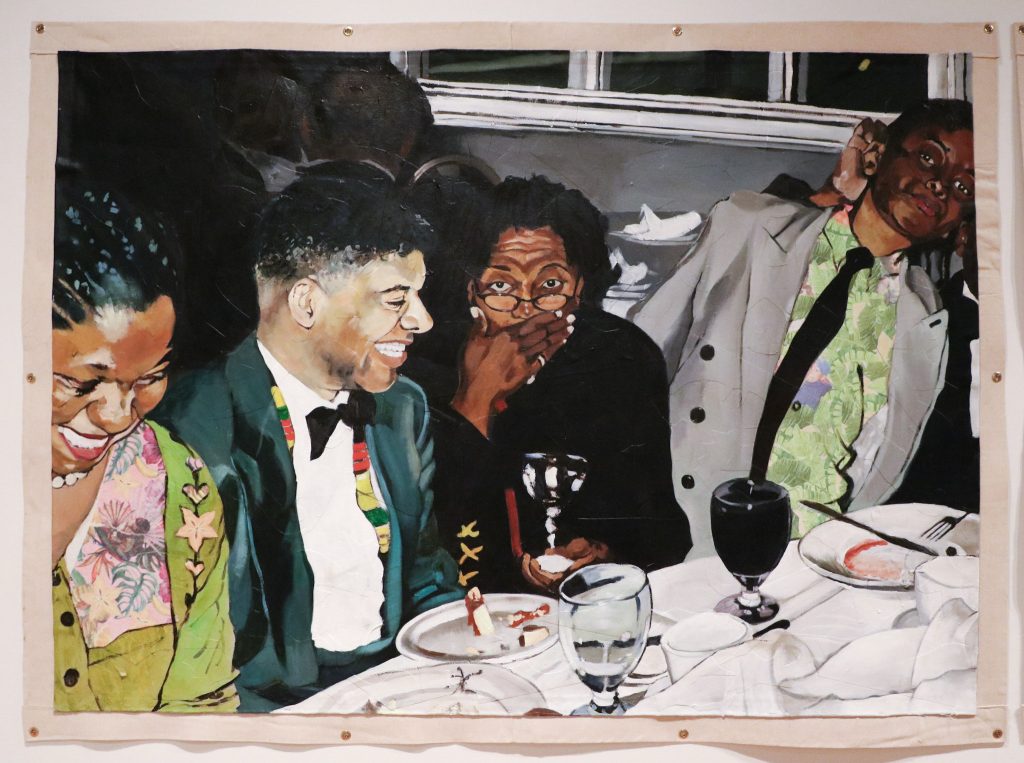 Miss Rodney's Event (2022) was recently featured at the AGH as part of the exhibition Gatherings: Roger Ferreira and Kareem-Anthony Ferreira, which was a major Canadian exhibition for Kareem and his father. Born in 1989 in Hamilton, Kareem studied fine art at McMaster University before completing his MFA at the University of Arizona in 2020. In his highly detailed large-scale oil paintings, he works from old photos often taken during family gatherings. He produces richly textured works that reflect his experience of feeling rooted in two homelands: Hamilton and Trinidad.
This sprawling work features Eleanor Rodney, a passionate community leader, and educator who inspired Hamilton youth to learn about Black history and culture. Rodney founded African Caribbean Cultural Potpourri Inc., an organization that sponsored a youth talent show and has awarded more than 260 scholarships to Hamilton high school graduates since 1996. Among the honours presented to Rodney over the years was an Ontario Ministry of Citizenship award, Hamilton's Woman of the Year for public affairs, and the first John Holland award for community service.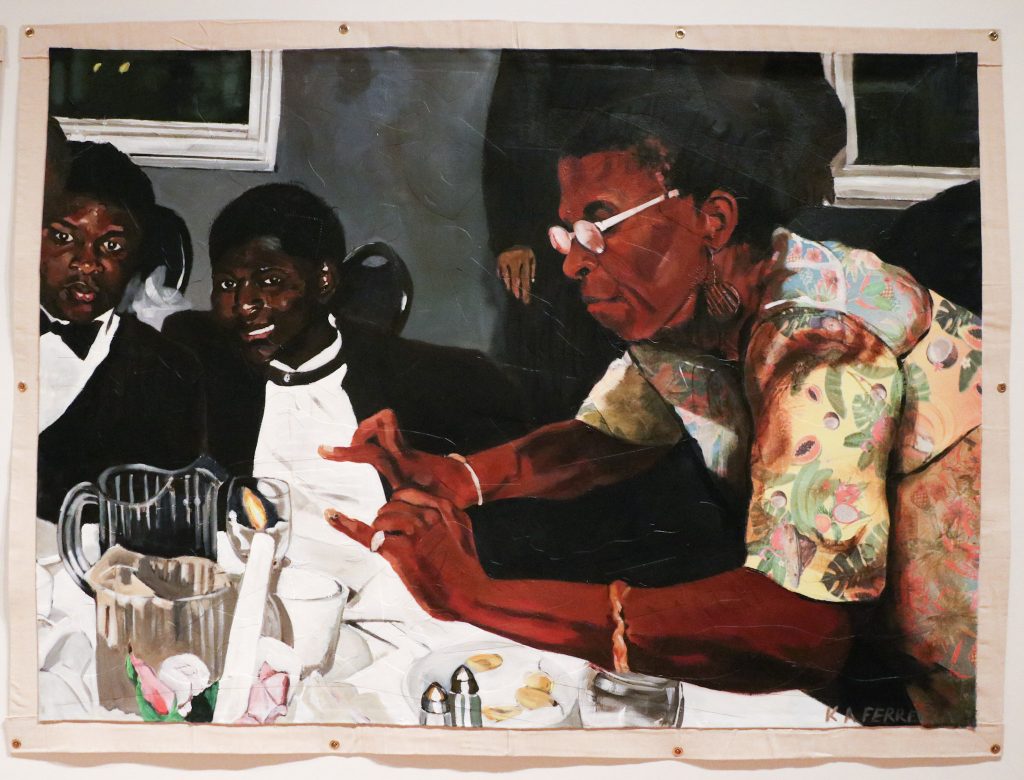 Rodney arrived in Hamilton from her native Trinidad in 1966, at 28. She earned her Masters of Education and embarked on a 27-year career as a teacher in the city. But it was her extracurricular presence that was uniquely inspiring to many students, especially those with African and Caribbean heritage. (source: Hamilton Spectator).
Kareem and his family were very much a part of Rodney's extended family, as she welcomed them upon their arrival from Trinidad in the late 1980s and helped them get situated, building lifelong ties. Kareem chose to paint this piece featuring Miss Rodney on the right, and Kareem and his brothers and parents all seated together at a formal event held in Hamilton — one of many that Kareem remembers attending growing up. Indeed Miss Rodney was like family to him, as she was to many.
Donate here: https://www.canadahelps.org/en/charities/the-art-gallery-of-hamilton/campaign/keep-miss-rodney-in-hamilton/