It is our Duty to fight for our freedom 
It is our duty to win 
We must love each other and protect each other 
We have nothing to lose but our chains 
― Assata Shakur 
In a world on fire with climate change, police brutality tied to centuries of anti-Blackness and colonialism, and the struggles of everyday life as Black (queer, trans, disabled, Deaf, Mad, poor, migrant, Muslim etc.) people writ large through activism and organizing in the streets and from our kitchen tables. In a world full of change-making and unrest, with so much at stake, what does it mean to "win," as Assata encourages us in the opening quote? What does it mean to lose? What does it mean to face defeat? What does it mean to resist defeat?
Esmaa Mohamoud's incredible exhibition at the Art Gallery of Hamilton explores gender, sport, Blackness, struggle, migrant labour and prisoner's justice through installations, photography and sculptural works spread through the galleries.
After entering the exhibition, I first came upon Glorious Bones—a large circular installation in which African print/Dutch wax fabric helmets on tall black bases stand in a circle buried in a deep covering of Black tires gleaming in the spotlight overhead. I am immediately drawn to the colours, textures and materials set against a deep blackness/Blackness that permeated the walls and… out through the rest of the exhibition space.
There are duos in struggle throughout the exhibition—repeated groupings of two players pulling against each other, chained together, stuck in an epic and eternal tug of war, including a video of one such struggle in an abandoned field in London, ON.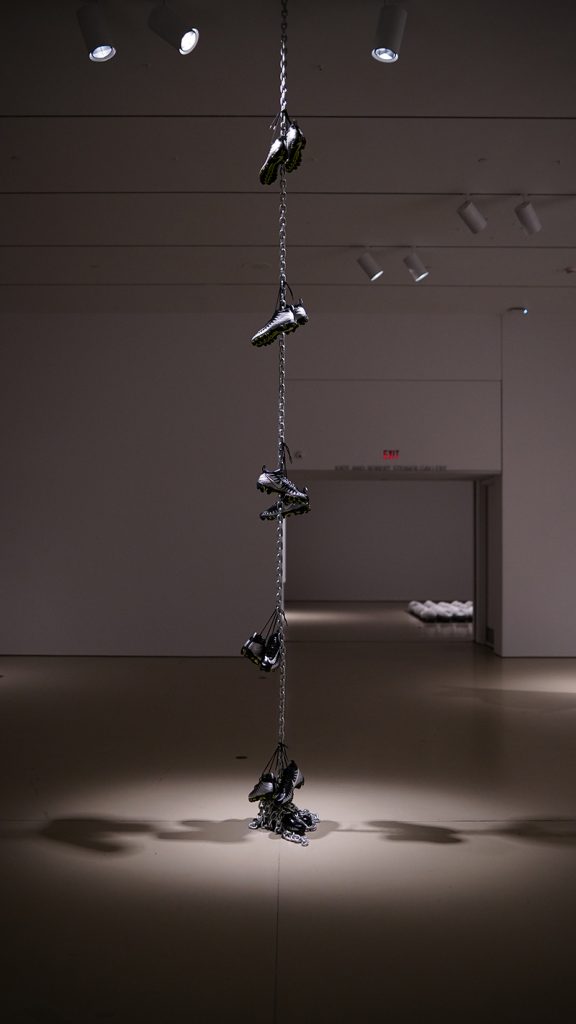 As an abolitionist, the references to chains and chain gangs are not lost on me—as I enter the back room of the gallery I encounter Chain Gang—a chain suspended from the ceiling tied with shoes all the way down to the floor—referencing both a football term and a carceral process in the 1920s—doing work camps, in ways that have continued today and that we are still fighting against. Indeed, heavy steel chain is spread throughout the show—as glorious adornments of the football costumes but also as a permanent traps—as we watch the players try to pull apart to no avail in a looped video of her brother and his childhood friend.
To me these epic and endless struggles reference work camps, and also how often Black people are pitted against each other through professional sport and in the media. These chains also reflect the struggles we have—with each other, against masculinity and its confining qualities, and against homophobia in a Western world that doesn't freely allow men to touch except during sports activities. Mohamoud talks about wanting to play as a child with her brothers but not being allowed—this tension around gender and sport is epitomized in the gorgeous ball gowns made of sport jerseys worn by mannequins in One of the Boys. This work mixes basketball jerseys and the elaborate femininity associated with hoop skirts.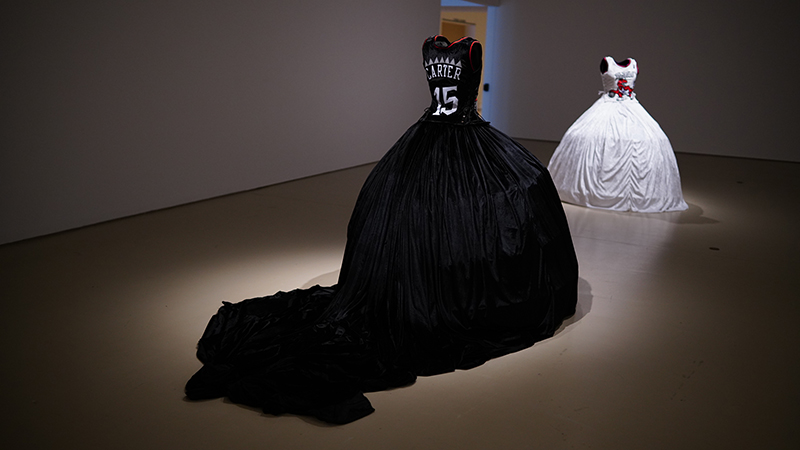 Deep in the exhibition, at the back wall, and brightly lit, is a massive circular installation of footballs standing vertically around the circumference. The artist created a pattern based on African textiles that was burned onto the black leather footballs. Entitled Blood and Tears Instead of Milk & Honey, these objects are black on black and as such have a barely perceptible pattern, one you can only really see when you are right in front of the giant circle mounted onto the wall. This subtlety of the patterning brings up the question of visibility for me again—I wonder, in a world rife with anti-Blackness and continued struggle, do we get to be and exist freely in this world? Are we perceptible? Can you see us? Are we visible?
As I walked back out of the exhibition I noticed more imperceptible patterns—this time text on the floor of the gallery designed to be noticed when leaving the space—it's a quote from Ralph Ellison, about the Invisible Man. It states:
I am invisible, understand, simply because people refuse to see me… 

When they approach me they see only my surroundings, themselves or figments of their imagination, 

indeed, everything and anything except me. 

― Ralph Ellison, Invisible Man 
I firmly believe in shouting our visibility, of fighting against defeat towards the most ultimate win— for as Assata says, we have nothing to lose but our chains.  
---
The AGH wishes to express our deepest gratitude to Syrus Marcus Ware for contributing this piece to the AGH Magazine. Ware is not only a vital artist, activist, and scholar, but a powerful community leader, and we are honoured to host this article.

---
Please note that at the time of this publication, the AGH has reopened!
Featuring an extended exhibition schedule ripe with exciting work new and old, the Gallery has something to offer every visitor, whether this is your first trip ever or just your first trip back. To celebrate the occasion, Gallery admission will be FREE until August 31 during all open hours, which remain Thursday 11 am – 8 pm, Friday 11 am – 6pm, and Saturday and Sunday 11 am – 4 pm.
As we continue to navigate the ongoing public health conditions, the safety of our visitors remains our top priority. For up-to-date information about all of the safety protocols and procedures now in place, head to our COVID-19 Guidelines page.
---
Header image: Installation view of Esmaa Mohamoud: To Play in the Face of Certain Defeat, 2021. Photo: Julian Ross