Working with living artists affords us the chance to ask them directly about their work and process. In AGH Magazine's Quest10ns series, we ask contemporary artists whose work is on view at the AGH ten questions on a range of topics to gain insight into what drives their art practice.
Farheen Haq is the artist behind the میں اپنی ماں کی بیٹی ہوں… I am my mother's daughter exhibition currently on display on Gallery Level 1. A series of video and material installations tell the story of intergenerational relationships both tested and strengthened by cultural nuance. Farheen explores the ties that bind her mother's experience of motherhood to her own, despite their vast differences.
Exhibition visitors watch as the contrast between Farheen's Western-informed, feminist worldview and that of her mother leads Farheen to a place not of frustration, but of admiration for her mother's bravery and faith as a teenager entering an arranged marriage in a foreign country—a reconciliation that ties the themes of the exhibit together beautifully.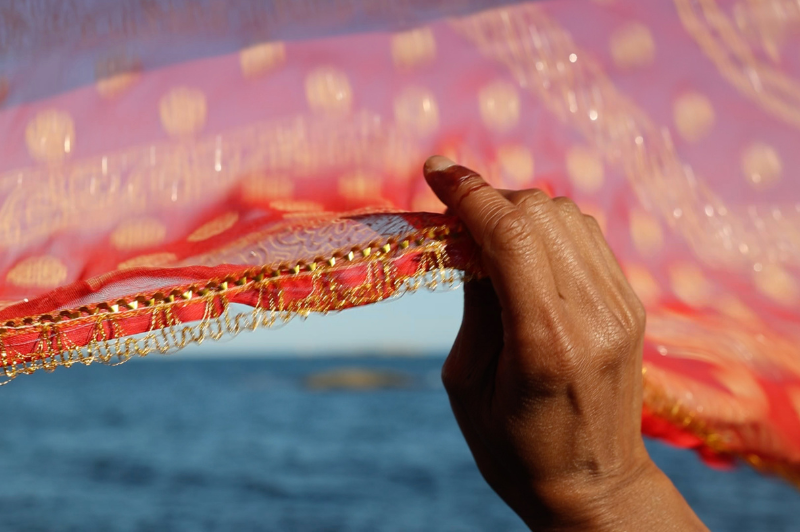 We caught up with Farheen to learn more about the inspiration behind her exhibition at the AGH, her relationship with her mother, her artistry and more. Read our interview below:
1. How long was the process of putting 'I am my mother's daughter' together, from an idea to a fully formed exhibition?
The idea for this project has been with me since 2020. It started with my mother's wedding photo and me realizing that I could trace my arrival to Turtle Island through her arrival here. I began dreaming about her stepping onto Haudenosaunee territory and what rituals and processes she underwent to prepare her. In 2021 I spent time in Niagara interviewing her and my aunties and walking the places where my mother arrived and still has power for me. In 2022, I began to synthesize my ideas into a video installation and exhibition that opened in Campbell River, BC.
2. You're based in Victoria, BC, now—is there anything you miss about the Niagara/Hamilton region?
I miss my family and community there for sure. Much of my family and many friends are still there and hold an important place in my heart. I have fond memories of the vineyards and farmland that bordered the housing subdivision I lived in. I think of the green valleys and farmland, the willow trees, frogs in ponds and the dense Carolinian forest that was a refuge in the summers while I was growing up. I miss the sumac, goldenrod and asters I don't get to see often.
3. In what way do your experiences as a mother mirror your mother's experience as a young Muslim bride arriving in Canada from Pakistan, and in what ways are they different?
Our realities and context were very different in so many ways… I married someone I chose, I speak English, and I was already at home where I became a mother, it was where I grew up. I had a lot more ease and privilege in that way. However, there are still many shared experiences of motherhood that are timeless. The isolation of caring for young children, the invisibility of the labour of caregiving and the lack of remuneration/value in the public/capitalist world of care work.
4. What was your mother's reaction to seeing the exhibition in full?
From what I noticed, she seemed to be pretty happy to be centred and to have her experiences validated as important and worthy of attention and care. My mother is a very joyful person and looks for connections. Even though I use the language of contemporary art, she was nodding and saying yes, I can see what you're trying to do.
5. What do you hope visitors take away from your exhibition?
I hope visitors will feel something in their hearts. That the space of the exhibition will bring them some breathing space to slow down and consider their relationships with themselves and others.
6. 'I am my mother's daughter' also draws on themes of immigration and settling on Haudenosaunee land. How do you see the relationship between your family's story, intergenerational ties, and the work of reconciliation for Indigenous peoples in Canada?
There is so much pain and hurt in everyone's lives. We are all tender and imperfect beings. When I dig into my family stories and relationships the opportunities for reconciliation internally are so big. Forgiveness, compassion and deep listening are virtues I learn from my faith tradition and I see family work as a microcosm of larger political work. If I can dig into uncomfortable truths in my family, I can do the same with the truth of living on stolen land.
7. For any piece you make, how do you decide on a medium?
Usually, the piece determines the medium. For example, some ideas come into my mind as a video or image and then I might make a video, but other ideas lead me to objects or lentils! The idea lets me know how best to work with it. For example with Hamara Badan… the work emerged after I created the video triptych Silsila (of 3 generations of hands with lentils cascading down). While making Silsila, I knew I needed lentils in the gallery so that led me to work with lentils. But then I had to figure out what to do with them. This created a performance and ultimately what we ended up with in the gallery – a floorwork.
8. An artist who has inspired you recently is… ?
I have been really wanting to see Meera Sethi's new work at the Cambridge Art Gallery. She has been growing cotton and working on textiles and art about aunties, matriarchs, and clothing. She is so detailed and methodical and I love her work. Also, so excited about Sarindar Dhaliwal who has always inspired me and is showing at the AGO right now!
9. If you weren't an artist, what would you be?
I would love to be a poet. I have always been moved by poetry and am incorporating it into my work more. I also fantasize about being a musician!
10. What are you working on next?
I'm exploring working with textiles and researching an old Bihari quilt tradition that incorporates women's stories through embroidery. I am continuing to dig into ancestral traditions and stories as a way to bring myself here on Lkwungen territory/Turtle Island in a way that honours my ancestors and artmaking.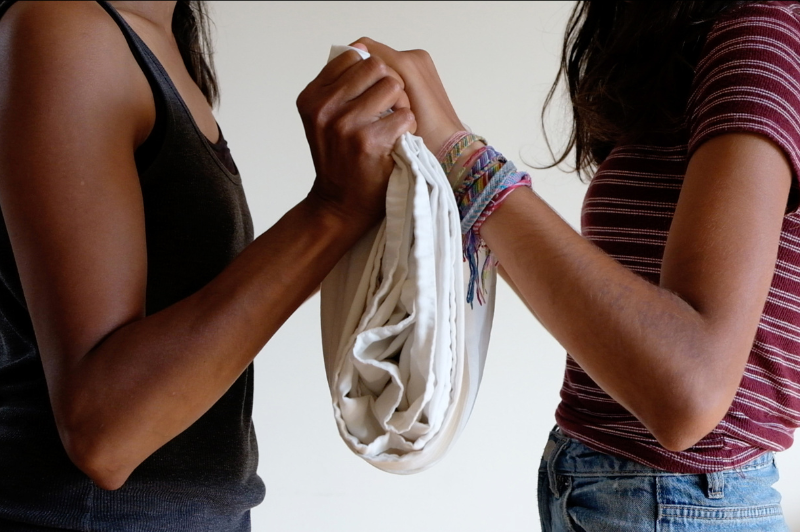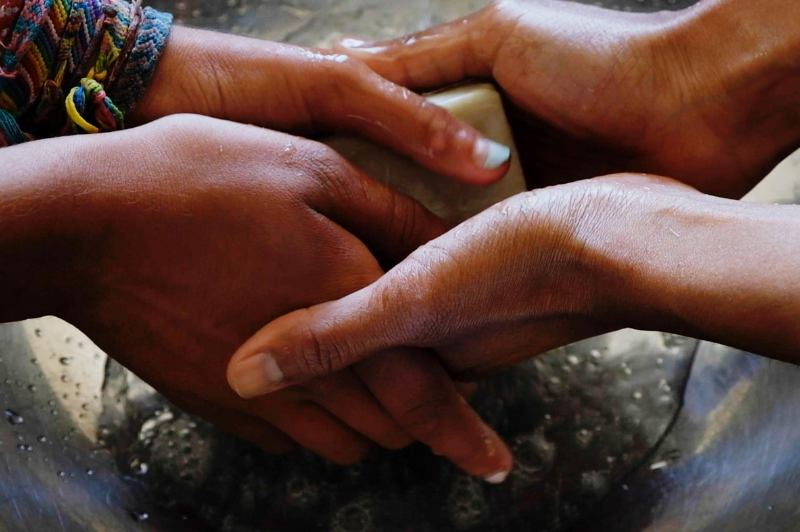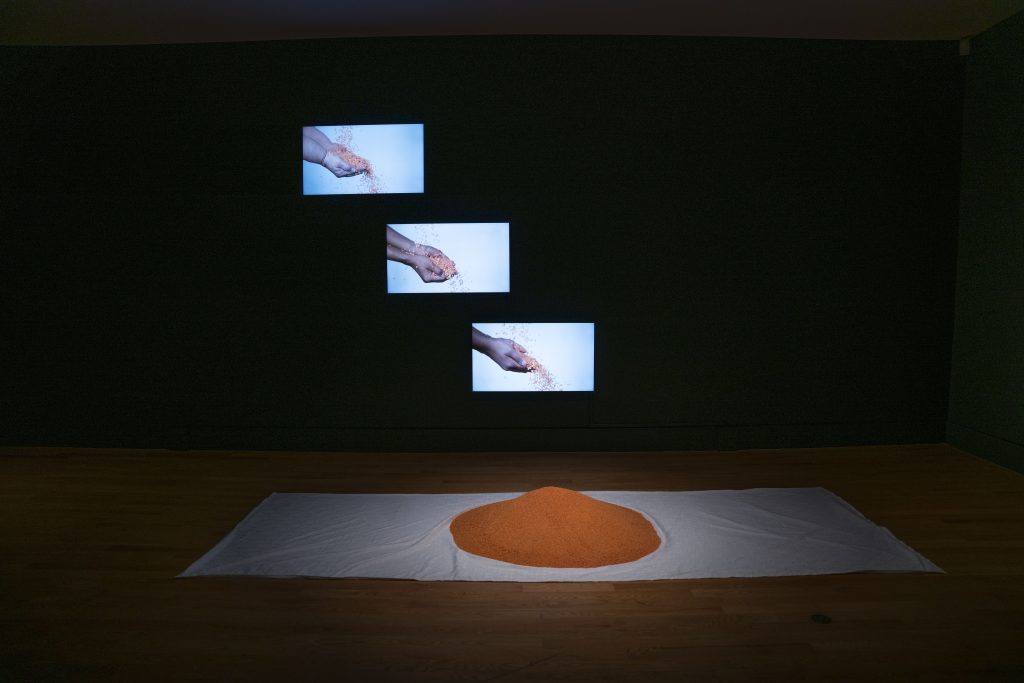 Farheen Haq's work is on view now until December 31, 2023! Find it in the Mr. and Mrs. Alan Vernon Young Gallery space on the first floor of the AGH.