Over on the AGH Instagram page, we share weekly spotlights on artists in the AGH Collection, diving deep into some of the many stunning works we hold in our care. Numbering over 10,000 works and counting, many of these works are explorable from the comfort of your home through our Online Collection.

Presenting three of these Showcases in one place, enjoy this article to learn about the fascinating work of Canadian impressionist Helen McNicoll, influential Indigenous painter Norval Morrisseau, long-time Hamiltonian Ida Gertrude Hamilton, and the passionate painterly stylings of Canadian artist William Kurelek.
---
Helen McNicoll
In a career that spanned only a decade, Helen McNicoll became one of the most important Impressionist artists in Canada. She is well-known for her depictions of rural landscapes and modern early 20th century women. The Art Canada Institute describes The Apple Gatherer "as a representation of rural female labour that neither romanticizes nor pities its subject."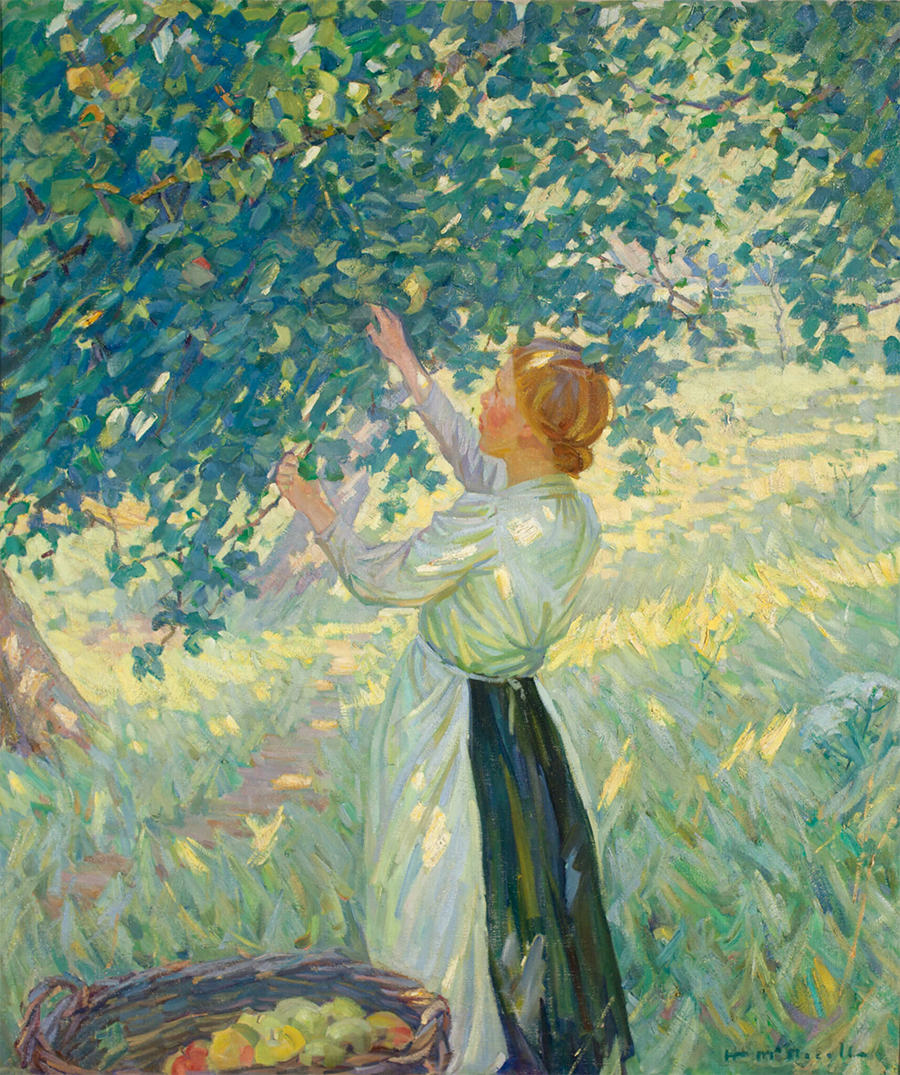 McNicoll's work was the subject of a recent Fridays at Four virtual tour, our weekly series of virtual Zoom tours with our amazing AGH docents. Register here to attend an upcoming tour!
To learn even more about The Apple Gatherer from the Art Canada Institute, click here.
---
Norval Morrisseau
Anishinaabe (Ojibwe) artist Norval Morrisseau's remarkably influential career began in the early 1960s and spanned over four decades. He is best known for his inventive images of Anishinaabeg stories, which first fuelled his imagination as a child living on Sand Point Reserve, near Lake Nipigon in northwestern Ontario. Absorbing these stories and other forms of traditional knowledge from his family, community members, and the natural world, Morrisseau gradually developed a unique style of painting through which he vividly conveyed the deep spiritual ties of the Anishinaabeg to their traditional territory and all of creation.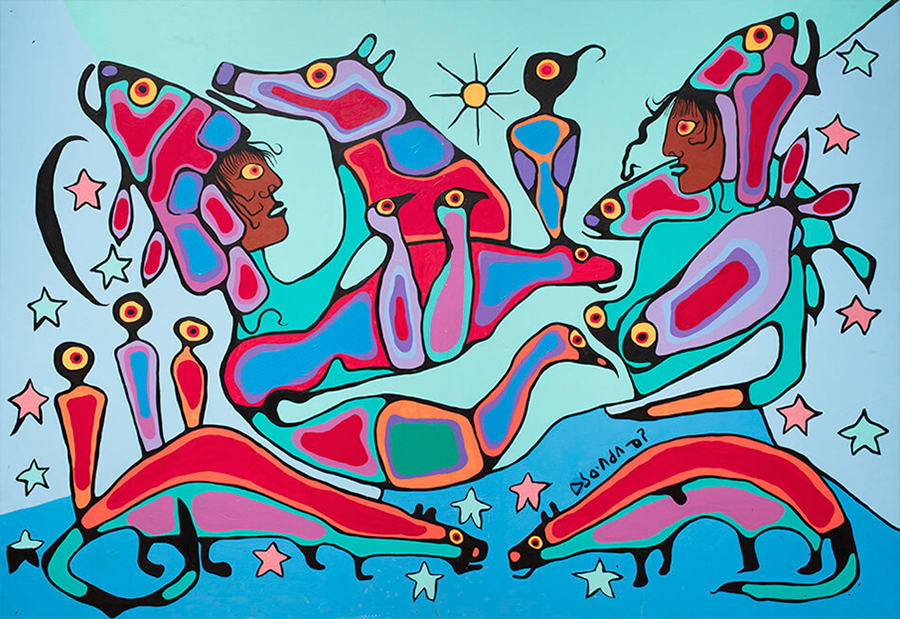 Morrisseau frequently returned to the theme of the shaman and the apprentice, testifying to his sense of duty and pride as a mentor. Shaman and Apprentice features two spirit figures facing each other as they float in a celestial space, surrounded by stars, the sun, and the moon. With human faces and amorphous bodies, the figures represent the spiritual kinship between humans and animals symbolizing the sky (birds), sea (fish), and land (bears). On the right, the apprentice is observing the shaman demonstrate his powers of transformation. The recurring subject of transformation in the artist's oeuvre exemplifies his enduring fascination with the fundamentally dynamic, ever-changing world of the Anishinaabeg. Shaman and Apprentice reflects not only Morrisseau's dedication to imparting his knowledge to younger generations, but also the necessity of exercising one's abilities to bring positive change to the whole community and, more broadly, the earth.
Shaman and Apprentice is currently on view for free on Gallery Level 2. See the work along with more selections of Morrisseau's work from our Collection upon our reopening!
---
Ida Gertrude Hamilton
Ida Hamilton was born in St. Mary's, Ontario in 1887. She attended the Hamilton Technical and Art School. In 1918, Hamilton graduated as an occupational therapist and began rehabilitating soldiers injured in World War I through the use of arts and crafts.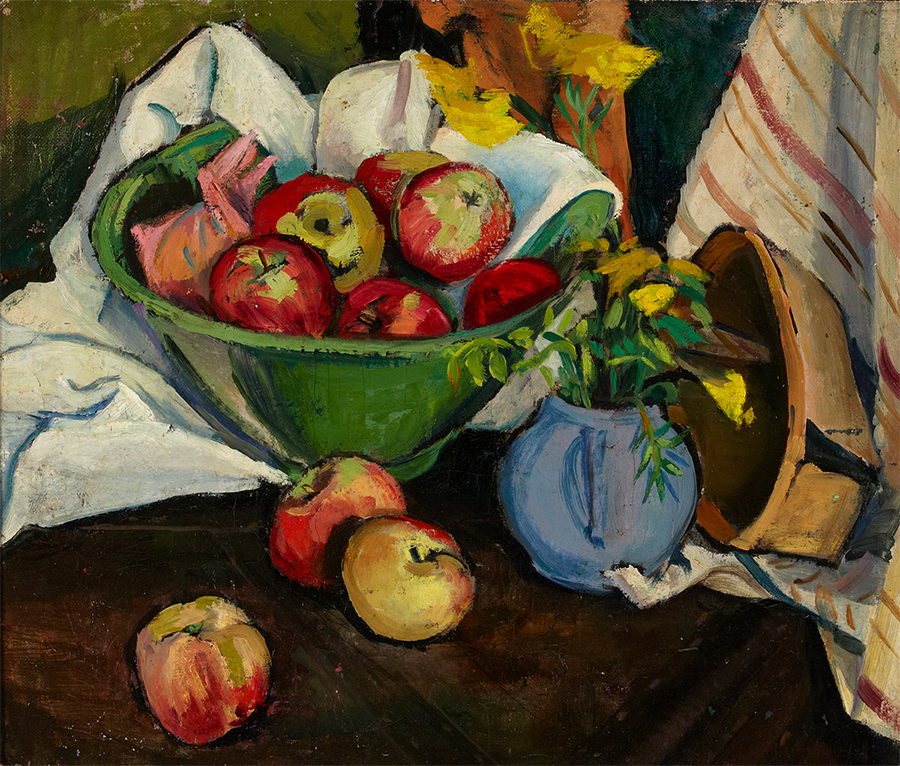 In 1930, Hamilton joined the staff of Westdale Secondary School in Hamilton, and eventually became the Art Director until her retirement in 1951. That same year Ida Hamilton was honoured when four of her paintings were chosen for the First Annual Exhibition of Canadian Art held in Manoir Richelieu, Murray Bay, Quebec.
Her diverse artistic endeavours included watercolour and oil painting, weaving, engraving, china painting, woodcuts, linocuts, book plates, and leather, plastic, paper and metal crafts. Ida was the first president and founding member of the Weaver's Guild of Hamilton (1949). She believed in the therapeutic powers of art and specifically, weaving.
Ida continued to paint and exhibit well into her 70s. Her last show at the AGH was in 1962, when Ida was honoured with a retrospective exhibition which featured 62 paintings, drawings and prints. Hamilton died in 1974 at the age of 89 after a long and prolific career.
---
William Kurelek
The son of Ukranian immigrants, William Kurelek grew up working on his family's farm and attending a one-room schoolhouse. He studied art in Winnipeg, Toronto and in Mexico. This work is part of Kurelek's series The Polish Canadians, consisting of 26 paintings in total. The paintings were reproduced in Kurelek's book The Polish Canadians, accompanied by text written by the artist.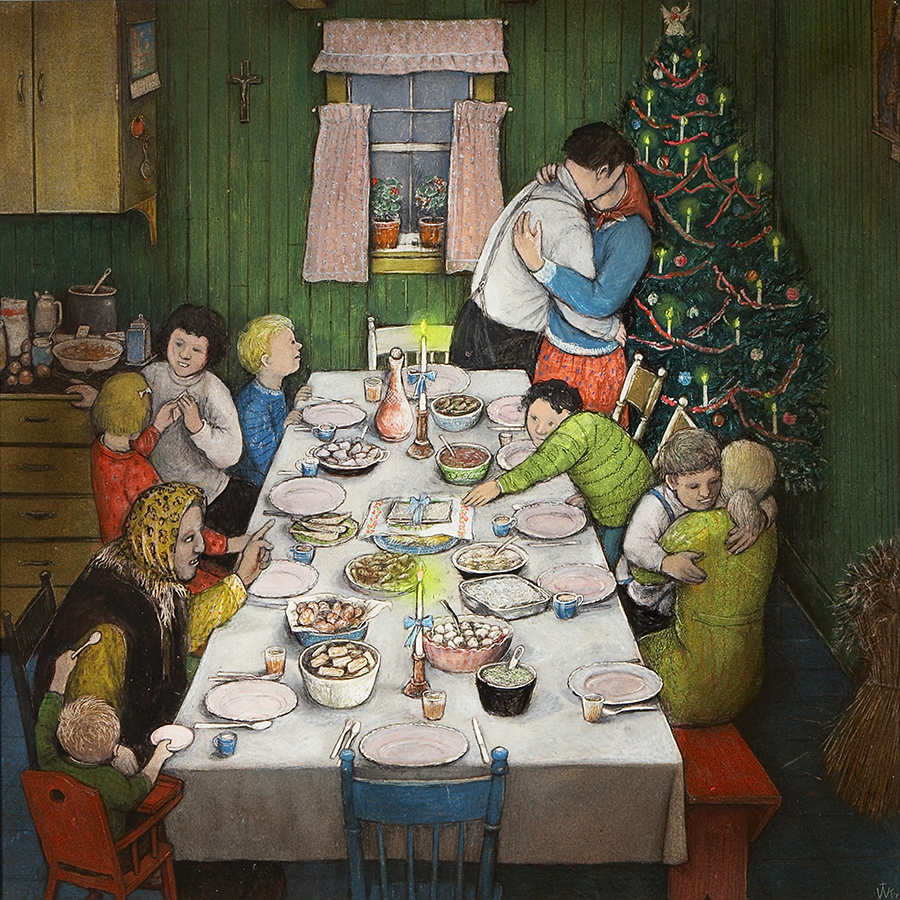 Join us tomorrow, the day after April Fool's Day for a free Zoom Tour where we will explore moments of humour or irony captured in works from the Collection in this work from Kurelek and in many others! Register here.
Please note that at the time of this publication, the AGH is temporarily closed. We continue to follow the advice and directives of the local public health officials, the provincial government, and our Board of Directors, so stay tuned to our Plan Your Visit and COVID-19 Guidelines page for updates. We hope our visitors remain connected to our programs and exhibitions through AGH at Home and Shop at AGH Online.