Did you know that the Art Gallery of Hamilton houses one of the largest public collections of works by esteemed Canadian artist Tim Whiten? Since the 1970s, the Michigan-born, Toronto-based artist has examined the nature of myth, spirituality, and transcendence in his mixed media, performance, and sculptural works. Over the years the AGH has acquired several major pieces by Whiten, including six sculptures in 2019. Illustrating the range of materials the artist uses to bridge the material and spiritual worlds in his art, our collection of seventeen works includes stunning sculptures made of leather, bones, and glass—some of which have produced unforgettable moments in our recent and current exhibitions (fig. 1).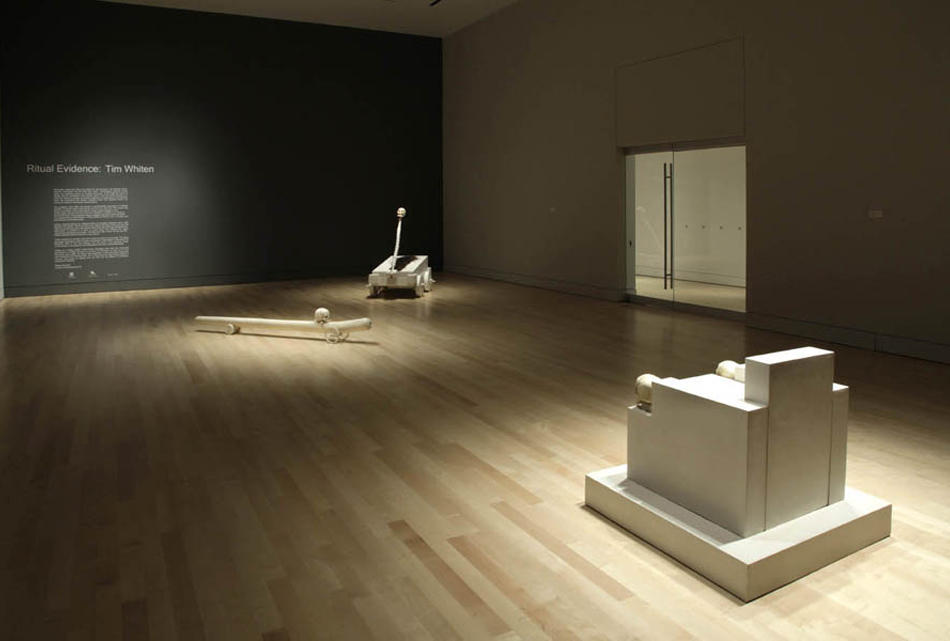 Whiten's longstanding interest in leather as a medium can be seen in one of our new acquisitions, Magic Sticks (1970) (fig. 2). The artist wrapped found wooden sticks in strips of leather, transforming them into enigmatic objects that appear to serve a ritualistic function. Whiten has continued to explore the use of leather as a type of skin for different objects, such as stones and skulls.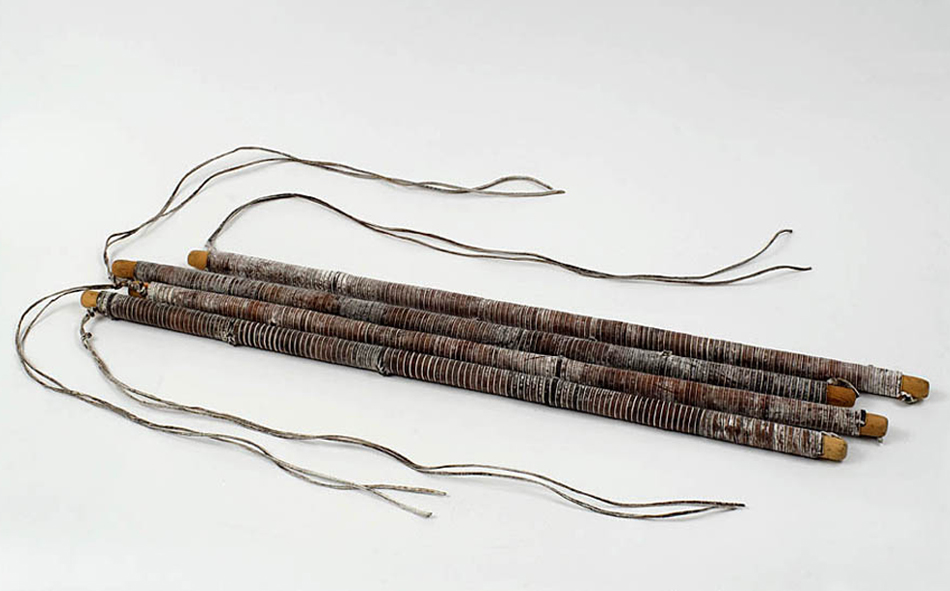 Currently on view in The Collection, Awk (1989) (fig. 3) is a sleeveless leather dress with a shark's jaw bursting out of the chest. The startling effect of this violent emergence is amplified by the contrasting minimalism of the garment, with its clean silhouette and monochromatic colour. In this emotionally charged sculpture, the leather again functions as a type of covering, yet it is unable to conceal what lies beneath.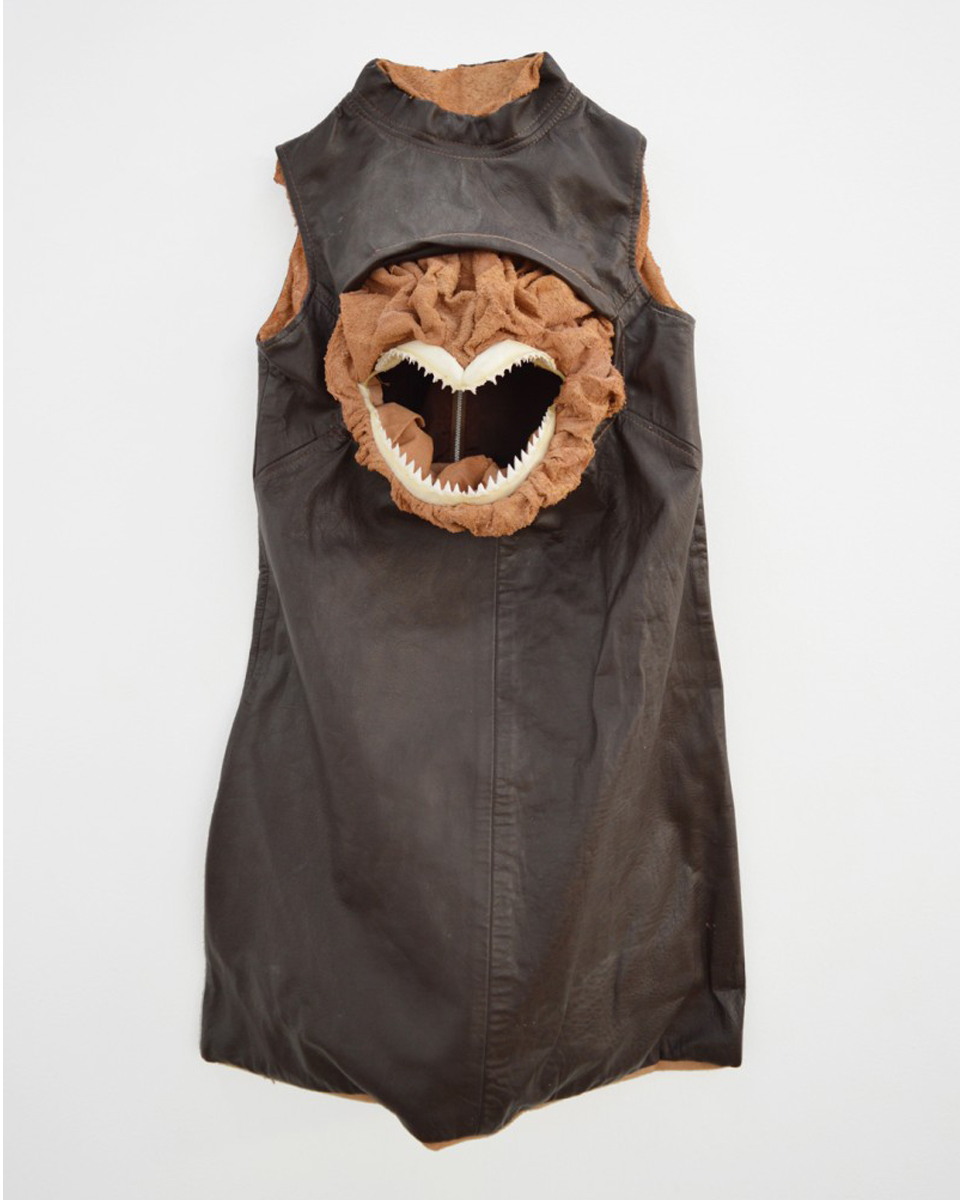 Since the mid-1970s, Whiten has incorporated human skulls into his artworks as a potent symbol of the connection between the human and the divine. Siege Perilous (1988) (fig. 4)—recently exhibited in The Collection Continues: A Quarter Century of Collecting—is a white, wooden throne with a human skull positioned at the end of each armrest. In Arthurian legend, Siege Perilous refers to the empty seat at King Arthur's Round Table, reserved for the knight destined to find the Holy Grail. [1] In Whiten's work, the transfixing skulls assist in conveying the transcendental power of this grand seat.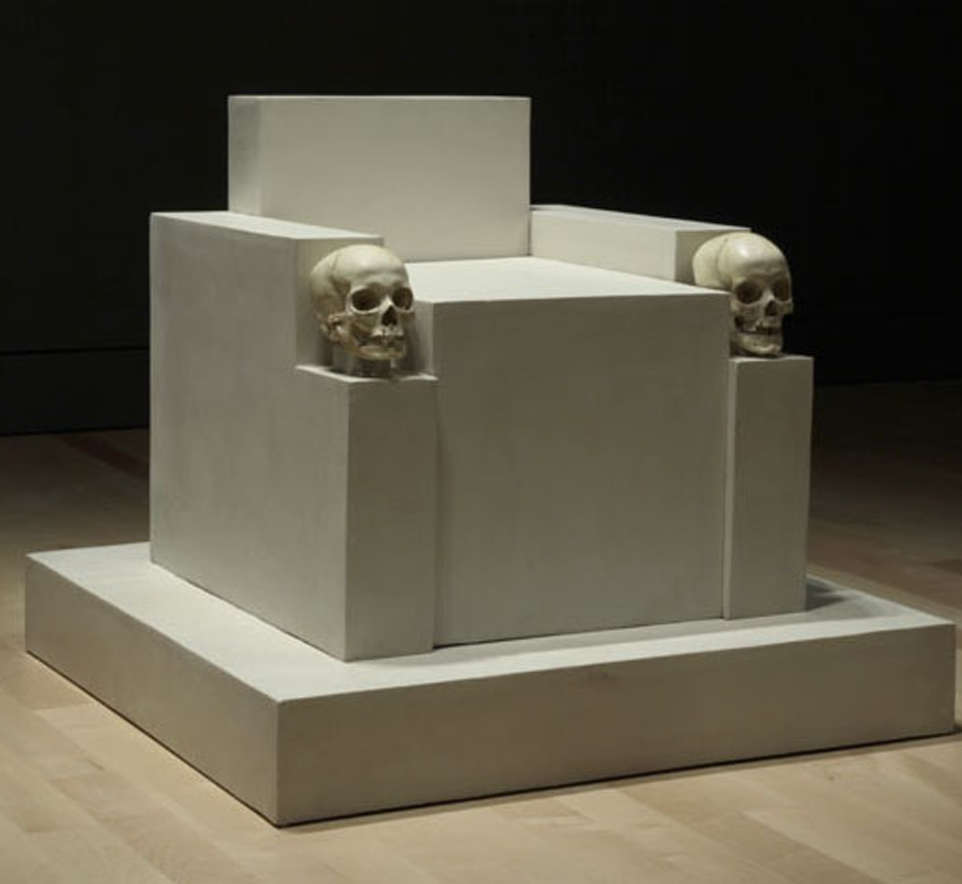 Whiten's magnificent sculpture Reliquaire (II) (2014–15) (fig. 5) consists of a human skull encased in an octagonal, translucent glass structure. A lens on the lid of this structure allows the viewer to visually enter into the same space as the skull. One side of the skull is coated with gold leaf, while the other half is covered with a mixture of talc and glue and holds a glass eye in the eye socket. The gold surface of the skull reflects the light entering the receptacle through the lens, bathing the mirrored interior in a luminous glow.[2]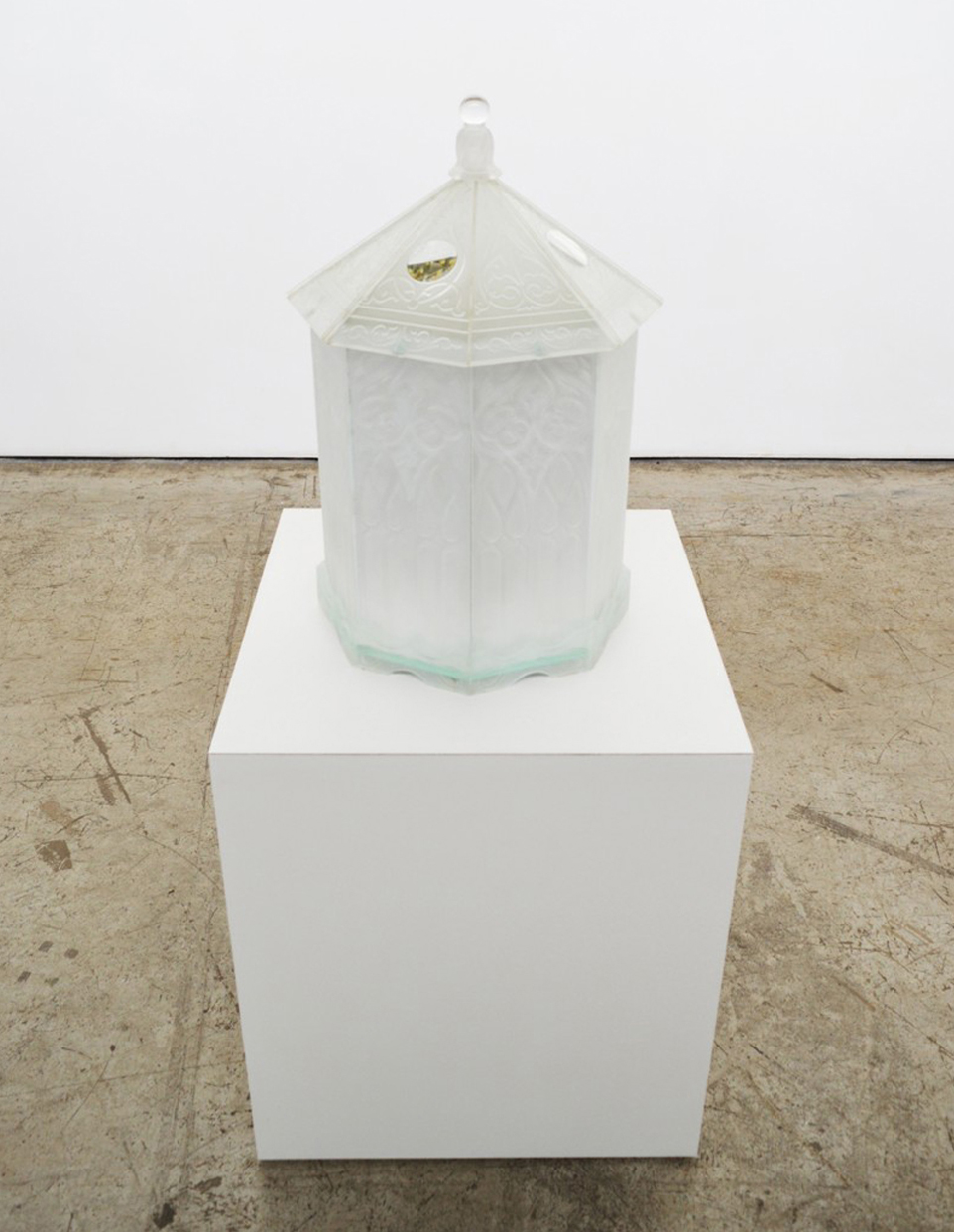 Whiten's ambitious and sophisticated handling of glass in Reliquaire (II) is the result of working with this material since the mid-1980s. For the artist, the importance of glass as a medium lies partly in its transparency, which is "the key to the understanding of the physical world and the infinite."[3] Along with Reliquaire (II), Mary's Permeating Sign (2006) (fig. 6) is a recently acquired glass sculpture consisting of a glass rolling pin resting on a pillow. The rolling pin is a replica of one that was made for Whiten's mother by his father; engraved on its surface is a magic square containing "mystic numbers derived from her date of birth."[4] Rather than representing her physical likeness, this memorial to Whiten's mother beautifully captures her enduring spirit.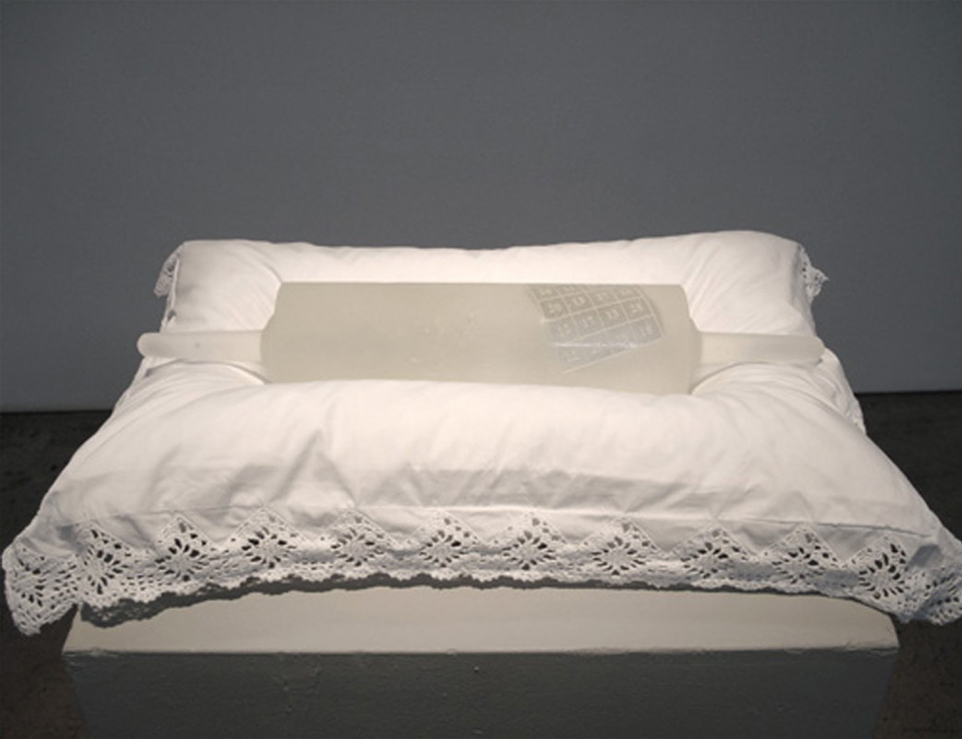 Currently on display in The Collection, Lucky, Lucky, Lucky (2010) (fig. 7) is a life-sized glass rocking horse that explores how "play allows us, in many cases, to go to another world."[5] As a toy, the rocking horse provides a sense of joy, comfort, and connection by mimicking the rocking motion that a mother makes when carrying a child.[6] Transformed into glass, the rocking horse is divested of its practical function, yet its higher purpose is revealed.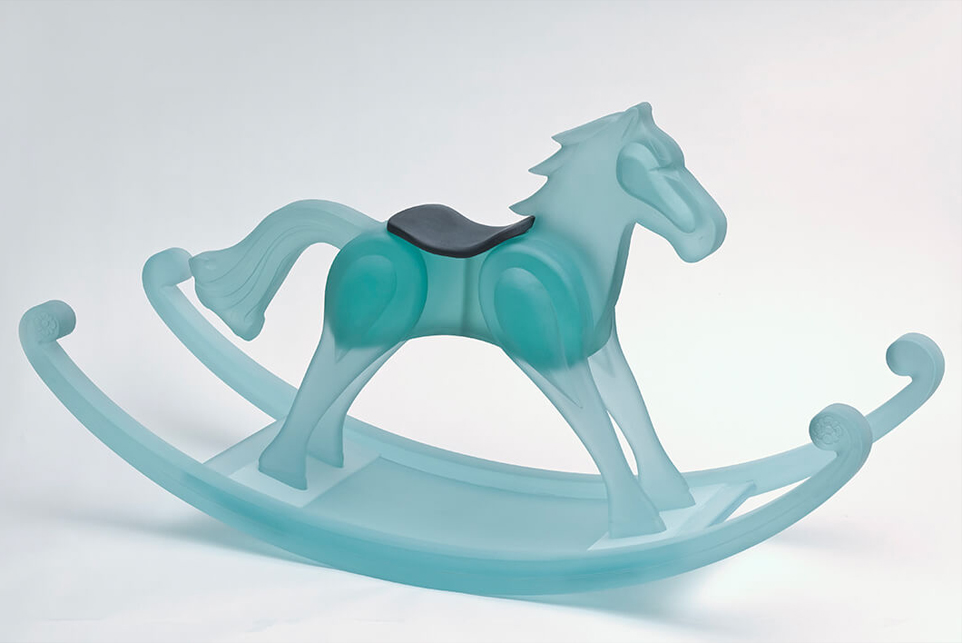 Working with familiar materials such as leather, bones, and glass, Whiten creates sublime sculptures that transport us beyond our physical world. Experience the powerful presence of Awk and Lucky, Lucky, Lucky in the permanent installation The Collection during your next visit to the AGH!
Header image: Tim Whiten crouched in front of his site-specific installation Morada, 1977, at Artpark, Lewiston, NY. Photo: Andrew Stout.
[1] Encyclopaedia Britannica, s.v. "Round Table: Arthurian Legend," accessed March 28, 2020,
https://www.britannica.com/topic/Round-Table-Arthurian-legend.
[2] "Catching the Rainbow: Image Maker TIM WHITEN in Conversation with JARRETT EARNEST," Vimeo
video, 38:33, posted by "Meridian Gallery," April 29, 2015, accessed March 28, 2020,
https://vimeo.com/126381045.
[3] "Interview: Tim Whiten," Vimeo video, 11:48, posted by "ArtSync," February 5, 2011, accessed March 28, 2020, https://vimeo.com/19606777.
[4] Robert Farris Thompson, "The Art of Tim Whiten," in Darker, ever darker; Deeper, always deeper: The Journey of Tim Whiten, ed. Anne Trueblood Brodzky (San Francisco: Meridian Gallery, 2010), 6, 8.
[5] "Interview: Tim Whiten."
[6] Ibid.