Early Snow and its companion exhibition The Contemporaries, curated by James King and Tobi Bruce respectively, presents a thrilling snapshot of the art production that orbited Toronto in the 1950s and 60s. Together these exhibits give context and then provide an unfolding of Snow's emergent process: his early experiments with serialization, his mash-ups of sculpture, painting, and ready-mades, his shifting loyalties to representation and abstraction. The work lays out these interests and experiments with a clear logic, culminating in a room filled with Snow's first efforts to modulate on the Walking Woman, a silhouette that would become his exclusive obsession between 1962 and 1967, and which would germinate into a body of work that establish him internationally.
In response to this local artist collective (F)NOR (aka For No Other Reason) has created a performance art work titled UNDERCUT, in response to Snow's Walking Women. Walking Women, as understood from a contemporary feminist perspective, can be interpreted as an attempt to flatten women themselves—a reduction of all that women can be, via the hand of a male artist. Whether considering that the sculptural forms are literally flattened, or two-dimensional, or pondering their cropped limbs, or their ambiguous yet sexualized forms, the treatment of the figure can be viewed as an aggressive reduction and oppression.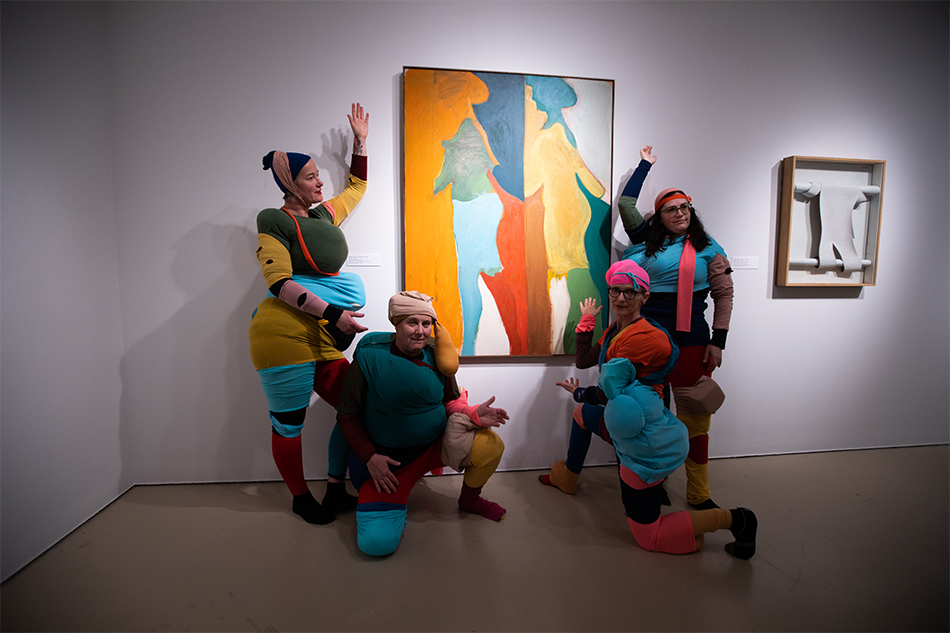 Using these issues as a launching point, F(N)OR operates within the operandi of a feminist, political, body-positive, gender-inquisitive collective. As the Walking Women sculptures originally caused people to turn their heads when passing by in public, UNDERCUT similarly uses spectacle in a cunning way.
Delivered as part of Watch It Burn, a music/film/performance series coordinated by Zula Creative Music and Arts, the first UNDERCUT performance took place at the AGH on February 8, 2020, during the exhibition opening for Early Snow. The performance began silently, and inauspiciously, and immediately following a screening of John Oswald's homonymy, a 10-minute homage to Snow's 1982 film work So Is This. The four members of F(N)OR (Donna Akrey, Margaret Flood, Svava Thordis Juliusson, and Nancy Anne McPhee who was a temporary substitution for member Andrea Carvalho), stood up as if to leave, and then began casually walking circles around the audience.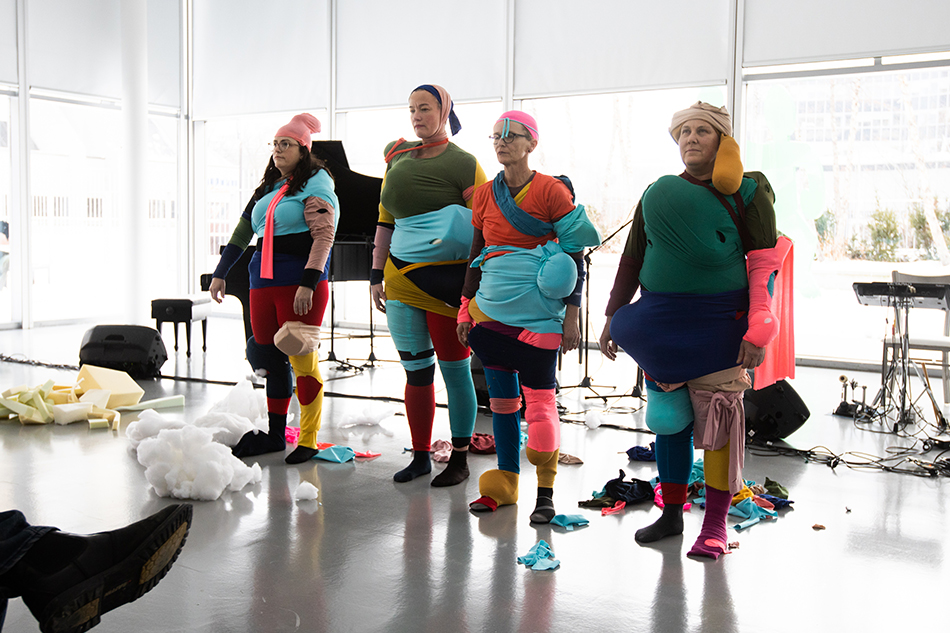 They eventually converged around a supply of foam and fabric and began stuffing it into their own black attire, using the foam to break the symmetry of their own shapes, allowing the brightly coloured fabric attachments to further confound their appearance. The performance completed when the quartet had expertly reflected the composition and palette of Snow's poppy painting "61-62", an exploration of the Walking Woman form broken into fields of colour.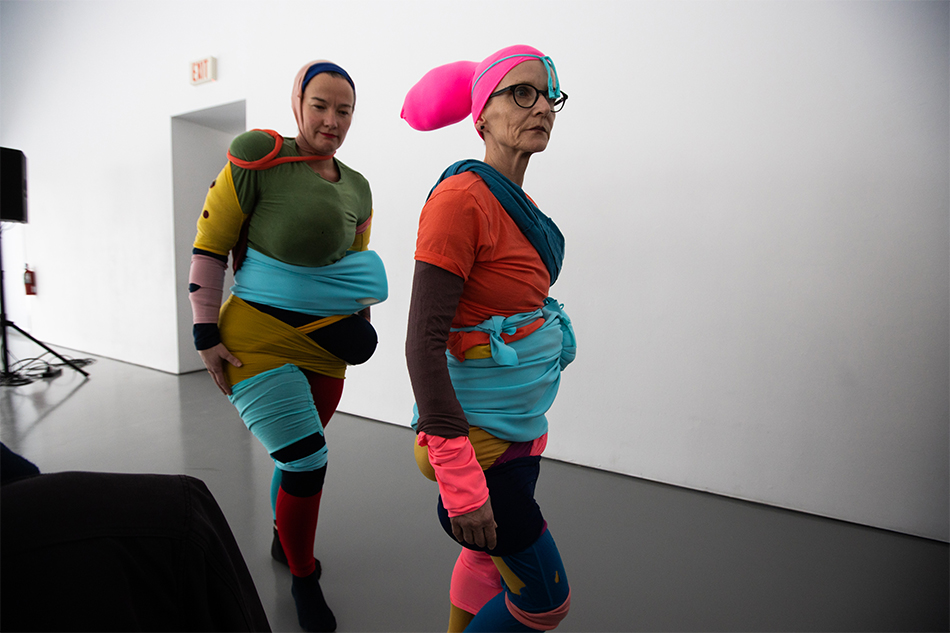 The deadpan stare that accompanied their actions was inconsistently delivered; some members held it with perfect severity, others could barely contain their mirth. But this in itself seemed to brilliantly express the range of their intentions. UNDERCUTS is an act of protest, tempered and made more powerful by its sense of absurd play; it inflates and deflates Snow's work simultaneously.  It confirms Walking Woman's place within art history and then steals back its power through a satirical gesture.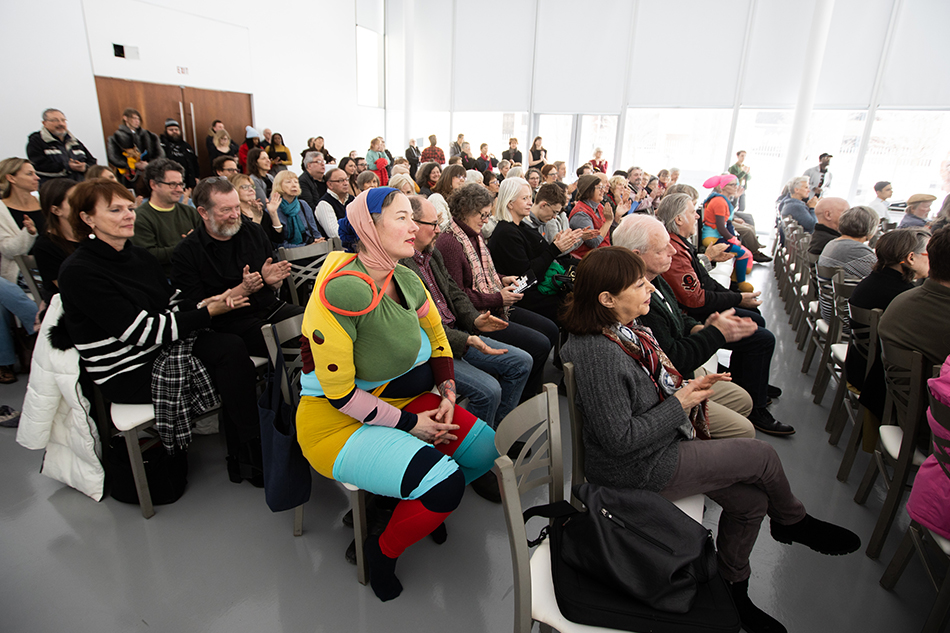 This is not the first time that F(N)OR has delivered this kind of performance. The collective has devoted much of its creative output investigating, problematizing, and reacting to significant moments in art history where the female body has been controversially depicted, focusing on one artwork at a time. As such they have delivered an intriguing series of performance works over the last decade.  Dear Prudence was delivered at the AGH in 2016 as an hommage to Prudence Heward's 1930 painting The Bather, which was controversial during its time for its unidealized representation of the female body. (F)NOR collectively reproduced Heward's work in person, while dressed in bathing suits in allegiance with the painting's protagonist. L'herbe is a series of photos and performances where F(N)OR restages Édouard Manet's Le Déjeuner sur l'herbe (1862-63), assuming the roles of the painting's four central characters. In both cases, their tableaux initially look like lo-fi parody, but then they invisibly switch gears to reveal an intention that occupies space, disrupts power, gender identity and imbalance, and stares defiantly back at an audience.
F(NOR) will restage the UNDERCUT performance as part of Free Friday at the AGH, on March 6, 2020.
Watch it Burn! returns to the AGH with film screenings and performances on March 15, 2020.