For too long women artists have been excluded from art history, exhibitions, collections, the art market, and commercial gallery representation. To help bring the work of women artists back into the conversation, Speaking for Herself mines the AGH collection to bring together significant work by significant artists who identify as women. In the spirit of this empowering historical moment for women around the world, we are very proud to present an exhibition that foregrounds the artistic voices of so many intelligent, perceptive, witty, strong and creative artists. The project features the achievements of both known or recognized artists, while introducing lesser-knowns into the discussion, and is presented in three themes: Her Conversations, Her Materials and Her Private and Public Self.
Her Conversations
Nova Steel Ltd. Gallery
This room brings together a series of pairings created across time, geographies and identities. Each pairing shares a theme and it becomes clear that, regardless of where and when these images were created, their ability to explore and speak to a range of social, political, and cultural ideas is strong and present. Two of the paintings shown left to right, are Carolyn Samko's Gloriana (1996) and Helen McNicoll's The Victorian Dress (c.1914).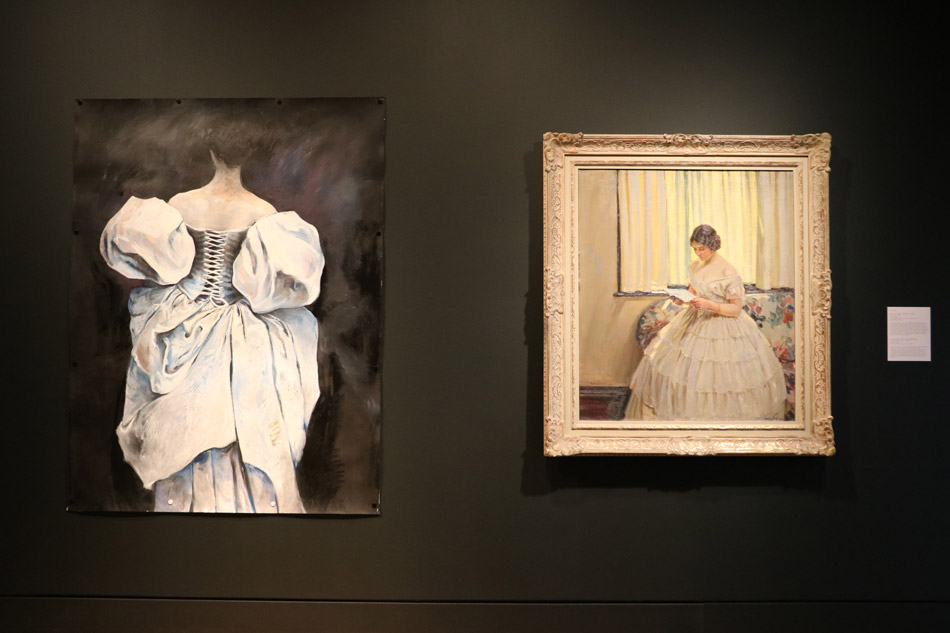 Samko's Gloriana, taking its name from the nickname of Queen Elizabeth I, portrays a woman dressed in a white corseted gown shown from behind.
"The people are unimportant and the dress becomes the focal point, life-sized as though you could walk into the painting and feel the fabric yourself." – Carolyn Samko
In McNicoll's The Victorian Dress, it appears as if the woman is being swallowed whole by her dress. Opulent, delicate, precious, and overwhelming, the garment takes up much of the composition; it is the clear subject of the painting. Although these paintings were created generations apart, one immediately notices the chaste white dresses made of hoops and corsets that speak directly to centuries of oppression toward the female body.
Her Materials
David Braley and Nancy Gordon Sculpture Atrium
In this space different sculptures are featured that were created by artists who have explored and introduced a wide range of materials and practices. Some are directly associated with what is traditionally considered "women's work" such as embroidery and sewing, yet their work expands and redefines what we think of as contemporary sculpture.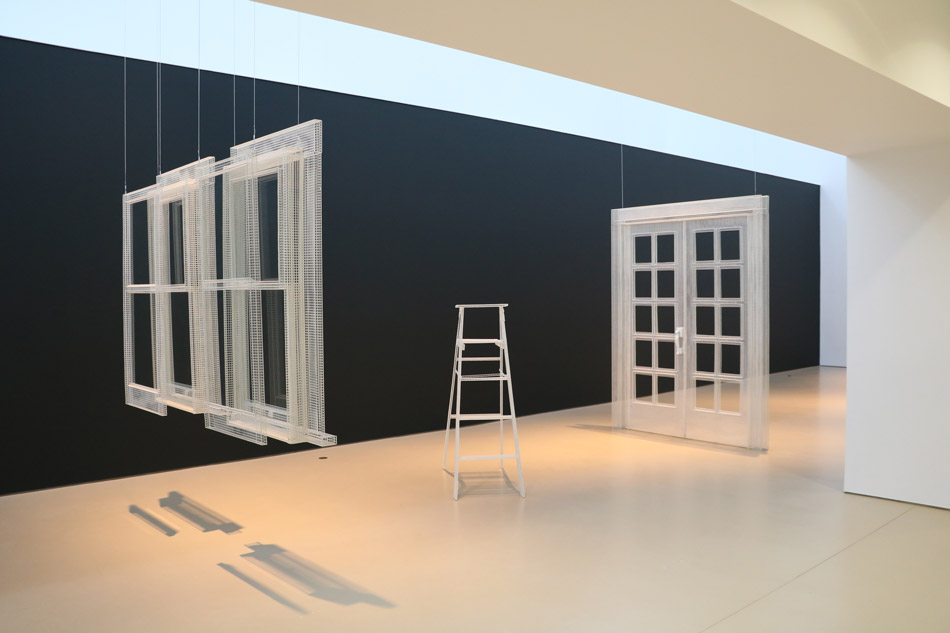 An Whitlock created Means of Escape (1983-1990), a "room" containing a ladder between French doors and a set of windows, both suspended from the almost 30-foot ceiling. They are the result of the artist dedicating almost eight years of her life by hand-sewing copper wire, one piece at a time, to build these life-sized objects. The open space for this stark-white sculpture is bright with natural light containing one completely black wall. When standing in the middle, beside the ladder, you realize the ladder is clearly meant as a "means of escape."
Her Private and Public Self
Hendrie Gallery
By exploring how society has portrayed women in domestic and traditional roles and defining their identities around the world, this room questions, challenges, and highlights these stereotypes. Most of the works in this space were created during the 1980s and 1990s (third wave feminism) and deliberately confront the status quo. Because of this, they offer alternative points of view and realities.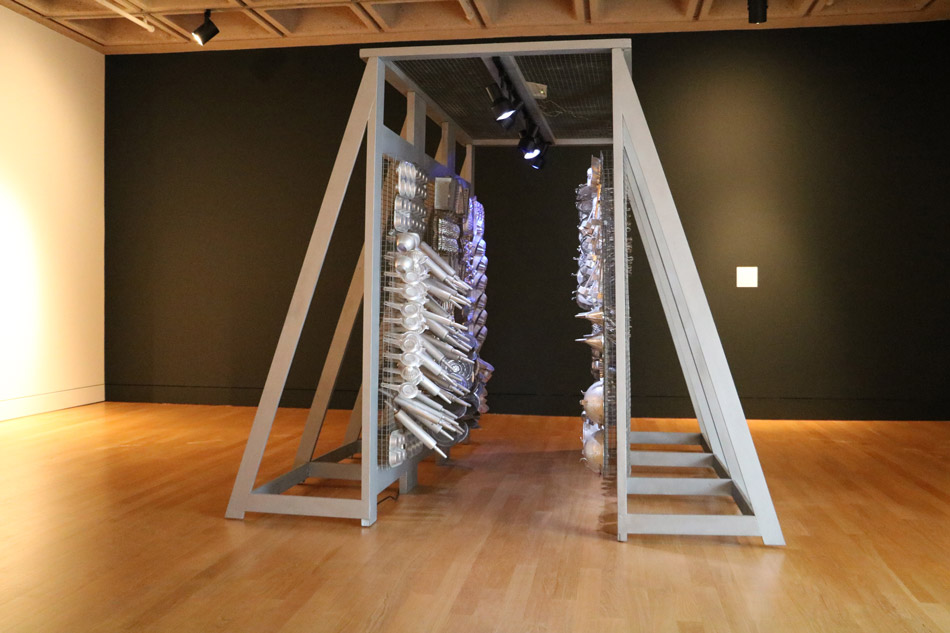 Walking into Clarissa Schmidt's installation titled Waiting (1980) might make you feel as though you've stepped into the role of a Stepford wife, revealing the conflicts between individualism and traditional roles. Eerie blue spotlights softly illuminate your surroundings that consist of hundreds of kitchen utensils, all painted in a similar colour. While your body tenses from the feeling that the objects are pressing against you, a ticking clock is heard, followed by chirping birds, an airplane, and then a whispering stream of consciousness: "grind…hash…chop…boil…time…stir…mince…whip…bake…time…weigh…knead…freeze…."
Come to the AGH to enjoy and explore the works by a wide variety of women artists, historical, modern and contemporary, in a range of practices including painting, photography, sculpture, and installation. Experience Speaking for Herself for yourself and help bring the work of women artists back into the conversation. Free admission to Gallery Level 2 courtesy of Orlick Industries.
Speaking for Herself Exhibition
Gallery Level 2
March 10, 2018 – March 17, 2019