According to Kim Adams, the Bruegel-Bosch Bus is always on his mind, in his dreams, and if he could, he'd build a bunkie in the Gallery so that he could sleep nearby and work on the piece every day.
The piece is the longest-ever work-in-progress—in the AGH collection, anyways. It has been installed at the Gallery since 2006, though Adams began making it in his studio in 1997. Several times a year for the past few years, Adams has been coming in to develop the work. Always bringing small parts from the inventory he's been building over decades, when he comes, he finally gets to put things in place.
Adams's last visit was in February of this year, and just this past week he returned to add a few small pieces and do some maintenance. The piece gets dusty over time, and we wanted to clean it as much as possible in advance of some photos we'll be taking for an upcoming book focused on the Bus. We've been wanting to produce a book for years, and the Bus has finally reached a point where the artist feels it can be represented in a close-to-final way.
Scroll down to see how the dusting went! With Adams's supervision, the work was completed by AGH Preparator, Paula Esteves Mauro; Collections Manager and Researcher Christine Braun; and Exhibitions and Publications Co-ordinator Lela Radisevic. As you can see, not all places are easy to reach…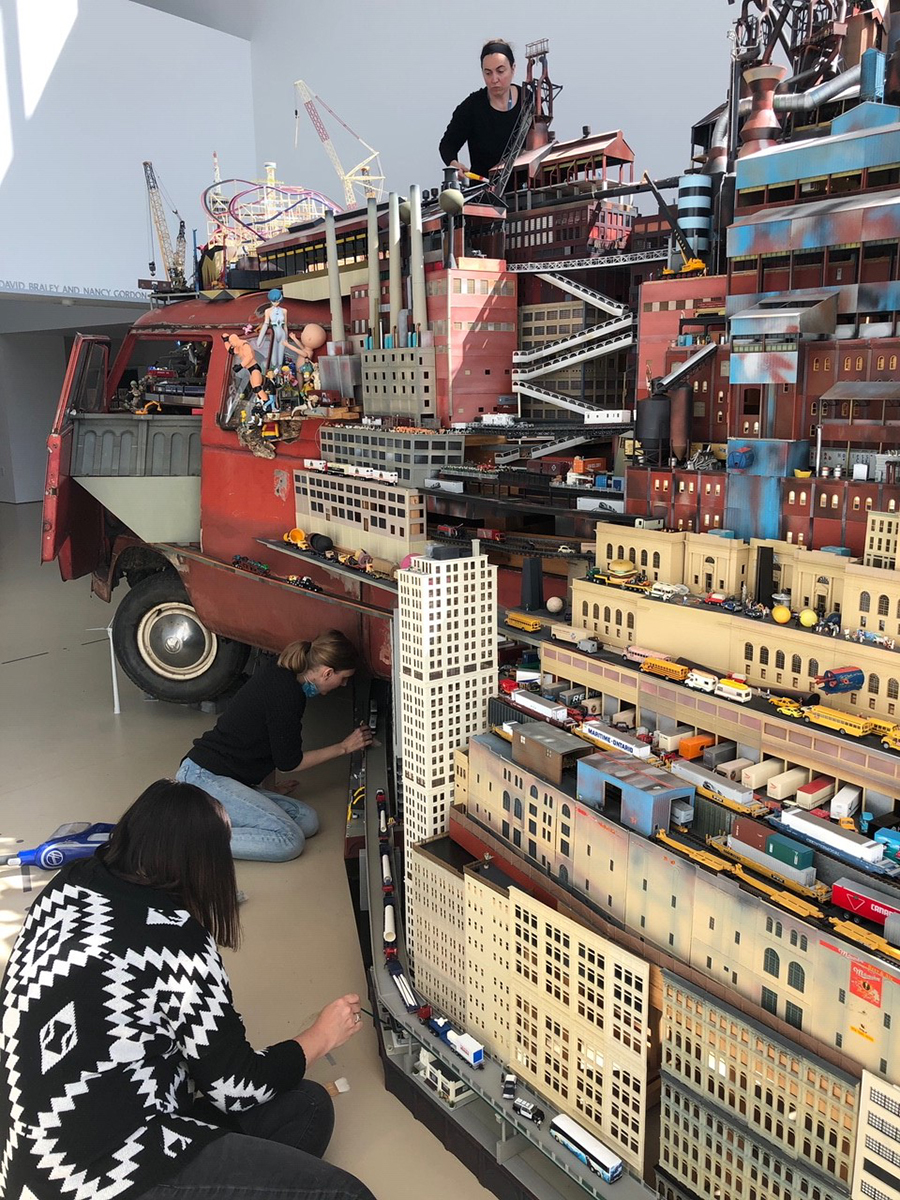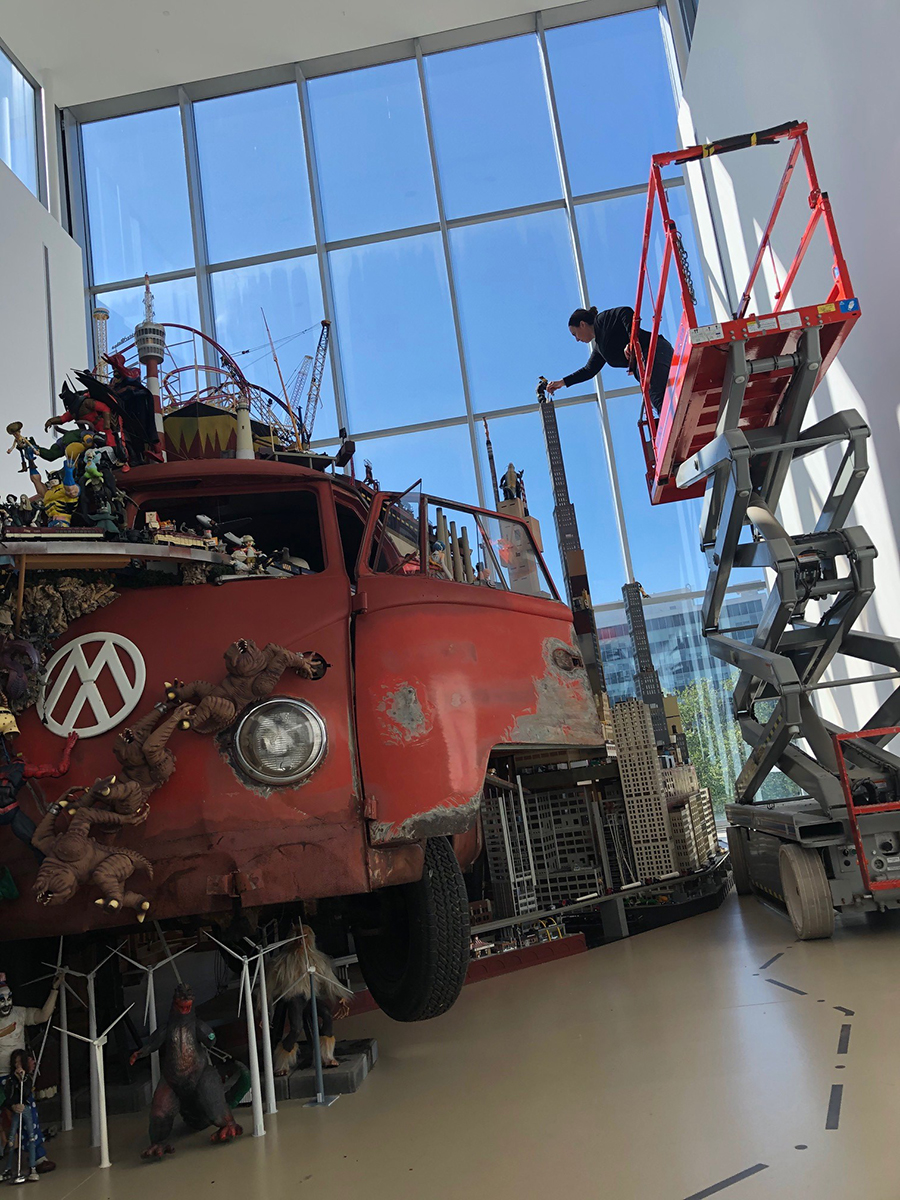 If you haven't seen the Bruegel-Bosch Bus in person, let me tell you a bit about it. One of our most-visited Collection pieces, it is a large-scale sculptural installation, a permanent fixture on Gallery Level 2. From a distance it is a vintage VW van covered in toys, train tracks, and HO scale models, with thousands of tiny pieces affixed to every surface. The work is comprised of little scenes, each one its own little story within the larger narrative.
The overarching theme of the Bus has been the apocalypse—there is a toy skeleton driving it, presumably into an inferno. The vehicle is covered in evidence of 21st century madness: Adams proposes that pop culture, consumerism, mass media, capitalism, corporations, and industry all have a part in the demise of the world (our environment, our happiness, etc.) There is plenty of room to interpret the piece around the theme of "necessary(?) evils." Yet lately, there seems to be a turn of direction where positive elements take up more space. Humour has always played a strong role too, no matter the seriousness of the issue being explored. Humour is a key component of much of Adam's oeuvre. Is it the way forward?
For example, Adams added cork a few years ago – around the time it really went out of use for wine bottles, for reasons of resource sustainability. He added it to an area of the Bus that is optimistic, full of greenery and many new figures enjoying leisure activities. That's on the front left side of the Bus, an area Adams has been envisioning for years.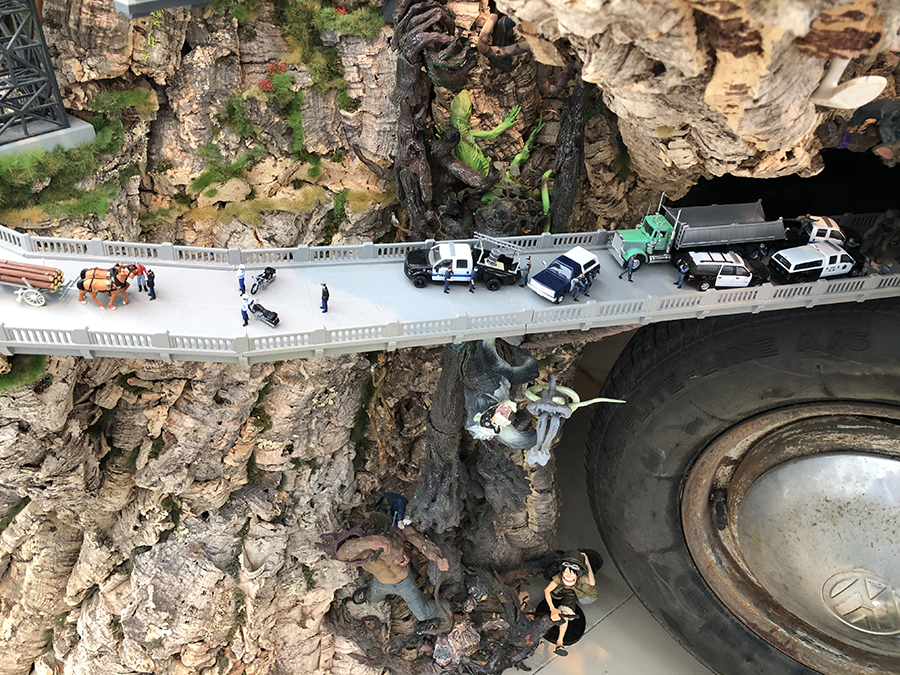 That front left side has evolved from a more sinister-themed area to a place of, dare I say it, idealism. Even Adams is surprised by this change in direction. He says, "the Bus tells me what to do. I can bring pieces to it, but sometimes it just doesn't work, visually or conceptually. It's a back-and-forth process." The recent additions of greenery and more humorous scenes seem to add a renewed lightness and positivity to the piece—as Adams said to me, "maybe there is hope for the future!" The Bus now bears strong connections to Artists' Colony (Gardens), 2012, another AGH collection piece on view nearby.
Adams recently built up the highway area around the front left side too. He created a few little scenes with tiny HO people figures. One is a set of marching band figures, which he painstakingly affixed in formation atop the road. Ahead of them, a tiny farmer guides a set of horses who are pulling a load of logs. They are being confronted by police officers who are giving the horses a ticket. (We are not sure what the offence is.) A little further ahead, an androgynous pair of apes, who hold hands as lovers do, are being surrounded as well in another potential standoff. This relatively small section of the overall piece presents numerous narrative possibilities, and is exemplary of the piece as a whole.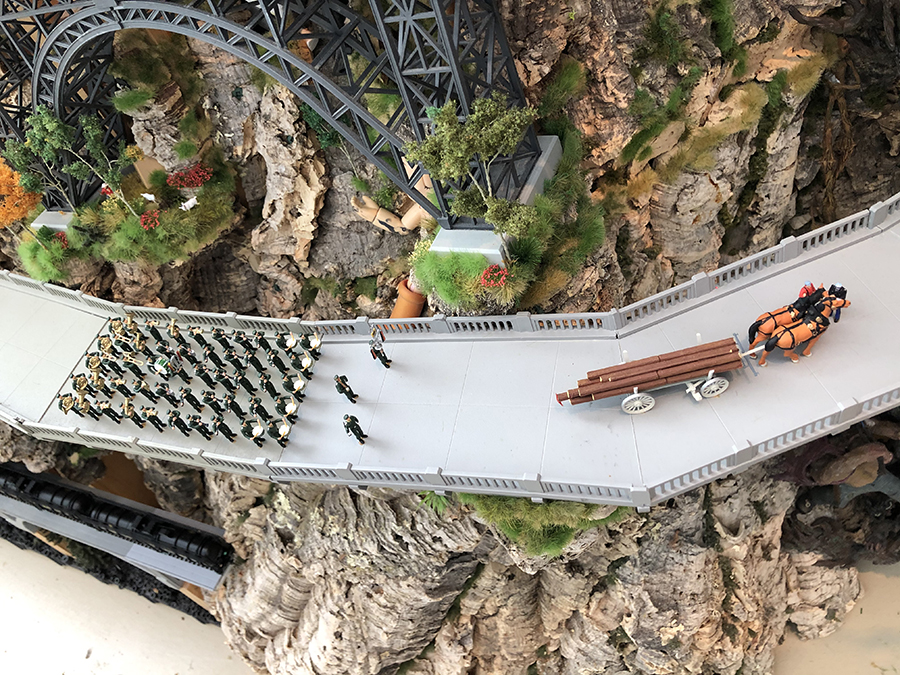 This longest-ever work-in-progress currently has no end in sight. Please visit often to explore new elements and bring your perspective to the stories within. Visits to the Bus are always Free Admission, like the rest of Gallery Level 2.