James Tissot's oil on canvas Croquet is a popular and celebrated painting from the AGH permanent collection. Created in 1877-1878, the work entered the collection in 1965 and has since that time traveled the world as an important player in numerous exhibitions.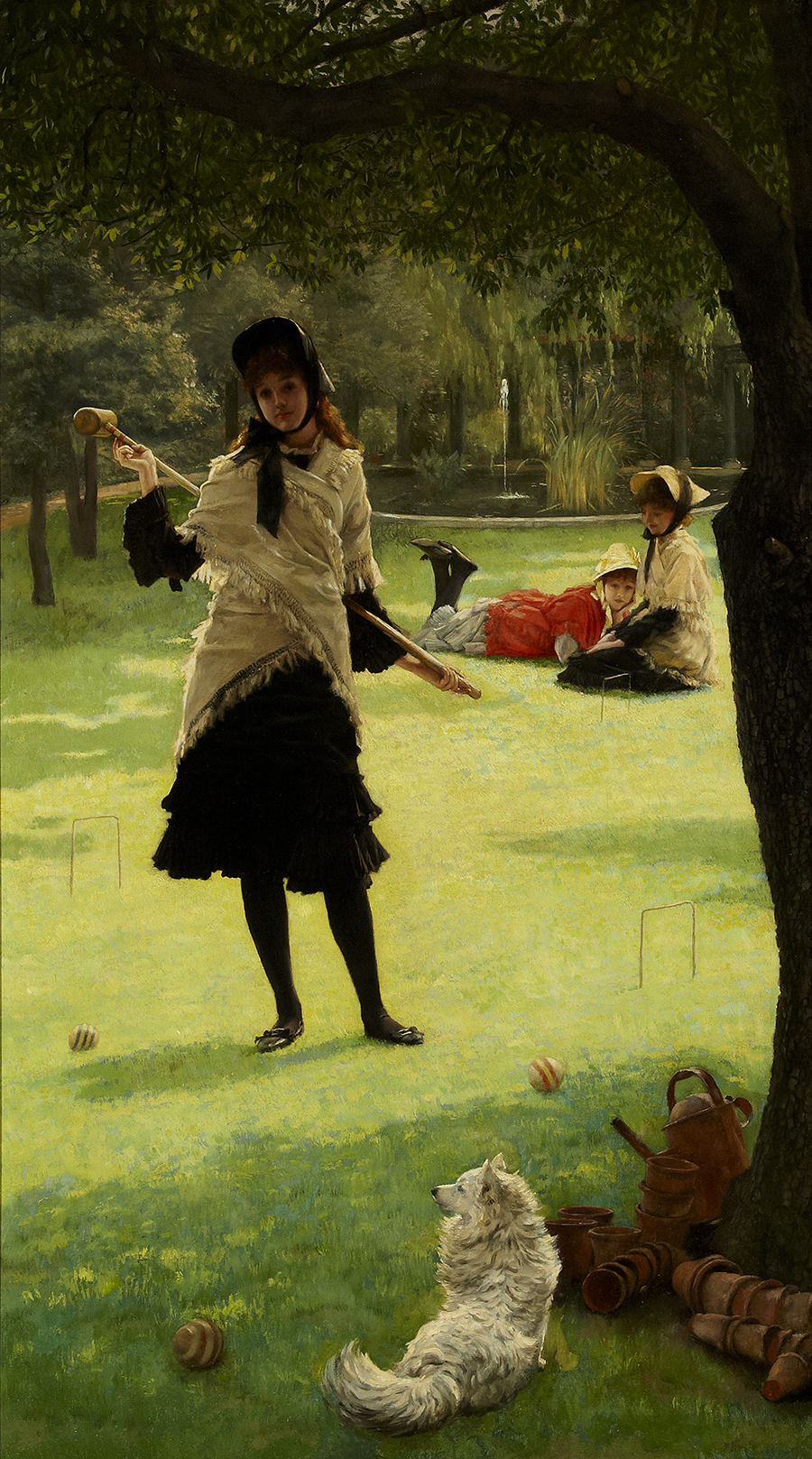 Born in France and living in England during the 1870s, James Tissot is best known for his pictures of fashionably dressed women in London and Paris during the late Victorian era. Tissot represented his subjects with a unique blend of narrative realism and ornamental effects, of which Croquet is an effective example. Croquet is the only painting by Tissot represented in the permanent collection, and is joined by 8 prints. Interestingly, one of those prints titled Le Croquet is a slightly modified composition from the painting and dates to 1878. Tissot would in fact often return to this scene, creating other versions in print form, gouache and even metal-work.
In 2018, the AGH was honoured to be contacted by the Fine Arts Museum of San Francisco (Legion of Honor) and the Musée d'Orsay (Paris), as joint organizers of the first international exhibition devoted to James Tissot in 20 years. The curators were keen to include Croquet in this retrospective slated for its San Francisco run from Oct 12 2019 to Feb 9 2020, where it would then move to Paris for a March 22 to June 28th presentation at the Musée d'Orsay. (Interestingly, the exhibition would have a different title at each venue: James Tissot: Fashion and Faith in the USA, and James Tissot: Ambiguously Modern, in France.)
Our standard processes were followed for a work travelling internationally. The work was assessed internally and a second opinion sought from a paintings conservator. Once approved for travel and exposure at both venues, the appropriate paperwork and permits were obtained, and AGH preparators set about building a wooden crate with a customized interior so that the work would travel safely and smoothly on its 4-day journey by climate controlled/air-ride truck to the West Coast.
The exhibition was extremely well received in San Francisco, with the curators presenting new and original scholarship that would cast his popular society paintings in a new light, one that would acknowledge the artist's complex commentary on nineteenth-century society, religion, fashion, and politics and also question where and how Tissot should be situated in narratives of the nineteenth-century canon.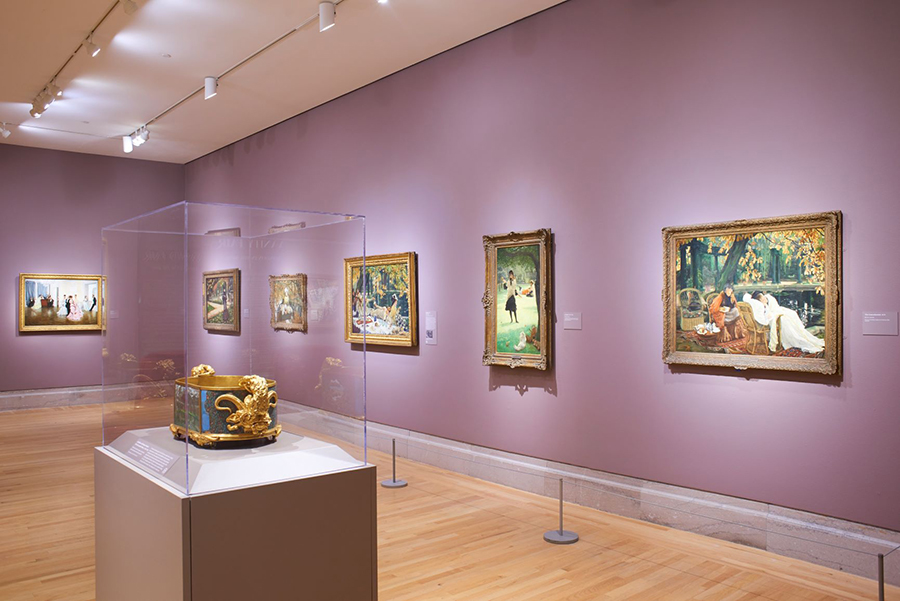 Highly anticipated in Paris, the exhibition traveled by air to the Musée d'Orsay accompanied by conservators and collections staff from the Fine Arts Museums of San Francisco. Croquet, along with all of the other works in the retrospective were installed and secured in anticipation of the exhibition preview event on March 22nd. Unfortunately, on March 13th, we received notice that the Musée had made the difficult decision to close to the public to as a measure against the further spreading of Covid-19. It was one of the first gallery closures that had been announced (many would of course follow in quick succession) and somehow made the severity of the pandemic seem all the more real, or at least at our doorstep. The Musée assured us that Croquet would continue to be monitored closely for security, appropriate climate control and reduced lighting in the absence of visitors. The AGH would announce its own closure soon afterwards, committing the same standards to those works on loan to our galleries from sister institutions.
As galleries and museums all over the world grappled with keeping important lines of communication open and safeguarding other institutions' treasures that had been trusted to their care, the spirit of institutional collaboration and goodwill was remarkable, and continues to be. Exhibition schedules have been shifted and re-worked and change requests to loans made, all in the interest of preserving the best experience for the visitor once we are able to enjoy exhibitions in person again.
It is in the spirit of this collaboration that we are delighted to announce that James Tissot: Ambiguously Modern is to finally open to the public in Paris on June 23rd, with an extended run to September 13th. The Musée d'Orsay of course will be following strict safety protocols to keep visitors safe and preview parties will not go ahead. They have also launched a virtual exhibition for members and a wonderful overview for those who either cannot access the Musée and those who do not yet feel comfortable venturing to public spaces. The exhibition overview can be viewed at the Musée d'Orsay website.
We wish our colleagues at the Musée d'Orsay all the best for a successful presentation of the work of James Tissot, and look forward to re-opening our own doors to visitors on Thursday, July 16. While you await our reopening, you can view Croquet and the rest of the AGH Permanent Collection here.