Last year, Ottawa-based artist Meryl McMaster made international waves with her newest body of work, As Immense as the Sky (2019), exhibiting it in Canada, the UK, France, and Australia. Three years in the making, the series of nineteen photographs captures McMaster's travels to central and southern Saskatchewan, Ontario, and Newfoundland as she retraces the journeys of her nêhiyaw (Plains Cree) and European (British/Dutch) ancestors, visiting sites that held deep significance for them. Relying on self-made costumes, props, and makeup, McMaster transforms herself into fantastic personas that manifest her connection to each place. Intermingled with the poetic allure of her photographs, however, is a sense of foreboding arising from the artist's fear that climate change may permanently interfere with the cycles of life inherent to these storied regions. In two recently acquired works from this series, McMaster turns to the land for knowledge and wisdom, as her ancestors once did. [1]
From a Still Unquiet Place (fig. 1) depicts Red Pheasant Reserve, Saskatchewan, where McMaster's father—artist, curator, and author Gerald McMaster—was born and raised. Standing in the foreground with her back to the viewer, McMaster is gazing at a narrow body of water, surrounded by grasslands, where her father's family homestead and a forest previously stood. McMaster disrupts the tranquility of the landscape by swinging a pair of bells back and forth. As she "reflect[s] on what has happened to the land as well as on the land," [2] she calls attention to the processes of colonization and environmental degradation that have unfolded here. Sporting a blue and green tartan garment, a feathered Dog Soldier headdress, and an assortment of metal lockets to signify her mixed Indigenous and European heritage, McMaster honours her ancestors' stories and memories while affirming her own connection to this place.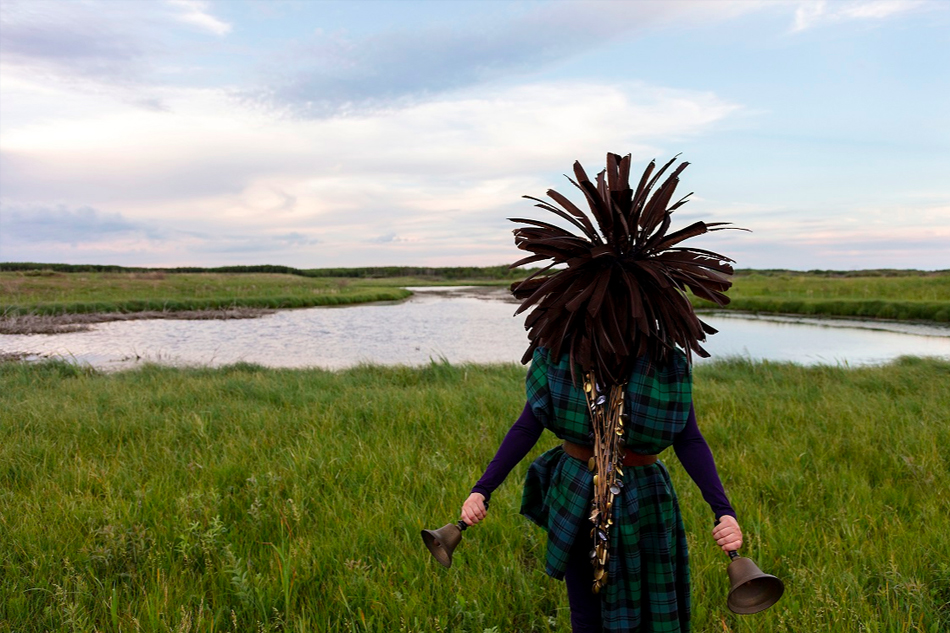 The placid plains of Saskatchewan seem worlds apart from the towering accumulations of ice and snow on Lake Erie in Crystal Beach, Ontario, which form the backdrop of What Will I Say to the Sky and the Earth II (fig. 2) (on view in The Collection). Dressed in a white, semi-transparent garment, McMaster blends in with her frozen surroundings; yet clinging to her person is a conspicuous army of mayflies and water striders, whose enlarged, blaring-red bodies alert us to their distress. These water insects are vital to the local ecosystem, serving as food for birds, fish, and other creatures; however, in recent years their numbers have rapidly declined due to pollution in the lake, global warming, and other human-made factors. [3] McMaster envisions herself as a protector of the mayflies and water striders that live amidst these troubled waters. Fittingly, the rigid, head-to-toe garment she is wearing is loosely based on other types of protective gear, such as the Inuit seal gut coat (traditionally worn as a raincoat) and deep-sea diving helmets. [4] Orienting herself towards the future, as the work's title suggests, McMaster adopts an empowering persona intent on helping to restore ecological equilibrium between the water, earth, and sky realms.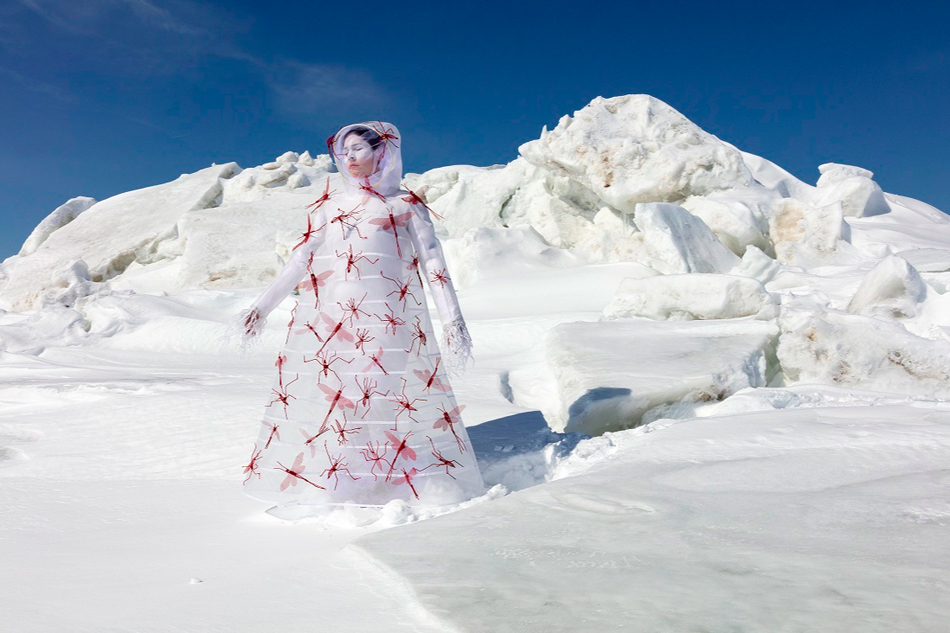 In As Immense as the Sky, McMaster traverses ancient landscapes where natural marvels and warning signs appear in equal measure. Amidst the growing collective apprehension towards the health of our planet, the artist finds solace and guidance in the places that hold the memories of her ancestors. McMaster's evocative photographs portray the earth as an invigorating, generative entity, offering new perspectives of the past and present, and cautiously hopeful visions of the future.
Interested in more AGH Magazine articles highlighting contemporary indigenous artists? Read last week's Collection Showcase: Carl Beam to learn about the Ojibwe artist who was one of the foremost figures of contemporary art in Canada! Upon our reopening, be sure to head to The Collection to see McMaster's What Will I Say to the Sky and the Earth II, on view among other collection favourites in The Collection.
---
[1] Meryl McMaster, "As Immense as the Sky," Meryl McMaster, accessed May 7, 2020, http://merylmcmaster.com/. 
[2] Meryl McMaster in discussion with the author, March 2019.
[3] Chad Shmukler, "Iconic mayfly populations have declined by as much as 84 percent," Hatch Magazine, January 23, 2020, accessed May 7, 2020, https://www.hatchmag.com/articles/iconic-mayfly-populations-have-declined-much-84-percent/7714977.
[4] Meryl McMaster in discussion with the author, March 2019.