Over on the AGH Instagram page, we have been celebrating Black History Month with weekly spotlights on Black artists in the AGH Collection, as well as past and upcoming AGH exhibitions highlighting the artistic, social, and political contributions being made by Black artists in North America.
Compiling four Collection and Exhibition Showcases in one place, read this article to learn all about Collection artist Tim Whiten, our 2010 exhibition Posing Beauty in African American Culture, our 2017 exhibition highlighting Hamilton artist Stylo Starr, and our upcoming 2021 exhibition Esmaa Mohamoud: To Play in the Face of Certain Defeat.
---
Tim Whiten
The AGH houses one of the largest public collections of works by esteemed Canadian artist Tim Whiten. Working in sculpture, mixed media, and performance, Whiten is well-recognized in Canada and internationally for his artistic contributions. Learn more about Tim Whiten at timwhiten.com and through our AGH Magazine article exploring the works below in further detail.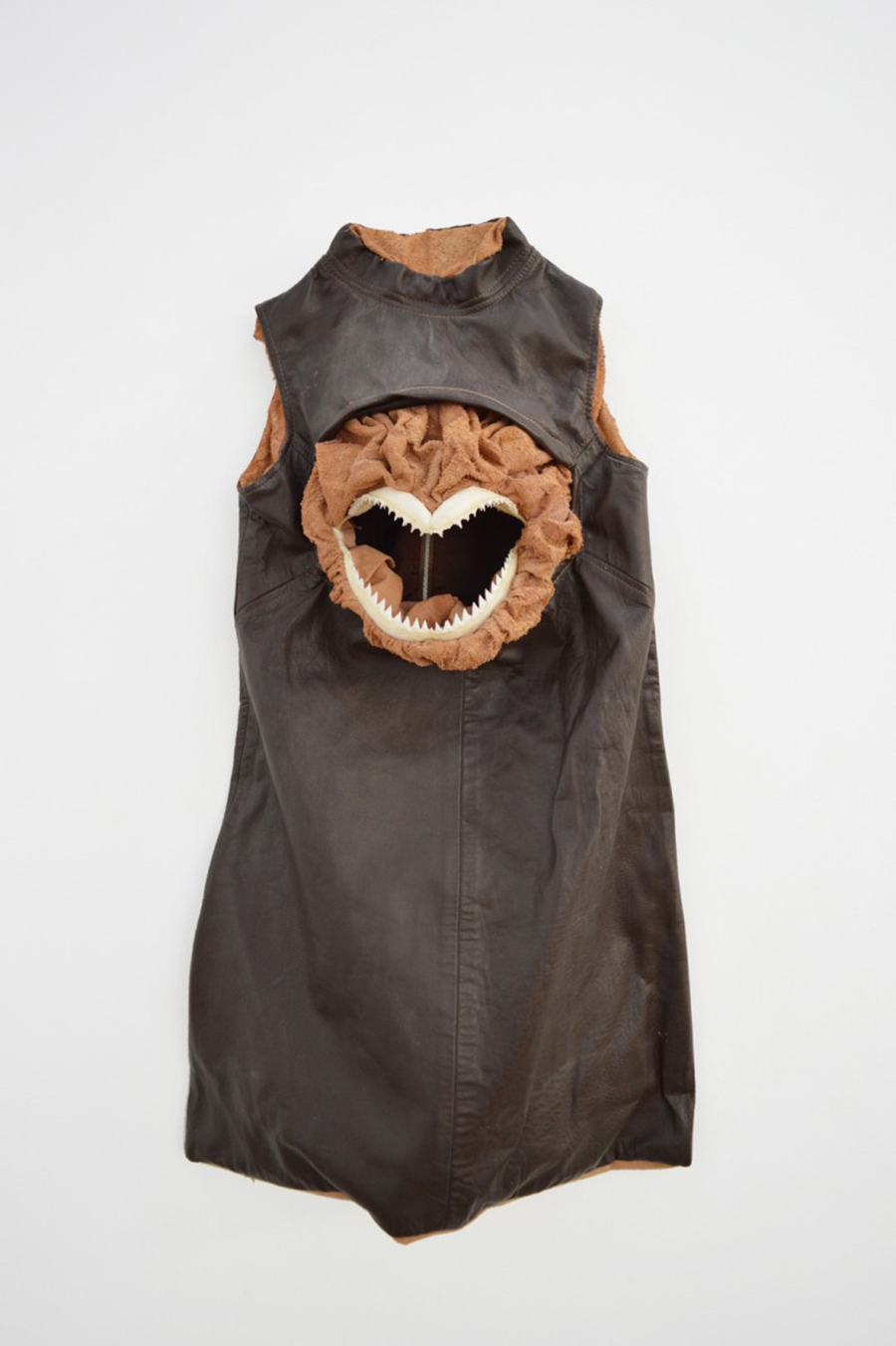 When Whiten returned from the horrors of the Vietnam War, he found upheaval, anger, and complacency back home. Awk was created in response to this very complex and difficult experience. Here, a sleeveless leather dress fashioned in a popular 1980s style holds an open shark jaw that aggressively juts out of the chest and conjures a scream. Broadly speaking, the work is a response to the great racial and social upheavals that took place during and after the Vietnam War.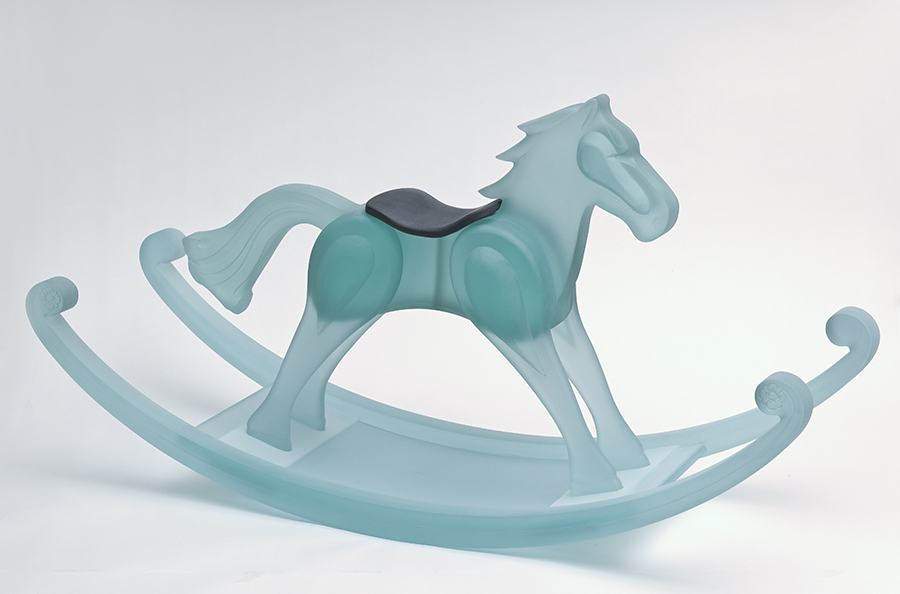 There is perhaps no better material than glass to convey the nature of memory, which can be hazy, fleeting, and fragile—always at risk of being lost over time.
A memorial to Whiten's mother, Mary's Permeating Sign consists of a glass rolling pin resting on a pillow. Engraved on the surface of the rolling pin is a magic square containing mystic numbers derived from her date of birth.
---
Posing Beauty in African American Culture
Guest curated by Dr. Deborah Willis
Enjoy this throwback to our 2010 exhibition Posing Beauty in African American Culture.
Posing Beauty explores the contested ways in which African-American beauty has been represented in the media in both historical and contemporary contexts. Throughout the Western history of art and image-making, beauty has been idealized and challenged, and the relationship between beauty and art has become increasingly complex within contemporary art and popular culture. This exhibition of photography challenges the relationship between beauty and art by examining the representation of beauty as a racialized act fraught with meanings and attitudes about class, gender, and aesthetics.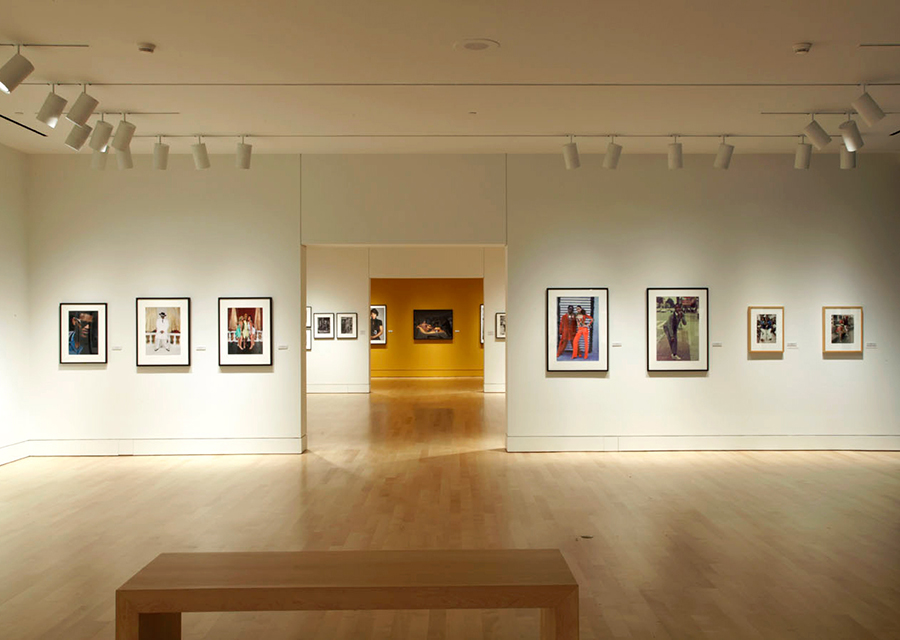 This exhibition features works drawn from public and private collections. Artists featured in the exhibition include Carrie Mae Weems, Hank Willis Thomas, Bruce Davidson, Lee Friedlander, Garry Winogrand, Eve Arnold, and Edward Curtis.
---
The Living Room: Self Made: Stylo Starr's 89 Dames
Check out some highlights from Stylo Starr's 2017 exhibition at the AGH, The Living Room: Self Made: Stylo Starr's 89 Dames.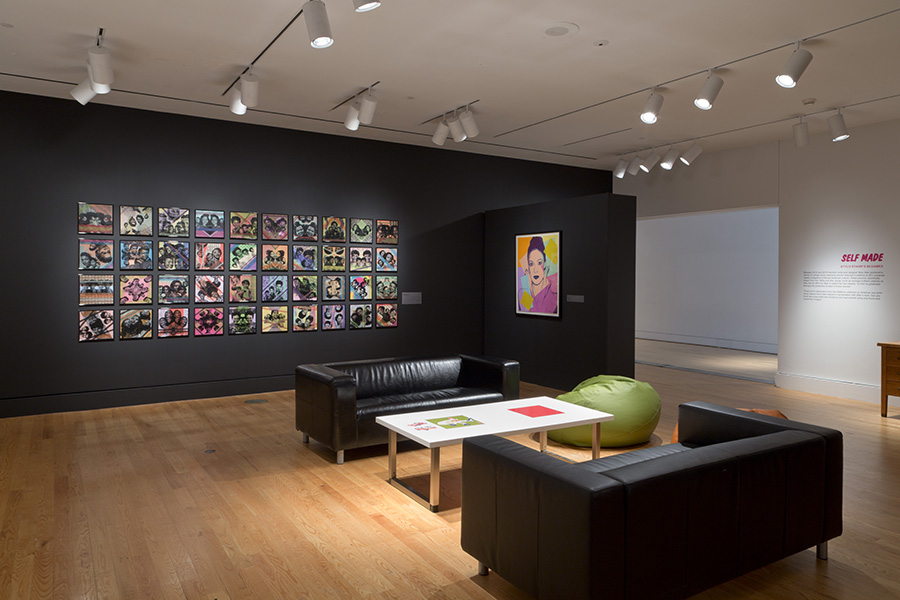 Starr's 89 Dames, from the Hamilton-based designer and visual artist, is a series of photo transfers on collage that reformulate notions of beauty, specifically using images of Black female celebrities of the 1950s and 1960s.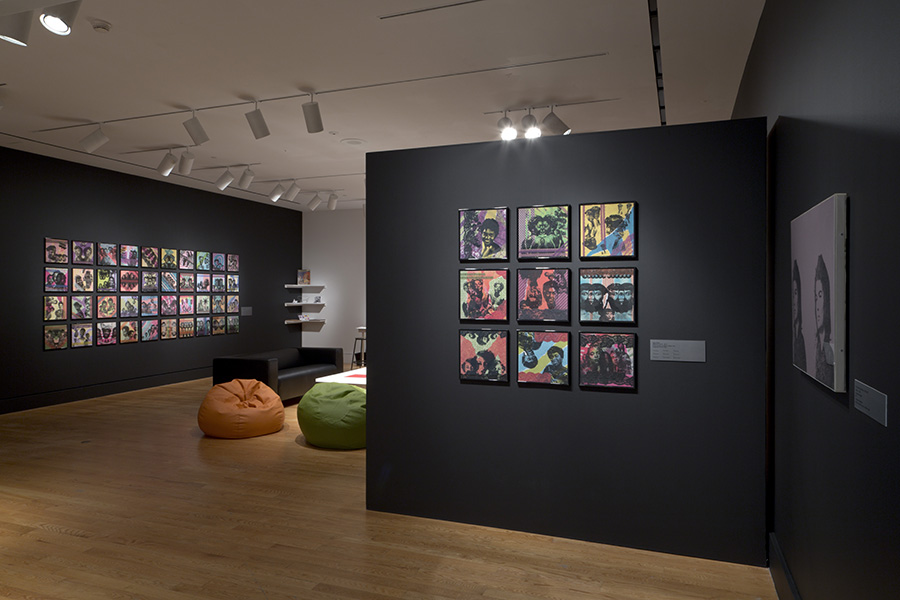 "Starr strives to commemorate and preserve the light and beauty of a myriad of Black women from the past, in a current social climate that insists, rather, on demonizing and marginalizing contemporary Black women. Where history stops short at Monroe, Hepburn, or Taylor, Starr focuses her scope on the Kitts, Fitzgeralds, and Hornes of the same era that graced the covers of former weekly digest, JET Magazine." (from stylostarr.com)
"89 Dames embraces the black feminine aesthetic and is Starr's homage to the sisters who have been ignored and rendered invisible both in the past and today. It's a social commentary of resistance and a show of radical self-acceptance." -Evelyn Marie
Hear more about 89 Dames from the artist herself in this video on our Youtube page. To see more of her work, visit stylostarr.com.
---
Esmaa Mohamoud: To Play in the Face of Certain Defeat
Organized and Circulated by Museum London
Curated by Matthew Kyba
We are beyond thrilled to announce that Esmaa Mohamoud: To Play in the Face of Certain Defeat will open at the AGH on March 20, running until August 15! This powerful exhibition aims to re-examine understandings of contemporary Blackness, questioning the definitions of Blackness as a colour and shade, and/or as a societal or cultural construction.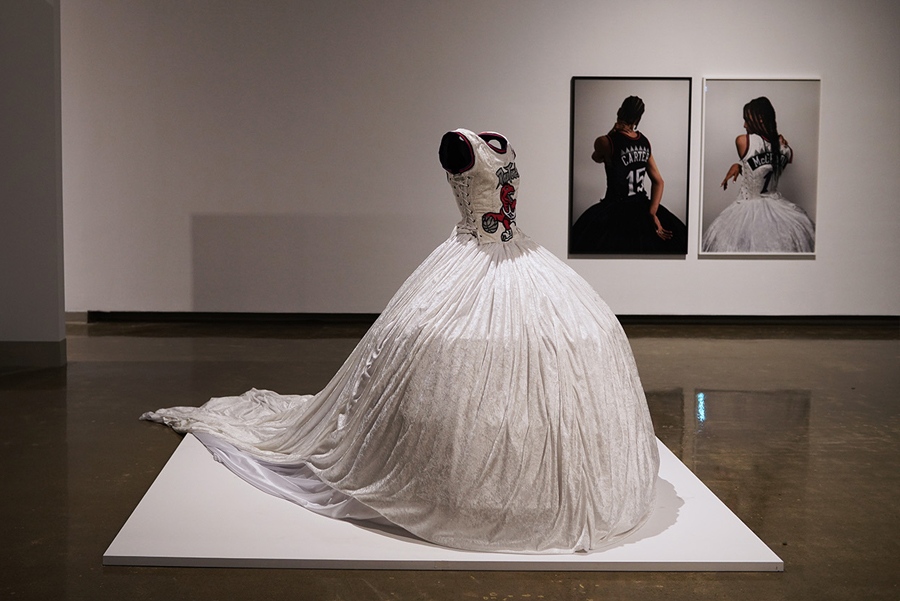 The London, Ontario-born artist, Mohamoud transforms athletic equipment and symbols to illustrate pervasive, discriminatory behaviours and attitudes based on race, class, gender, and sexuality. She examines collective and individual struggle, focusing on the homogenization of bodies within high-level athletics, and the enforced play out of competitive violence between Black subjects. Through sculpture, photography, video, and installation, she investigates how high-level athletics operate as sites of corporate profit and discrimination.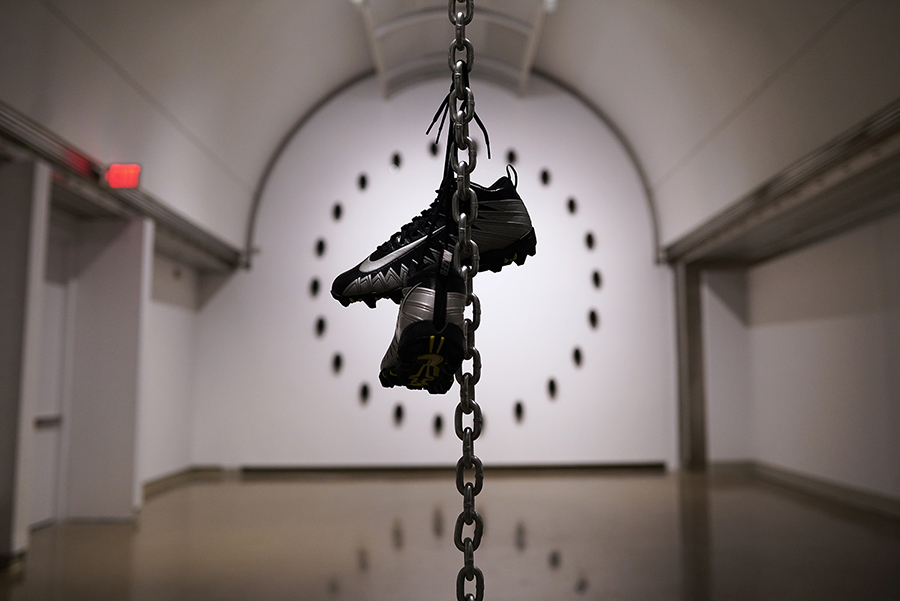 Esmaa Mohamoud is a Toronto-based African Canadian artist. She holds a BFA from Western University (2014) and an MFA from OCAD University (2016). Recently, Mohamoud has exhibited at the Art Gallery of Ontario, the Royal Ontario Museum, and the Museum of Fine Arts Montreal.
Please note that at the time of this publication, the AGH is temporarily closed. We continue to follow the advice and directives of the local public health officials, the provincial government, and our Board of Directors, so stay tuned to our Plan Your Visit and COVID-19 Guidelines page for updates. We hope our visitors remain connected to our programs and exhibitions through AGH at Home and Shop at AGH Online.