Sandra Meigs: Imaginal Worlds opened just a couple short weeks ago, gracing the AGH lobby with two large works from the internationally-renowned artist Sandra Meigs – Elevators (2015), a series of circular paintings that celebrate and elevate the everyday, and the large red inner-smile mobile from Room for Mystics (2017). Bringing a sense of joy and wonder to the Gallery entrance, the exhibition offers a playful lightness, welcoming visitors in from the outside world.
Sandra and I sat down to discuss the exhibition, the works included, and art-making in these turbulent times.
Connor: I'm curious first and foremost about the mobile from Room for Mystics as a work originally contributing to a full-room exhibition at the AGO. How did the work develop and how does it shift in the AGH lobby?
Sandra: The mobile was the final thing I made for the AGO show, which was the result of two years and a huge amount of work. It's funny because I didn't get the idea to do a mobile until I had a site visit in the Spring of that year, as I was working with a to-scale model with replicas of each painting, didn't get the sense of scale in the space, and saw the height of the ceiling upon arrival. As soon I was in the space, I looked up and decided that there had to be something up there, so I went back to Victoria to work.
The exhibition is all about the state of awareness in meditation and joy, as pointed out in the title Room for Mystics. When you learn to pose in meditation, you're asked to upturn the corners of your mouth in a kind of smile. This gesture was what I was going for with the mobile, the mock-up for which ended up being such a rough-and-ready-thing – I made it out of foamcore at scale then glued it to a long piece of wood on the back to make it rigid, then tried to hang it. It was successful and amazingly exciting to do that! I had the final mobile constructed from wooden ribs with a door skin covering, then painted it red.
When [AGH Curator of Contemporary Art] Melissa Bennett approached me about doing something in the AGH Lobby, our first thought was the banners from Room for Mystics, but they're not that exciting by themselves. We met in the space and I immediately proposed the idea of combining the mobile and a work on the wall, since the ceiling was fortunately high enough to allow that.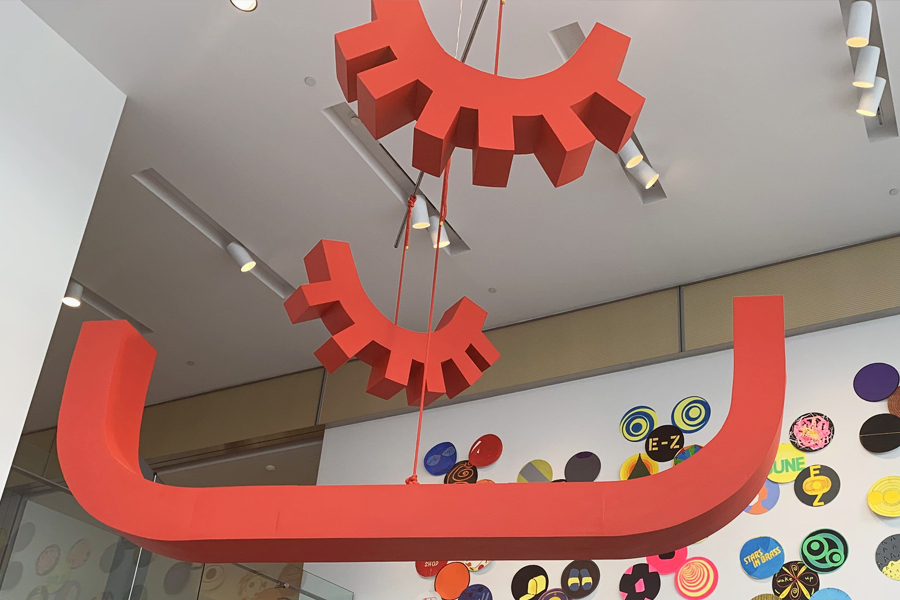 Connor: Elevators operates at a large scale in a very different way – reminding me of the collaging and experimentation of button-making. How do you view the eclectic mix of paintings comprising the work, and what thought went into its presentation?
Sandra: In my mind, All to All was going to be such a dizzy and overwhelming exhibition with so many elements and so many things to work on, and Elevators made sense as part of that. There's 150 paintings in total, each 15" in diameter, and I made them all over the course of a year. I just painted them day-by-day with whatever excited me each day, usually with no overall plan.
When I started thinking about presenting them, I was reading about the concept of 5 as a really powerful number – numerologists talk about the quincunx (4 sides with a point in the middle), and it appears a lot in nature, whether that's in fingers, toes, a lot of plants. The more I read the more powerful it became, giving me the idea to position them into sets of 5. After the paintings were pretty much done, I had all this wall space and table space to experiment with random formations. For presenting them at the AGH, I did a scale drawing to see how many could possibly fit with enough space around them to be individual units and still be a mass of one thing, then staggered them vertically so they didn't line up perfectly across. I really like it as one mass, playful unit, in which you can focus on random things and nothing takes meaning over anything else.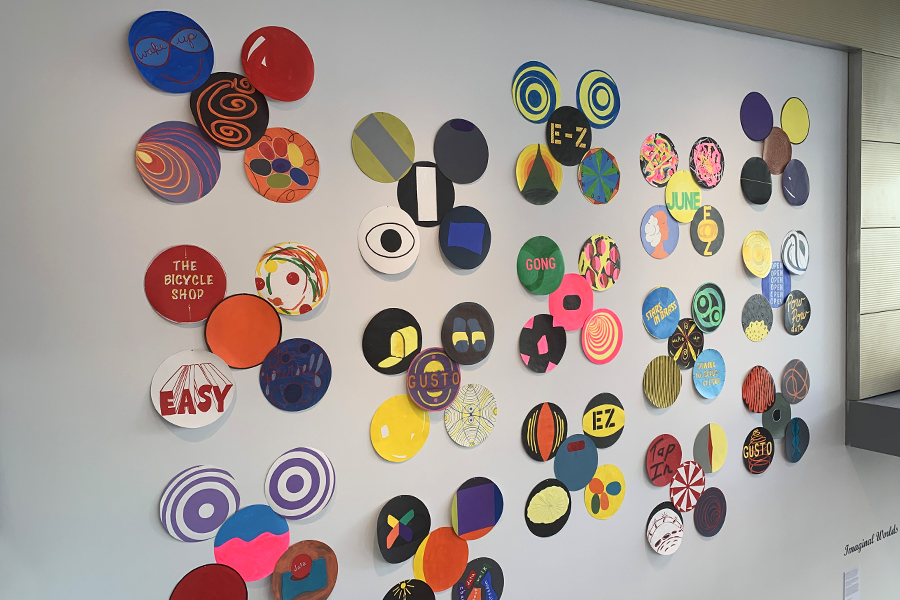 Connor: Lastly, how has art-making and exhibition-planning gone during these turbulent times?
Sandra: I'm thinking a lot about the return to thinking as a creative act in these times when everything seems so spent, things are closing, businesses are failing, and there's so much possibility to re-invent the way we as humans think. Everything seems so ominous, but I really want to celebrate the creative imagination as a way to forge new possibilities in the world. There are so many possibilities for complete restructuring and artists are some of the people questioning the way things have worked in regard to social justice and change. My work has never addressed specific issues like that, but I do see creativity in general as being incredibly productive especially in these times – the pandemic has created a crisis in art with Galleries and artists both having a hard time not getting the funding they need. Even visual art schools can't hold classes where everyone is looking at the real art they made together, talking about it, and learning to use a real studio and workshop with their teachers and peers.
We need joy to surround us now as a mean to get out of this phase. I wouldn't say Imaginal Worlds offers escapism, but I view it as looking for possibilities in the way that we value imagination and creative thought. In my philosophy practice, I have always held the belief that in some way it's possible that the imagination is as real as any scientific fact that we might state. I've recently discovered the philosopher Henry Corbin, who examined how engaging fully in the imagination is in fact a reality. The danger of all of this is it sounds really flaky, but there is a way to use imaginative engagement that leads to bodily change or closeness to the universe. I have been recently very fascinated with that.
To view the exhibition in person, head to the AGH any time before March 31, 2021! To learn more about Meigs and her work, check out her website. Plus, stay tuned for Meigs's new book, The Way Between Things: The Art of Sandra Meigs, publishing in Fall 2021 by ECW Press.