Here at the AGH we focus on historical Canadian art, 19th-century International art,  and contemporary art. Many people are unclear about the definition of contemporary art, so we thought we would clarify. Contemporary art is art made in the present day, including painting, sculpture, photography, printmaking, performance art, mixed media, sound art, digital art and more.
The nice thing about working with living contemporary artists is that we can ask them about their work and process. We can get behind the scenes to get a sense of what makes them tick. In this Quest10ns series we asked contemporary artists on display at the AGH ten questions on topics ranging from people, places, time periods and techniques.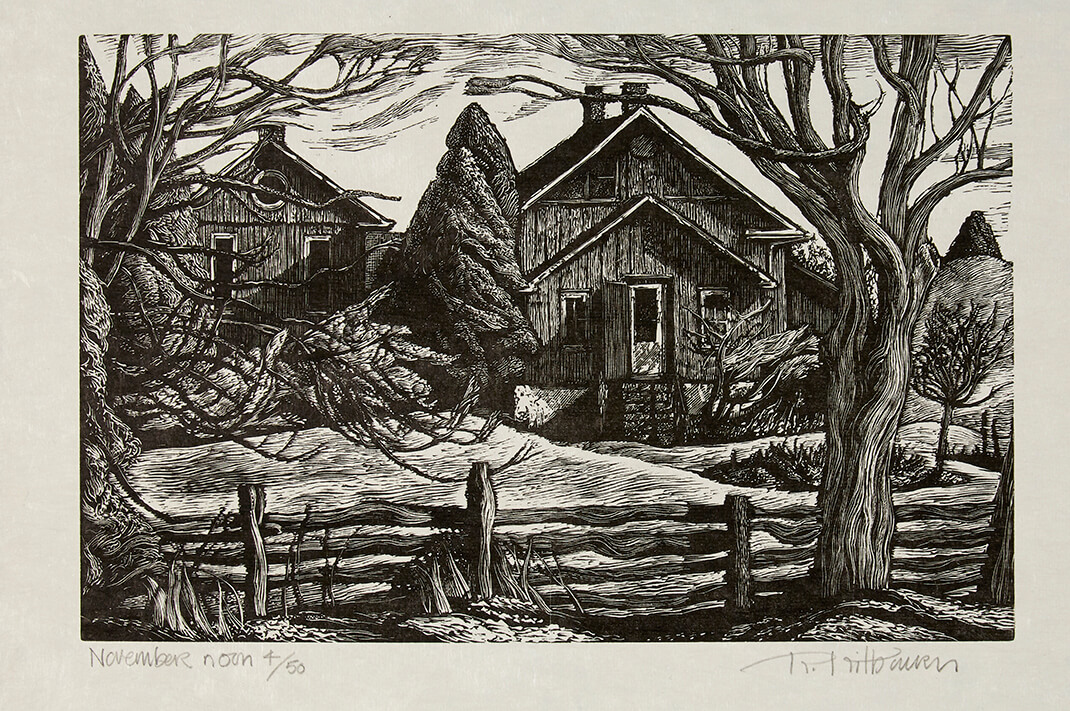 Currently on view at the AGH is Rosemary Kilbourns's exhibition A Singular Place. Trained at the Ontario College of Art in drawing and painting, Kilbourn is multi-dimensional in her practice; she is a painter, a stained glass artist, and a printmaker whose engravings can be found in several publications.
In the mid-1950s, while still in her twenties, Kilbourn made a life-changing decision to purchase an 1872 schoolhouse in a remote region of Caledon Hills, Ontario. Inspired by David Milne's landscape work from the area, she was looking for a base from which to live and work. The Dingle Schoolhouse and its surrounding landscape became the heart of Kilbourn's practice. The location has, over the last six decades, provided the artist with her primary subject matter; it is a landscape she has come to know and understand in profound and meaningful ways. Her sustained commitment to the nuances of this place has resulted in a deeply personal yet universally resonant body of work, which forms the nucleus of this exhibition. The Gallery is proud to present A Singular Place on the occasion of Kilbourn's donation of her print archive to the Art Gallery of Hamilton.
Below is Rosemary Kilbourn's Quest10ns interview:
Your work is inspired by…
Nature
Time of day you are most productive…
Mid-morning
Three things that are a must in the studio while working…
Good light, view from the window, space and quiet
A tool you most commonly use to make your art …
Graver and pencil
Piece of art you'd like to own…
A print by Peter Reddick
Piece of art you'd like to have made…
Any of Peter Reddick's work
Your favourite season of the year…
Fall
Title of your autobiography…
Drawing with Light
If you weren't an artist you'd be…
Something to do with nature
If you could live in any historical era, when would it be and where …
Well, it could be so many, possibly 19th century England (if I was an artist). Depends, if it were me… if I were a man it would be different…
Rosemary Kilbourn: A Singular Place
Gallery Level 2
October 13, 2018 – March 17, 2019