Here at the AGH we focus on historical Canadian art, 19th-century International art,  and contemporary art. Many people are unclear about the definition of contemporary art, so we thought we would clarify. Contemporary art is art made in the present day, including painting, sculpture, photography, printmaking, performance art, mixed media, sound art, digital art and more.
The nice thing about working with living contemporary artists is that we can ask them about their work and process. We can get behind the scenes to get a sense of what makes them tick. In this Quest10ns series we asked contemporary artists on display at the AGH ten questions on topics ranging from people, places, time periods and techniques.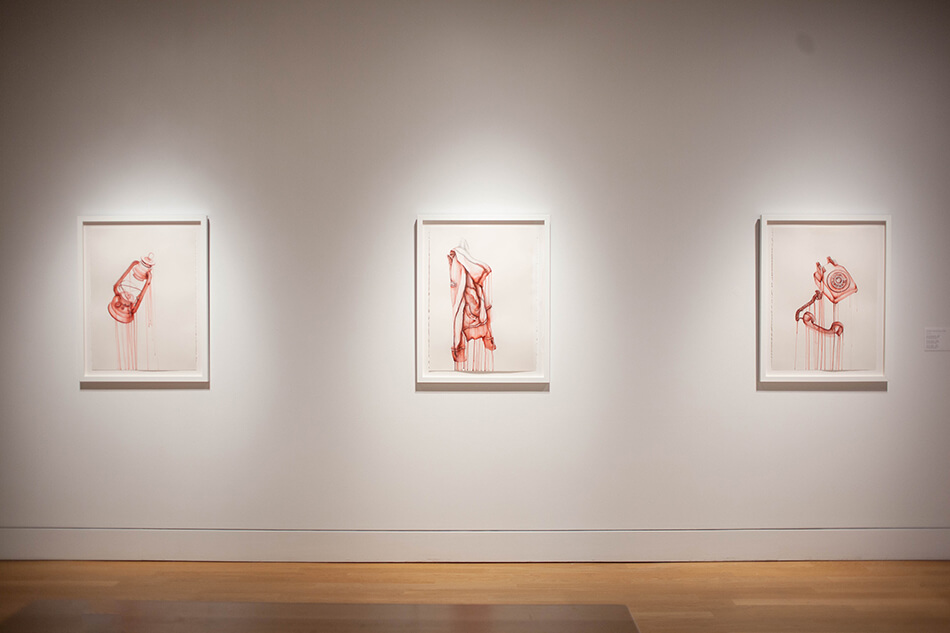 Currently on view at the AGH is Stephanie Vegh's exhibition Echoing Shore. The Hamilton-based artist combed through the AGH's historic and modern collection and found links between three seemingly different artworks: Edmund Kanoldt (German  1839-1904), Sappho on the Cliff of Leucadia (1879), Paul Nash (British; 1889-1946), Monster Shore (1939), and Aline Myles Banting (Canadian; 1911-1998), Self Portrait (c.1932). Using the stories and histories attached to the chosen artworks, Stephanie created her own works and highlights the very present and real challenges we face with today's ecological uncertainties.
Below is Stephanie's Quest10ns interview:
City or place that most inspired your artistic style…
I'm not sure that I can draw a straight line between my way of making and any particular place. I'll give this one to Glasgow, since that's where I took some of my more necessary steps towards asserting a clear visual voice rooted in drawing.
Time of day you're most productive…
Nighttime.
Your style in three words…
Meticulous, open-ended, slow.
Three things that are a must in the studio while working…
Cheesy music, a good beverage, and enough sketches, notes and photos on the walls to look like a bad crime procedural drama.
A tool you most commonly use to make your art…
I do a lot of preparatory and final drawings using Staedlter's Karat Aquarell water-soluble pencils. They're somewhat gimmicky and increasingly hard to restock but they have impressive range for dry mark-making and producing layered washes of colour that are ideal for the fluidity and translucency I'm often seeking in my drawing.
If you weren't an artist you'd be…
It's easy to say I'd still be an arts worker as that's how I'm earning my keep during the day, but doing this work without my own creative outlet seems impossible. I wanted to be an artist as long as I can remember, so I'll go with my other childhood dream job: Cold War era super-spy.
Last exhibition you saw…
I work at the Kitchener-Waterloo Art Gallery so have to give this one, quite happily, to Lucie Chan's solo exhibition there, How to be 57. Her approach to drawing is incredibly broad, and is as beautiful as it is politically urgent.
A piece of art you'd like to own…
I have a seemingly endless list of local artists whose work I'd love to add to the very modest collection I've managed to build up over the years, so it's hard to choose just one.
Person/s (dead or alive) you'd like to grab coffee with…
Patti Smith. I like to pretend we'd have this casual yet totally profound chat about art and literature and life but I'd most likely be too overwhelmed to hold up my end of the conversation.
An artist you've recently (re)discovered…
I got to see a few recent works by Sarah Anne Johnson during a recent vacation in Montreal. I first fell in love with her practice and the research she pours into it nearly ten years ago when I reviewed House on Fire at the AGO for a Scottish art magazine, and the directions she's pushed herself in since then are nothing short of amazing.
Stephanie Vegh: Echoing Shore
Gallery Level 2
April 7, 2018 to September 23, 2018