Back in April, we published "Snow in April: This Month in Michael Snow's History," providing a snapshot of featured exhibition artist Michael Snow. A career as long and prolific as Snow's takes much more than a single article to cover – just as the previous article focused on the artist's exhibitions mounted in April throughout his career, this week's article turns our focus to August.
---
25th Venice Biennale
Canadian Pavilion
Venice, Italy
June – October, 1970
Michael Snow's arrival at the 25th Venice Biennale helped stake an international claim for Snow as Canada's national artist. A prominent international art exhibition for over a century now, the Venice Biennale features national pavilions managed by participating countries – among them in 1970, Canada selected Snow as the sole artist to exhibit in the Canadian Pavilion. Snow's exhibition in Venice largely featured still photographs installed in varied forms, some even featuring accompanying sound installations. Documented in both an artscanada cover story and a 23-minute CBC segment that year, Snow's time in Venice made waves at home and abroad. Throughout his time in Venice, Snow continued to experiment with photography – creating the work Venetian Blind, a series of pre-selfie self-portrait photographs in which the artist's out-of-focus face deliberately obscures in-focus sightseeing attractions in the photos' backgrounds. Installation shots of the exhibition, as well as Snow's process in creating Venetian Blind can be viewed in the 1970 CBC segment below. Both the exhibition and work created in Venice point to Snow's intense focus at this time on experimenting with the relationship between the artist and the camera – even noting anecdotally, "I haven't painted in 5 years."
---
The Spectral Image
Expo 86
Vancouver, Canada
May – October, 1986
With such a long career punctuated by prominent international exhibitions, Snow returned to the "Expo" in 1986 upon its landing in Vancouver, revisiting the stage of his famous Walking Women exhibition back in Montreal's Expo 67. Received with similarly-high praise, The Spectral Image inspired Québécois critic Gilles Rioux to dub the exhibition "the contemporary equivalent of the Pavillon du réalisme, mounted by Gustave Courbet (1819–1877) at the Universal Exhibition of 1855 in Paris."[1]  Featured amongst the predominantly-sculptural installation was Snow's installation piece, Still Life in 8 Calls, a combination of everyday furniture and dreamy holographic imagery. Snow fans will immediately notice the appearance of a common Snow motif – chairs – as well as an experimentation with everyday objects through the lens of the camera. Canadian art historian Martha Langford compares the work to A to Z, Snow's first extent animation work, which appears in Early Snow, noting how both works feature "a traditional still life becoming enchanted and unruly."[2]  Sixteen years after his stint in Venice, and thirty years after producing A to Z, Snow's installation at Expo 86 marked a clear progression in the physical forms through which the artist continued to rework the objects of everyday life.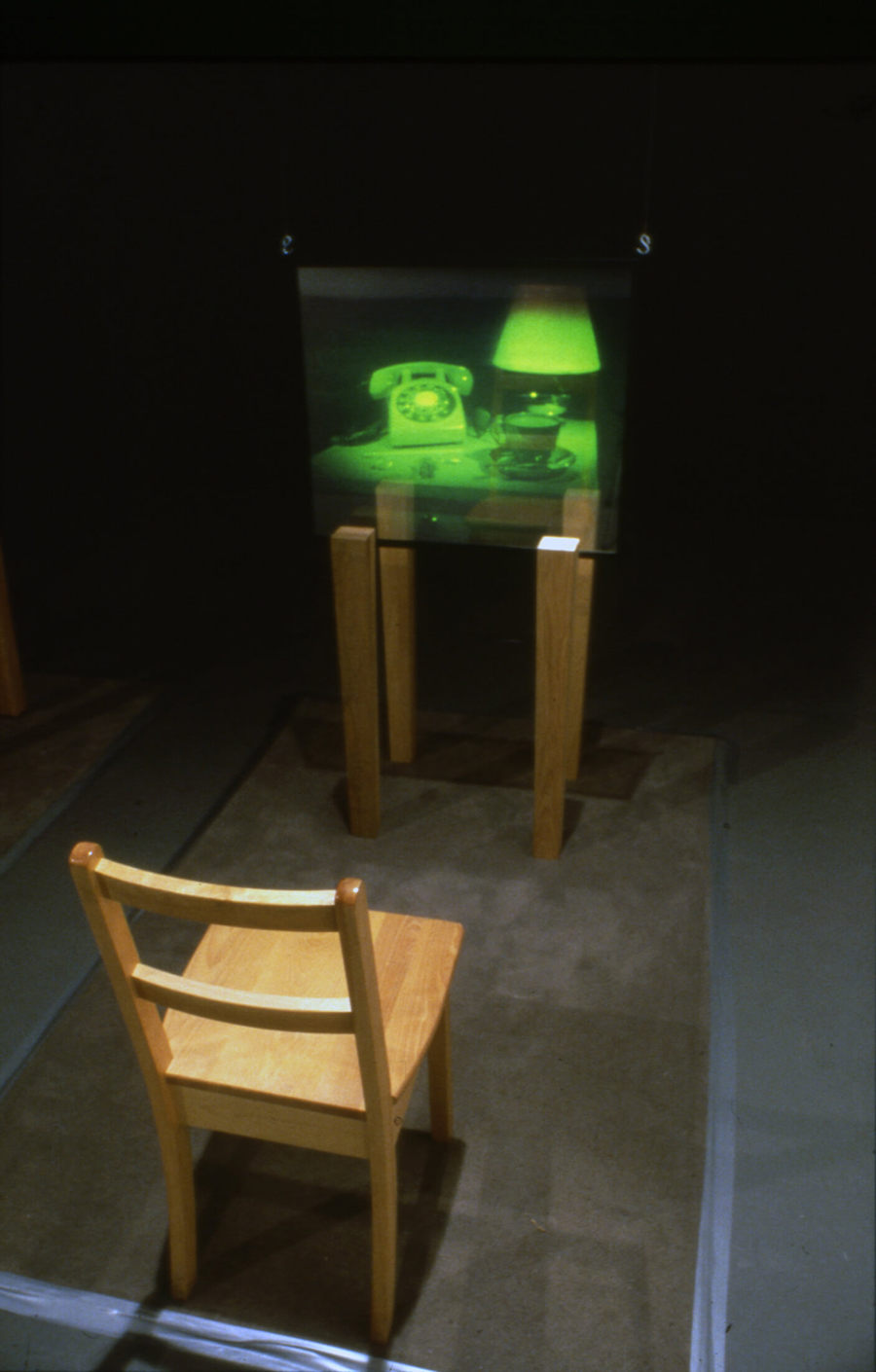 ---
Early Snow: Michael Snow 1947 – 1962
Art Gallery of Hamilton
Hamilton, Canada
February 8, 2020 – January 3, 2021
Publishing this article in August means we have had the pleasure of extending our very own Michael Snow exhibition throughout the year! Early Snow: Michael Snow 1947-1962 now remains at the AGH until January 3, 2021. The exhibition explores Snow's earliest creative explorations, tracing the first 15 years of his artist career prior to his move from Toronto to New York. Along with the rest of the Gallery, the exhibition is free to view for the month of August! Of course, we recognize that some of our potential visitors are not yet comfortable entering the Gallery, so we also have a Virtual Tour of the exhibition available, complete with the soundtrack to Toronto Jazz, a Don Owen NFB film featuring Snow on the piano. We hope that you get to experience the ambitious origins of one of Canada's most-beloved artists one way or another!
To learn more about Early Snow, check out other AGH Magazine articles like "Snow in April: This Month in Michael Snow's History." We also published an article on Snow's AGH permanent collection work "Redifice," which travelled abroad to the Los Angeles County Museum of Art. Check out our Plan Your Visit page for our new open hours to see the exhibition in person, and make sure to grab a copy of the Early Snow exhibition catalogue or Dr. James King's Michael Snow: Lives and Works biography at the Shop at AGH.
[1] Martha Langford, "Still Life in 8 Calls," Michael Snow: Life & Work, accessed August 10, 2020, https://aci-iac.ca/art-books/michael-snow/key-works/still-life-in-8-calls 
[2] Ibid.