Early Snow: Michael Snow 1947–1962 and The Contemporaries opened this past month, and we are so excited to explore the incredible works on display from the prominent artists of mid-century Toronto. While Early Snow presents the formative works of Michael Snow's prolific career, The Contemporaries provides the necessary backdrop for the emergence of Snow within 1950s Toronto.
Presenting works from our permanent collection, The Contemporaries focuses on two artist groups central to Toronto's burgeoning arts scene at the time: Painters Eleven (1954–1960) and the artists associated with art dealer Avrom Isaac (1926–2016) and The Isaacs Gallery (1955–2001). Today's Exhibition Showcase explores Painters Eleven.
Painters Eleven grew out of a shared frustration amongst abstract artists towards the strict, conservative Toronto culture of the 1950s. Dissatisfied with traditionalist views of Canadian art, Ontario College of Art graduate William Ronald convinced his employer, Simpson's Department Store, to host an art show pairing abstract art with furniture displays. The aptly-titled Abstracts at Home (1953) exhibition featured seven artists, including Contemporaries artists Jack Bush, Tom Hodgson, Ray Mead, Kazuo Nakamura, William Ronald himself, and Oscar Cahén – whose work does not appear in The Contemporaries. Despite not selling any of the work, this inaugural endeavor nevertheless drew enough of a crowd to warrant further exploration. Recruiting four more abstract painters to the fold, including Contemporaries artists Hortense Gordon, Harold Town, and Walter Yarwood, the group dubbed themselves Painters Eleven, and sought to collectively push abstract art forward. "We were sick of being told where to hang, how to hang, and when to hang," said Town, rejecting abstract art's long resignation within Toronto.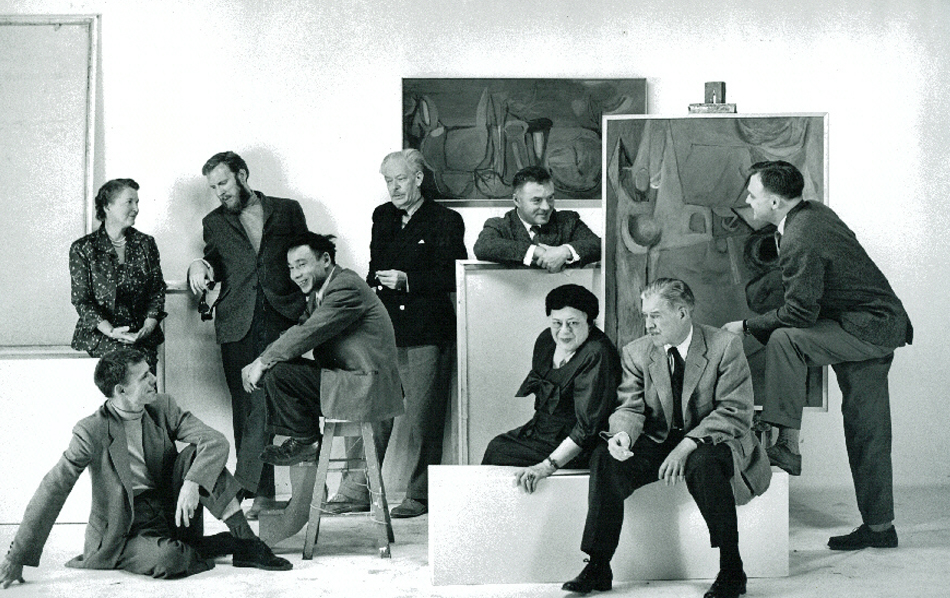 In February, 1954, the Roberts Gallery opened its doors to the first abstract group show in any Toronto commercial gallery. While the exhibition's opening night was marked with Town pulling in strangers off the street to come see the work, it closed two weeks later having drawn the largest crowds the gallery had seen to that point. Response to the work was mixed amongst the conservative Toronto crowd, ranging anywhere between curiosity and disgust. So strong was the reaction against modernist art that even Toronto mayor Nathan Phillips publicly demanded the removal of such art at a 1955 University of Toronto exhibition.
Some of the criticism, too, came from frustrations with the group's American influence – clearly inspired in particular by the abstract artists of New York. Building on their mixed notoriety, and benefitting from the connections made through William Ronald's 1954 move to New York, the group exhibited alongside the American Abstract Artists at the Riverside Gallery in April, 1956. This inspiration from – and participation within – the New York arts scene would eventually be mirrored by Michael Snow's own move to New York, bookending the 1947–1962 timeframe highlighted in Early Snow. Like Painters Eleven, Snow found community within progressive New York arts circles – extending further into the underground film scene, which Snow stated "we, in Toronto, didn't know much about." Amidst a series of successes in New York, the artist credits the influence of filmmaker Jonas Mekas for the international success of his master film work, Wavelength, which Snow claimed "brought about an amazing change in things."[1]
Like Snow, Painters Eleven's success in New York helped solidify its status and presence in Canada. Despite the persistence of traditionalist critiques, the group gained such consistent relevance throughout the 1950s that they not only shed their outsider status, but became the leaders within Toronto arts. Though Cahén died in 1956, Ronald resigned in 1957, and Mead moved to Montréal in 1958, many of the artists rose to success both nationally and internationally throughout their careers. The group ultimately disbanded in October 1960, only seven years after their department store debut. This brief, impactful presence emphasizes the drastic shift in Toronto during the mid-20th century. Indeed, Canadian historian Graham Broad noted that the group endowed a "complete freedom" upon Toronto's art scene, helping to not only instil new life into a stale environment, but build a foundation "vibrant enough to leave them behind."[2]
To learn more about the other major Toronto artist group at the center of The Contemporaries, read last week's article about The Isaacs Gallery. To see these artists' work, along with the incredible work exhibited in Early Snow: Michael Snow 1947–1962, be sure to head to the AGH any day during Gallery hours between April 8 and May 24.
Header image credit: Installation view of The Contemporaries, 2020. Photo: Robert McNair
[1] Leah Sandals, "Déja Viewed: Michael Snow on Looking Back, and Ahead," Canadian Art (September 20, 2016).
[2] Graham Broad, "Painters Eleven: Art Shock in Toronto," Canada's History (April 18, 2017).