"The secret nanny photographer"; It is a phrase that has drawn so much attention to the work of photographer Vivian Maier, to the mystery of her life and art. Due to the fact that Vivian Maier never spoke about her work publicly, we are able to view her photographs using our own imagination, experiences, and opinions as a basis. But the one constant among all interpretations of Maier's work is her ability to capture seemingly small, insignificant moments and make them into something universal and far more beautiful. If only we take the time to look more closely.
As an art history student and frequent exhibition visitor, I am a firm believer in visiting an exhibition more than once. And as such, I have walked through Vivian Maier: Street Photographer many times, focusing on different photographs in each of my visits through the galleries. In my last visit through the exhibition, I found myself drawn to one particular aspect of Maier's photography: relationships and intimacy.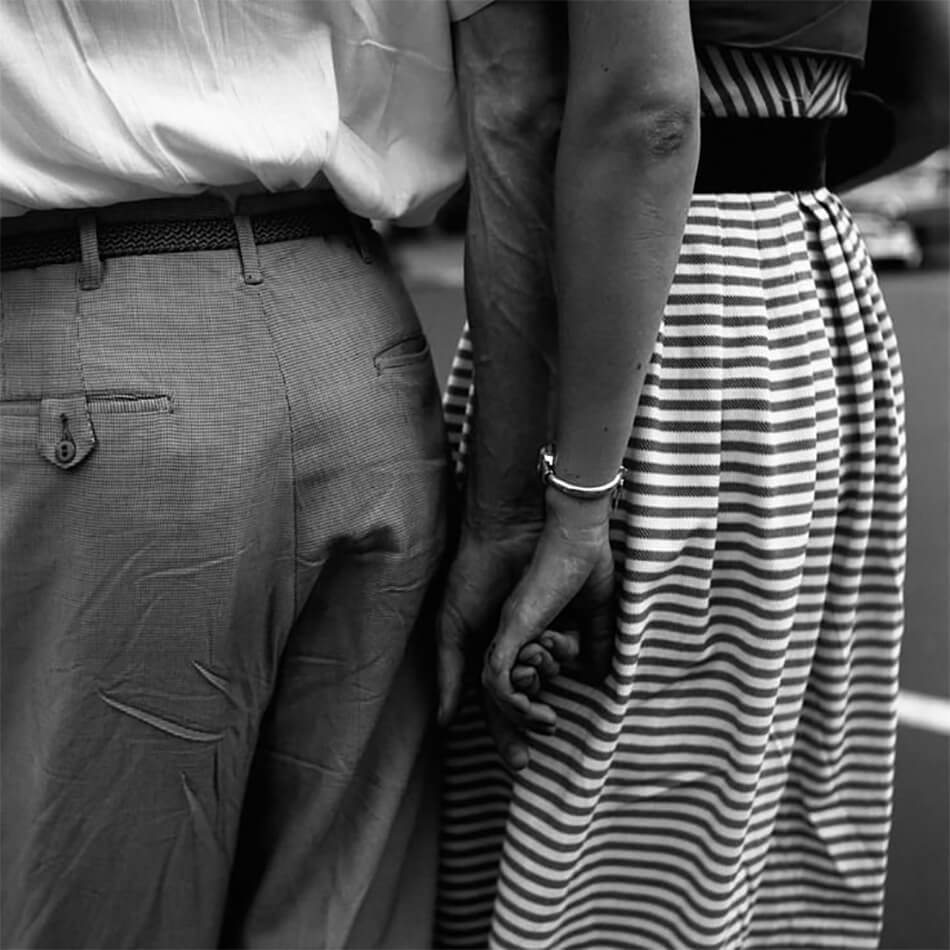 There are three photographs in the exhibition that capture the subtle aspects of intimacy in a way that can only be described as a "Maier-esque". In the Enlow Family Gallery, there is a photograph entitled New York, NY, July 27, 1954, depicting a couple holding hands. A Rolleiflex camera is held at chest height, with the photographer looking through a view finder in the top of the camera. Maier was able to have a lower vantage point for the photograph than we are accustomed to today. It is possible that Maier crouched down even further to bring this intimate gesture at the centre of the composition into focus. Maier's vantage point is critical to the significance of the gesture in the photograph. If seen from the front, it would not be possible to view this moment as it would be obstructed by their clothing. It is also noteworthy that the couple is standing very close together, attempting to conceal this private gesture. If we take a look at the gesture itself, it is gentle and inconspicuous rather than grand and ostentatious. Was it serendipitous that Maier happened to be standing behind the couple, capturing this moment that only they, and by extension her, would know about?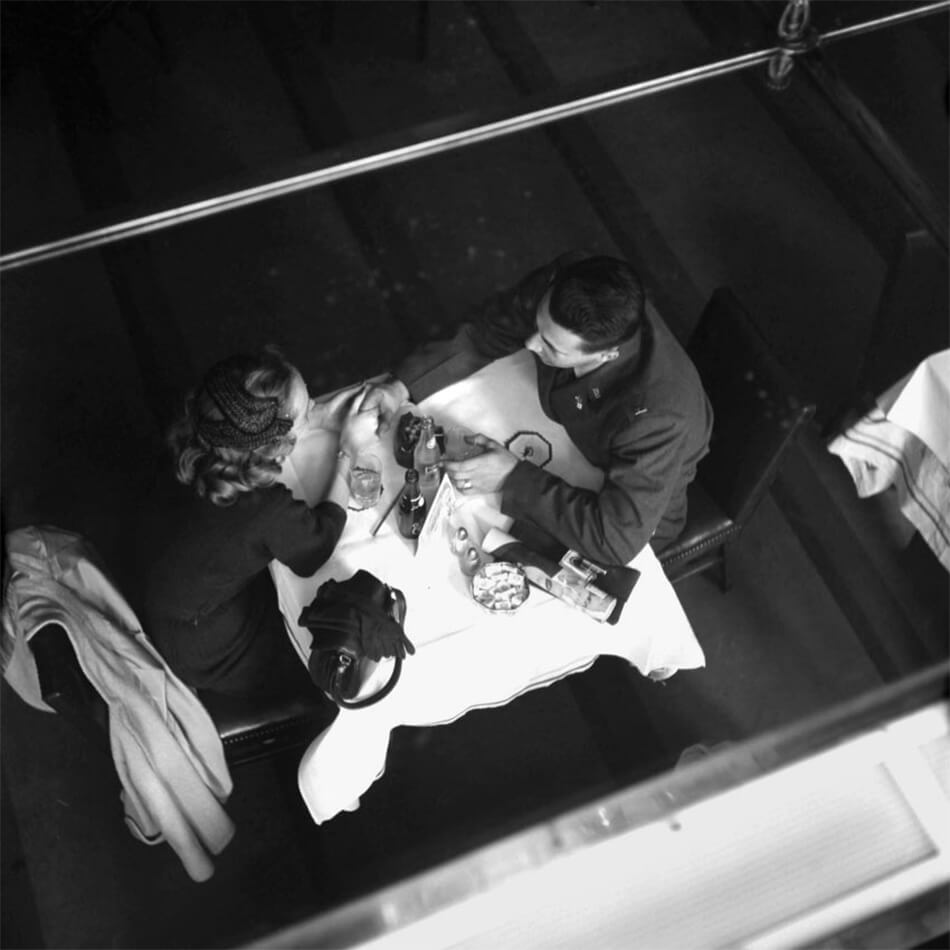 I continued through the space into the Joe Ng Gallery to examine a photograph that has captivated my attention since I first walked through Vivian Maier: Street Photographer. The photograph New York, NY, April 1953 is truly one of the most compelling in the exhibition. Maier's vantage point is much higher than in the majority of her other photographs. Instead of being taken from a lower vantage point, it appears to be taken from the second floor of a restaurant. The photograph is of a couple seated at a table, the woman holding the man's hand with both of hers. They stare in each other's direction, captivated by each other's gaze. For me, this photograph shows a feeling of longing, that there is some distance in space or time that has kept them apart, and the only way to make up for this loss is by being as caught up in one another as possible in the present moment. Even if there are other individuals in the restaurant, to them there is no one else in the room. Through the lens of her camera, Maier captures the feeling of connection and of being lost in our own world.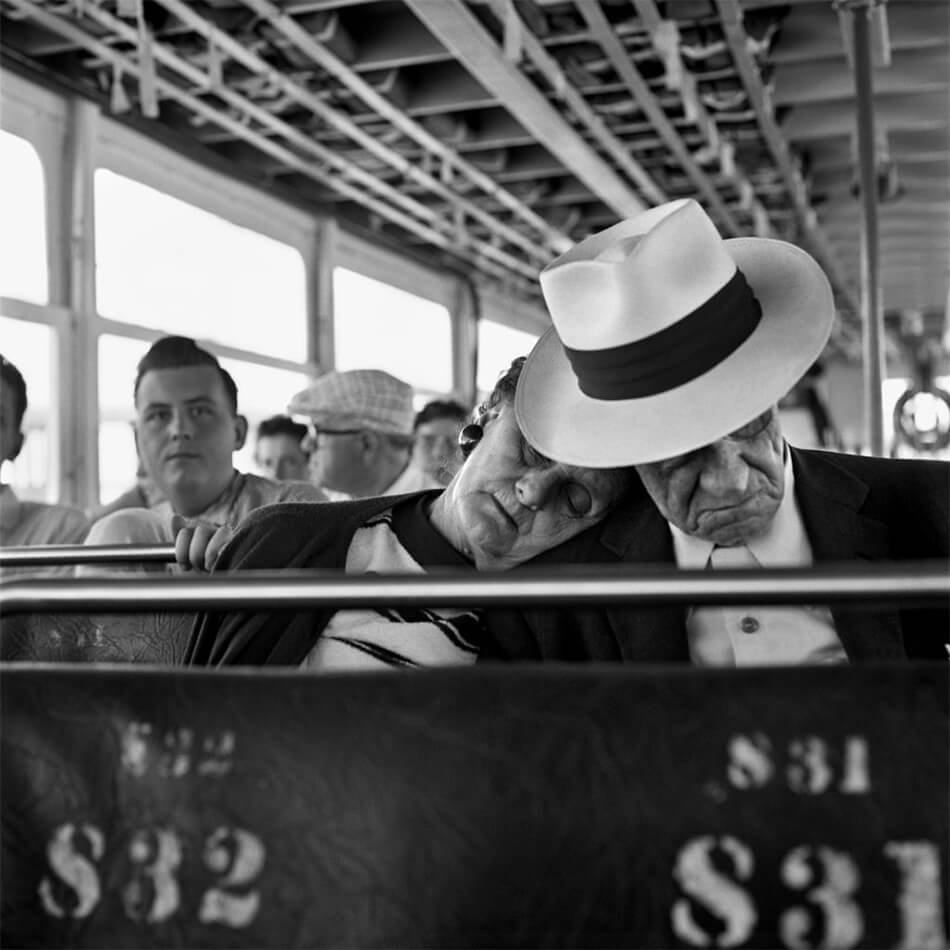 Turning to my right, I take the time to look at a selection of images depicting people on their commutes. Florida, April 7, 1960, unlike the previous photographs, doesn't have the same tension or spark. However, it captures a different aspect of intimacy: comfort. The photograph appears to be the inside of a bus or train, with many people travelling in the Floridian spring heat. The main focus of the photograph is an elderly couple, with the woman resting her head on the man's shoulder. The interaction demonstrates the comfort that comes with familiarity. It may not be the most romantic aspect of a relationship to some, but there is a certain kind of beauty in the mundane that is depicted in this image. It is a moment that many of us would overlook, and it is these moments that Maier chooses to bring into focus. It is important to note that it was likely inconvenient for Maier to take this photograph: as can be seen by the other passengers watching her. She would have had to turn around in her seat to capture this interaction. Many individuals see commuting as a time for solitude, a time to be with yourself and your thoughts. But even in the most ideal conditions for such self-reflection, Maier turns to the other individuals on the bus, keenly observing her fellow travellers with her camera in hand.
These photographs led me to think not just about intimacy, but what exists around intimacy in our day and age. Most of the photographs and images we encounter today are staged, filtered, and refined. Even some of the moments that are said to be candid are, in fact, more planned than the viewer knows. Given the extensive power we now have over creating images and curating images of our own experience, we are able to crop, filter, and frame intimacy in whichever way suits us. We are able to post moments from our life in real time, allowing others to view our own curated collection of experiences, and increasing the grandeur of each moment of our lives. It is precisely these circumstances that make Maier's work all the more intriguing. Although the moments are selected by the photographer and framed in her camera, they are not filtered or doctored. They were not posted for public display by the artist, ever. They were not shared on some form of media platform. They are simply there, captured by Maier as quickly as the passing of a moment. Life is fleeting, as are the moments that make up our experiences. But what we must remember is this: the small moments in our lives carry as much resonance as the significant events do. Maier's photography takes these quiet moments of intimacy and elevates them, reminding us that the small gestures that we make for one another carry as much love and power as the grand gestures.
Vivian Maier: Street Photographer is on display at the Art Gallery of Hamilton until January 6, 2019, giving you only one more month to go see it. The AGH is the only Canadian venue for this exhibition so it is now or never!