The Artist's Dream: Works of French Symbolism opened in February, and while the Gallery doors are temporarily closed, we are nevertheless excited to explore the fascinating works on display in this dreamy exhibition. Combining works from the Joey and Toby Tanenbaum Collection together with loans from collections throughout Canada and the United States, this exhibition explores the Symbolist movement in late nineteenth-century France, highlighting the movement's influence across a range of artistic media. 
Today's Exhibition Showcase explores Jean-Édouard Vuillard's Jeanne Raunay in "Iphigenia," a turn-of-the-century work by one of French Symbolism's eminent painters and stage decorators. 
An artist of broad and eclectic interests, Vuillard's artistic career began academically, training at Paris's influential École des Beaux-Arts under French painter and sculptor Jean-Léon Gérôme – once considered "arguably the world's most famous living artist" for his paintings of world history and Greek mythology. Joining the mysterious Les Nabis artist group in 1889, Vuillard grew his artistic practice amidst other young French artists interested primarily in abstract and Symbolist art. While the group varied in the members' individual styles, they shared a range of artistic interests, including Japanese woodblock prints, religion, mythology, and interior design. The group's shared interest in interior design manifested partially in another artistic pursuit of Vuillard – a decades-long focus on theatre decoration. Indeed, the artist helped found Théâtre de l'Œuvre in 1893 with director Lugné-Poe and poet Camille Mauclair, providing France one of the first theatrical homes for Symbolist art, as well as a physical space for Vuillard to develop his skill as both an artist and decorator.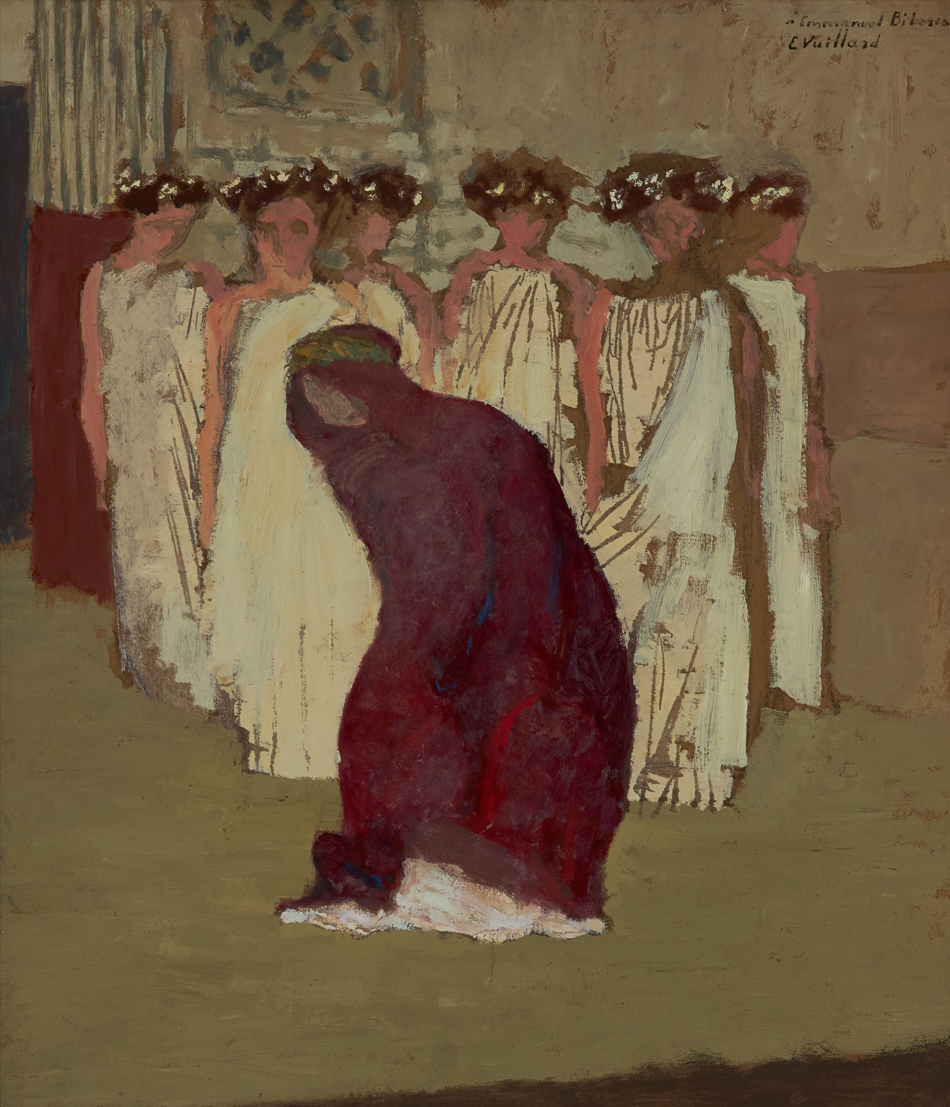 Painted in 1899, Jeanne Raunay in "Iphigenia" presents a cross-section of Vuillard's interests at a transformational point in his career. By the time of painting the work, the thirty–year-old Vuillard was a prominent French artist a decade out of school, amidst one of the most productive periods of his career. The painting depicts the classic Euripides play, Iphigenia in Aulis, highlighting both Vuillard's interest in Greek mythology and his active role in theatrical production. Combining these two interests, the artist locates this version of the play within his present, directly citing the contemporary famous French opera singer Jeanne Raunay as the subject and inspiration of the work. In doing so, Vuillard exemplifies his active interest in pushing French art and theatre forward, re-imagining foundational works through a modernist lens. 
In short, this work references much of Vuillard's artistic inspiration to this point in his career – the painting of Greek mythology, the prominent figures of the stage in Vuillard's time, and the modernist re-interpretation of classical forms not only upon the stage, but on the painted surface. Visually, this work exemplifies Vuillard's aesthetic interests throughout the first decade of his career as well – presenting simplified forms in strong, contrasting colours, usually omitting details or facial features. Indeed, some of the few details in the painting are the floral crowns upon the heads of the subjects, pointing to an interest in floral design inspired in part by the Nabi influence of Japanese woodblocks and wallpaper design. The few included details in the background, too, hint towards Vuillard's interest in the decoration of the stage, even within his painted renditions.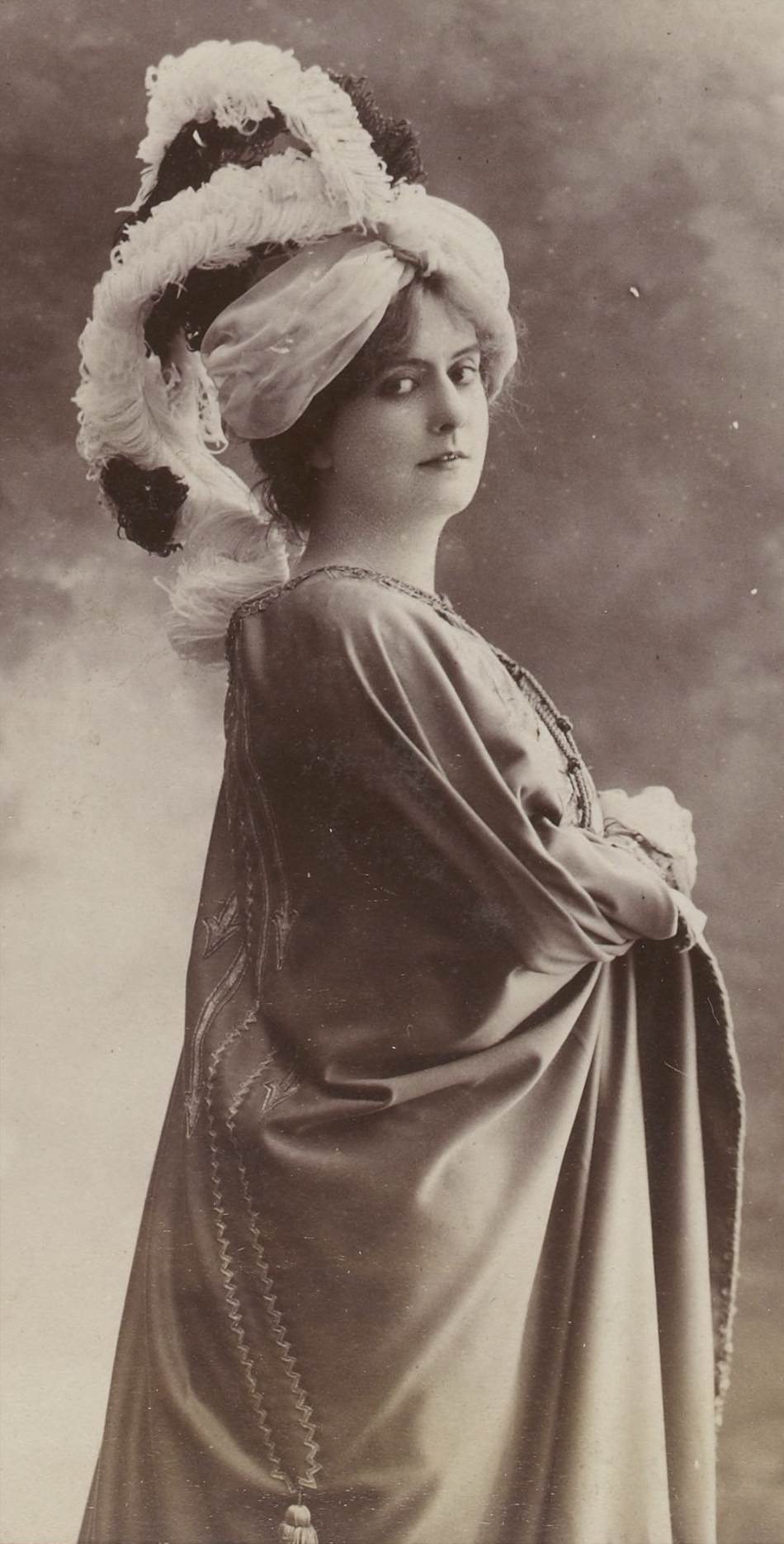 As a painting produced the year before a new millennium, it is perhaps fitting that this work was one of Vuillard's final before a radical change within his career. Les Nabis separated in 1900, and Vuillard shifted both style and subject matter in the years following. Though he maintained a persistent interest in theatre, much of the artist's early-century work moved from Symbolism into naturalism, eventually into a decades-long occupation with portrait painting – far removed from the near-featureless faces of the women in Jeanne Raunay in "Iphigenia." Receiving an array of commissions, accolades, and national recognition throughout the rest of his career, Vuillard continued painting until his eventual passing in 1940 at age 71. 
To learn more about the other incredible artists highlighted in The Artist's Dream: Works of French Symbolism, read our Glossary of Terms, and stay up to date with more AGH Magazine articles to come during our temporary closure. 
Header image credit: Installation view of The Artist's Dream: Works of French Symbolism, 2020. Photo: Robert McNair