Opening March 20, 2021, Esmaa Mohamoud: To Play in the Face of Certain Defeat will inhabit space on Gallery Level 1, presenting a powerful exhibition deconstructing Black life in contemporary culture. Focused in particular on the modern industry of professional sports, the exhibition features a dozen artworks ranging in media from sculpture and installation to photography and video, each contributing to a re-consideration of sport, in the first major solo exhibition of Toronto-based multidisciplinary artist Esmaa Mohamoud. Together, the works illustrate sport's pervasive, discriminatory behaviours and attitudes based on race, class, gender, and sexuality.
Examining selections of Mohamoud's artistic output as a primer for the exhibition, today's Coming Soon feature looks at a few of the artist's forays into the intersection of race and gender in sport.
An award-winning work produced during Mohamoud's time at OCAD University, Heavy, Heavy (Hoop Dreams) (2016) provides a strong foundation for discussing the artist's interest in the link between sports and Black identity. Consisting of 60 concrete casts of underinflated basketballs arranged along a reflective, black surface upon the floor, the work speaks to the conflicting weight and fragility of masculinity in athletics. "The concrete basketballs are physically heavy but also fragile," says Mohamoud, adding, "the nature of concrete is to crack, so eventually these will break apart."[1] By removing the materials of sport from their physical context – turning the ball into an underinflated, 30-pound, brittle block unable to be thrown or caught – Mohamoud points to the near-impossibility of a dream predicated on physical ability. The work's title emphasizes this point, referencing the 1994 basketball documentary Hoop Dreams, a film which tells the heart-breaking consequences of failing in that goal.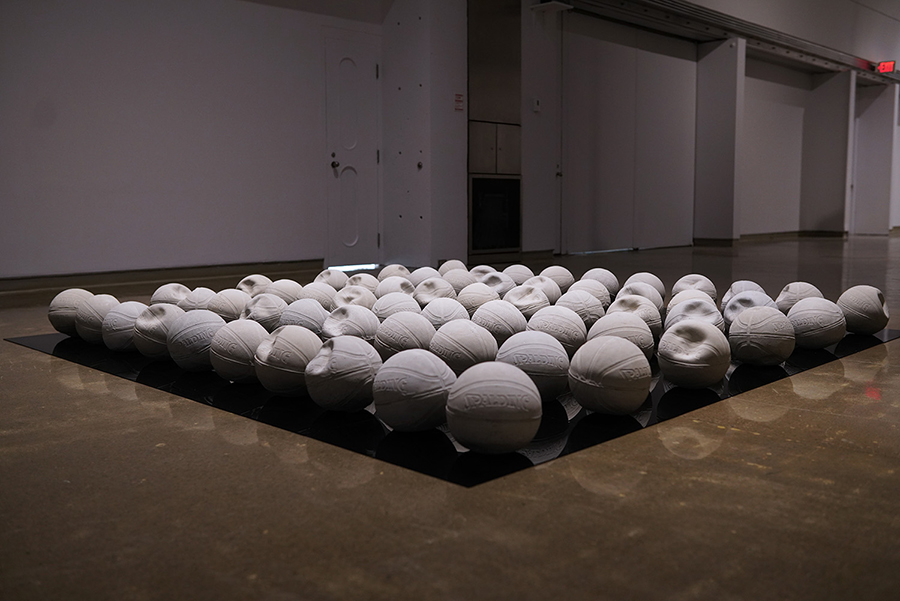 Describing her art practice as "unapologetically black and industrial,"[2] Mohamoud has repeatedly used the materials of sport and industry to link different experiences of Black life in modern society. Rejecting the dominant conception of Black masculinity existing only as slave or professional athlete, Mohamoud conflates the two: pointing to both prison and the football field as commodifying Black life and the spectacle of Black violence. This exploration can be seen in a range of forms, such as in Deeper the Wounded, Deeper the Roots (2019), a photo series featuring kente cloth-clad football players chained together in a field; in Chain Gang (2019), a 10-yard chain hung from the ceiling with football cleats strung up upon it; and even in Why See the World When You Got The Beach? (2018), an installation featuring a gold-plated mouthguard and grill. The latter work's titular reference to lyrics from Frank Ocean's song "Sweet Life" further drills home Mohamoud's keen scepticism towards the dreams presented for Black men.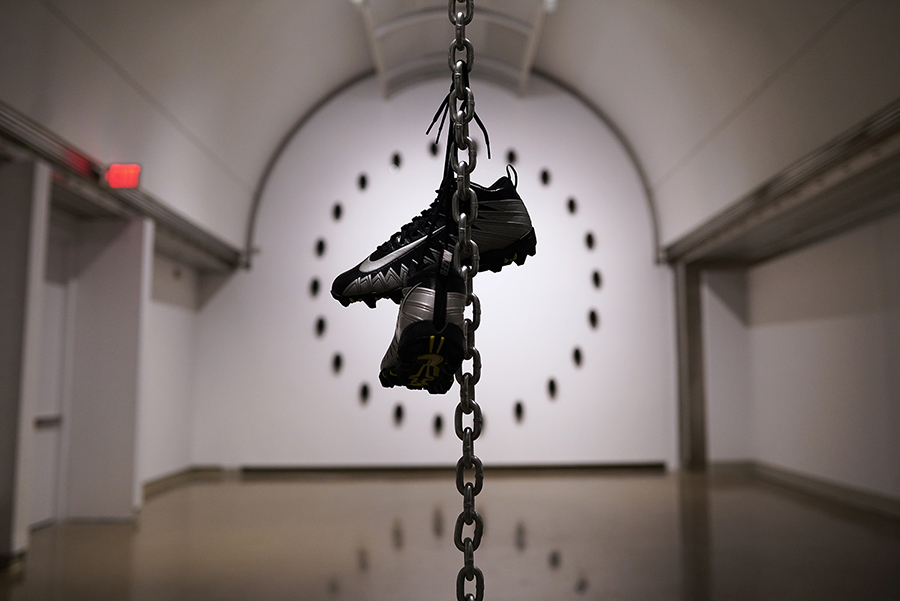 Perhaps the most immediately recognizable of Mohamoud's work, One of the Boys (2017-2019) extends the artist's project into the presentation of alternate modes for Black gender expression. Combining essential materials of Black masculinity – a professional basketball star's jersey – and white femininity – a Victorian ball gown – the work subverts our pre-conceived notions of race and gender in public presentation. Indeed, the installation of the gowns alongside photographs of Black models wearing the garments confronts three distinct public spheres across time and space, at once pointing the finger at Victorian balls, professional sports arenas, and the Gallery displaying the work. Facing the models away from the camera is a defiant move pushing against not only the traditions of portraiture, but the terms under which traditionally white-owned spaces dictate Black life in public space. "I find that in large institutions Black bodies are not represented," says Mohamoud, "I've always been hyper-aware of how our bodies have become minimized and compressed and to some extent disposable."[3]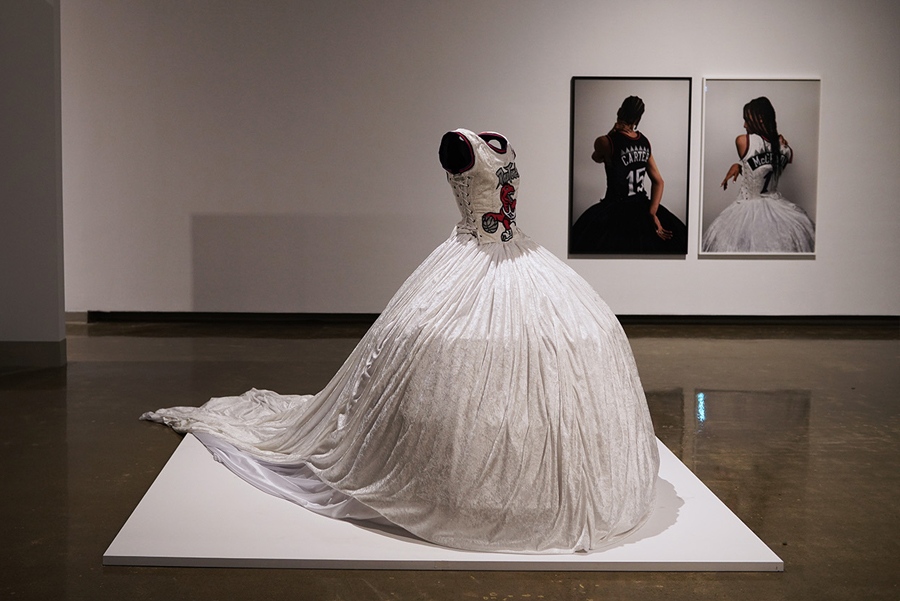 Presenting a brief glimpse at a few of Mohamoud's artistic achievements, this article serves only as a sneak peek into an exhibition we are very excited to share with our visitors. If you would like to learn more about the artist, check out her website. Curious to learn more about the works presented here? Take a look at coverage of her practice, the AGO exhibition, and more.
To learn more about exhibition artists currently on display, check out our Exhibition Showcases on artists like Michael Snow, Jean-Jacques Henner, Édouard Vuillard, and more! Catch them before they're gone, too! Early Snow: Michael Snow 1947-1962 closes January 3, while The Artist's Dream: Works of French Symbolism closes January 10.
---
Esmaa Mohamoud: To Play in the Face of Certain Defeat is organized by Museum London and guest curated by Matthew Kyba.
All works courtesy of Georgia Scherman
---
[1] Amanda Parris, "Why Esmaa Mohamoud is bringing blackness and basketball into the gallery," CBC Arts, accessed November 3, 2020, https://www.cbc.ca/arts/why-esmaa-mohamoud-is-bringing-blackness-and-basketball-into-the-gallery-1.4214080
[2] "Esmaa Mohamoud: 'My practice is unapologetically black and industrial,'" InStudio, accessed November 3, 2020, https://www2.ocadu.ca/feature/esmaa-mohamoud-%E2%80%9Cmy-practice-is-unapologetically-black-and-industrial%E2%80%9D
[3] Amanda Parris, "Why Esmaa Mohamoud is bringing blackness and basketball into the gallery," CBC Arts, accessed November 3, 2020, https://www.cbc.ca/arts/why-esmaa-mohamoud-is-bringing-blackness-and-basketball-into-the-gallery-1.4214080