Working with living artists allows us the chance to ask them directly about their work and process. In AGH Magazine's Quest10ns series, we ask artists whose work is on view at the AGH ten questions on a range of topics to gain insight into what drives their art practice in real-time.
From April 2022 to March 2023 local artist Nathan Eugene Carson, our new RBC Artist in Residence, occupies the David Braley and Nancy Gordon Sculpture Atrium with mysterious characters from the imagined world surrounding a circus.
Carson's residency hopes to develop this space not just as a locus for his artwork, but also as a place to lounge, connect and converse. Couches, stereo equipment, and other living room furnishings are intended to be used by visitors as part of their experience of this installation. Join us on Thursday, June 9th 2022 from 7:00 pm – 9:00 pm to celebrate some incredible local talent with this year's City of Hamilton Arts Awards, which will include a Vinyl Night in this residency space to explore some of Carson's favourite music!
Carson's artworks suspend fleeting moments of portraiture through mixed media with an ethos of "making something out of nothing". In this interview we go behind the scenes to hear more about the practice and process of capturing figures using found materials.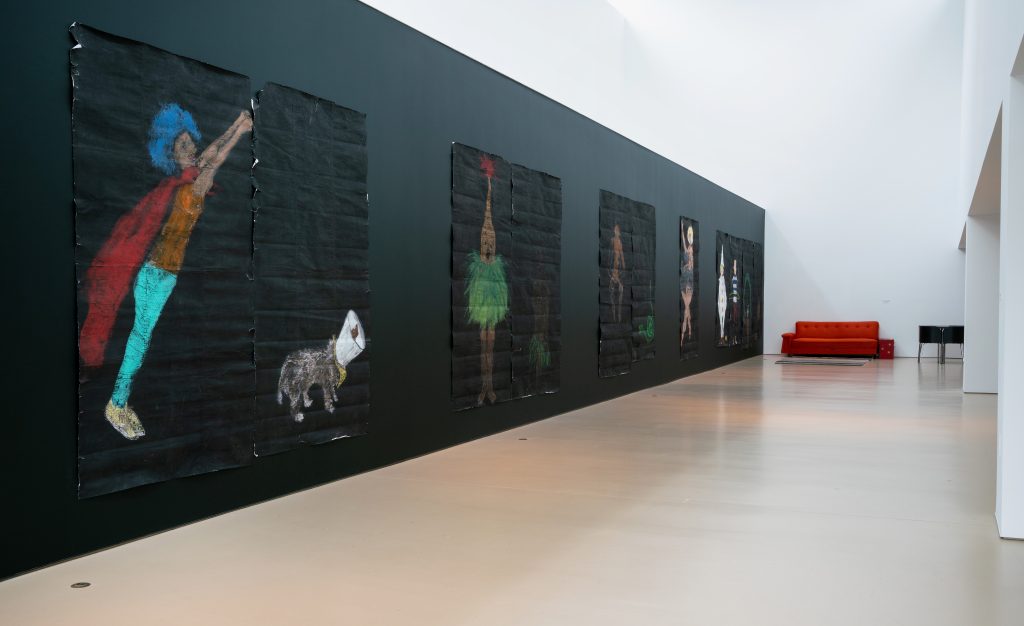 your favourite place/s in Hamilton….
In Hamilton i have a few favourite places i like to go to , in the winter and summer you can definitely catch me hanging out down at the waterfront , ice skating and roller blading , or just chillin reading a book and feeding the birds .
I do really enjoy coming to the Art Gallery of Hamilton , so many of the paintings are old friends that i like to visit on a regular basis .
Earth to Table and The Ship are my 2 go places for food .
Farside and the Brain for late night drinks .
And i do use the Public Library a lot .
your body of work is known for using mixed media, in conversation with the Nia Centre, they say your "paintings stretch our understanding of reality through form…" What is your creative relationship with imagining new worlds and assigning artistic value to these found materials?
Wow thats a BIG question ,
I always like to say before I start the creative process I like to meditate , I try to empty myself out of all ideas and preconceive notions , I like to start with a empty mind and let images and worlds come into reality naturally .
As for materials I like to use anything , old , found , cheap . I just use what is available to me , there is no rhyme or reason . I always say to myself my practice is "Making Something out of Nothing" .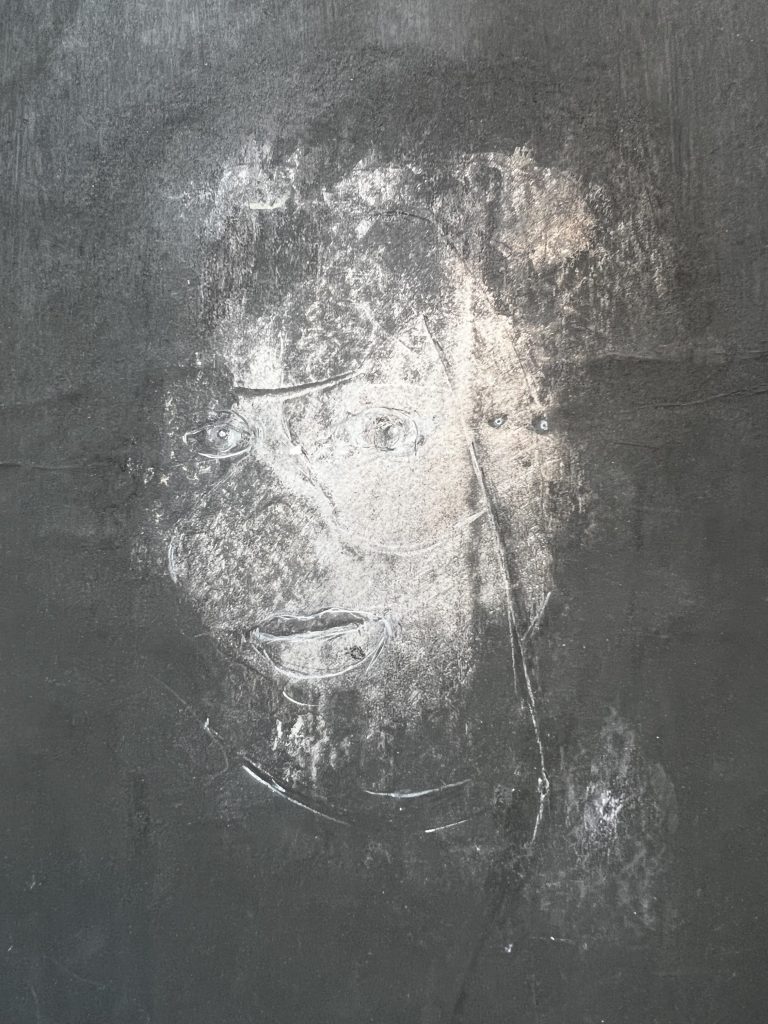 do you have a favourite member of Black Carnival, or Black Carnival Audience? What about them makes them your favourite?
I do , there's a guy who is the ticket booth collector , I haven't hung him yet at the gallery but I have a special spot for him , maybe because he was one of the first paintings I created for the series .
how does Black Carnival and your RBC Residency this year build on, or depart from your incredible recent solo exhibition Cut From The Same Cloth at the Power Plant in Toronto?
It's really neither a building on or a departure from the Cut From The Same Cloth series from the Power Plant show. The Black Carnival series has been in the works since 2014 and now in 2022 I am completing it .
your favourite photograph of 2022 so far…
I recently came across this black and white photograph of an auditorium with a bunch of musicians playing on stage , it's an aerial view . I am not too sure who's photograph it is , and or when it was taken , however I stopped and stared at it for a long time and returned many times to figure out all that is happening in the photo .
you mentioned that the confinement of the COVID-19 pandemic actually helped you channel your creativity and produce a lot of new work. How has this experience allowed you to reflect on your approach to the concept of productivity within your art practice?
For myself I need time , space , and security to create so the pandemic was the perfect time to reflect and produce work , however with that being said i do understand how some artists and or people in general did have a challenging time .
if you weren't an artist, you'd be…
Something to do with the human brain , maybe a Neurologist or a School Teacher .
an artist you recently re/discovered…
I'm gonna name drop a few with their social media links . These artists will be coming along on my residency Circus ride with me . I love their work and find them super inspiring !
Lee Bondzio @mall_sushi ( Design and Art ) Lee makes incredible Art and has a real talent for Design . He will be creating a series of posters for my residency . His most resent work is a series of t-shirts based on Hamilton and its attractions.
Seamus Hamilton @hamiltonaire ( Music ) Seamus is a talented Musician who latest work is based around samples and loops . Be sure to catch Seamus for a monthly series of vinyl and music nights throughout my residency .
with Laura Demers in an Art Toronto talk, you discuss that your path to becoming an artist was shaped by your Aunt, also an artist, and a winning parrot-shaped ice cream artwork made when you were in Grade 4! You went on to study printmaking and photography at OCAD and returned to Hamilton, and have gained a reputation for having an "intuitive understanding of what an artist is supposed to be" (Byron Armstrong). Do you have any advice to young artists in Hamilton for how to get in tune with their artistic intuition, hone their art skills, or start off their art careers?
FOCUS . Focus on making the work and everything else will fall into place .
what are you working on next!
Ahhh Next , i have two art shows that will be open all summer:
No Human in Sight
June 4th – Aug 28th
Opening reception: Saturday June 4th 12pm – 6 pm
Stratford Gallery
54 Romeo Street
Stratford, Ontario
N5A 4S9
@gallerystratford

DISCO DAYS
June 17th – July 28th
Opening reception: Friday June 17th 5:00 pm – 8:00pm
Smokestack Studio
Cotton Factory
270 Sherman Ave North Suite # 216
Hamilton , Ontario
L8L 6N6
@smokestack.studio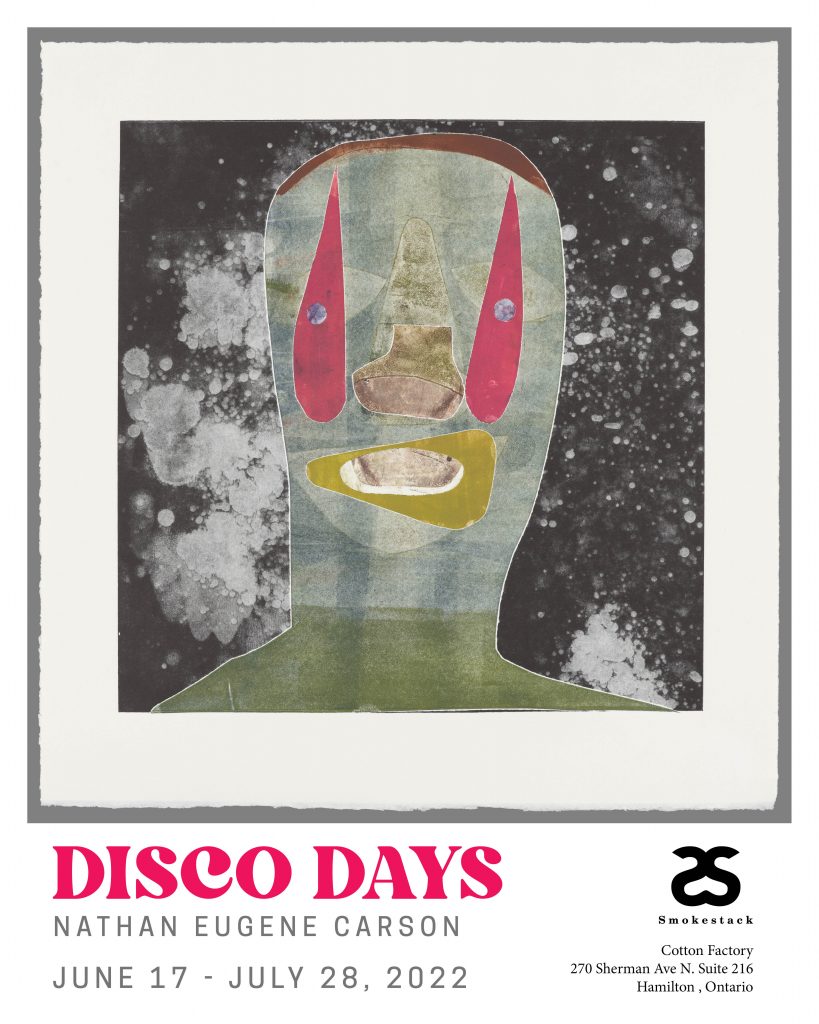 Nathan Eugene Carson's work is on view now! Check it out in the Gallery Lobby and in the David Braley and Nancy Gordon Sculpture Atrium on the second floor.
---
Header image: Installation view of RBC Artist In Residence: Nathan Eugene Carson, Art Gallery of Hamilton, 2022.