Sara Dickinson is the Senior Manager of Educational Outreach here at the Art Gallery of Hamilton. She brought her established "Learning Through the Arts" program to the AGH in 2018, and has made significant strides in expanding the Gallery's educational outreach throughout Hamilton.
I sat down with Sara to discuss her work growing arts education in the classroom, the Gallery, and across the city.
Connor: Much of your work is involved in working with the communities around us, so let's start off with discussing your relationship to Hamilton. How do you see the city and its role in your program?
Sara: I see an amazing combination of urban, industrial, and natural beauty. There's so much change going on all around the city and I find it very inspiring. I grew up in Grimsby and my father worked at Barton and Kenilworth, so we were downtown a lot as kids. I lived in Toronto for a number of years, but it has been very exciting to move back to Hamilton, to a city in transition with a strong relationship with its arts community.
The timing was right to introduce a new arts education program here, using the arts as a tool to engage kids in exploring core subjects like math, science, and language. I was thrilled to be given the opportunity to work on this with schools in the city.
In the program, local Artist-Educators collaborate with teachers to create dynamic arts-based activities in visual art, film, drama, dance, and music, bringing to life issues like global warming, water pollution, and immigration. To name a few of the amazing projects, students are writing raps about mental health, creating documentaries about refugees in Hamilton, developing scenes about the Battle of Stoney Creek, and making sculptures promoting recycling. It's an opportunity for teachers to experience how the arts can deepen the learning and engagement of students. They're collaborating, problem solving, thinking critically, and having a really good time. Our goal is to inspire teachers to continue these projects after the artists have left the classroom.
We are coming up to our first anniversary in our new home at the AGH and its been a great year, with over 5000 students participating in the program in 170 classrooms throughout Hamilton.
Connor: With that initial success established, how do you view the program's goals moving forward?
Sara: Our goal is to continue to develop and grow the program, reaching as many students and teachers as possible. We are really excited about our new offering starting in September with a 5th visit to the AGH. Up until now, our program consisted of 4 artist visits to each participating AGH: In-Class classroom. Now, as part of the package, each class will be invited to the gallery for a ½ day tour and arts experience.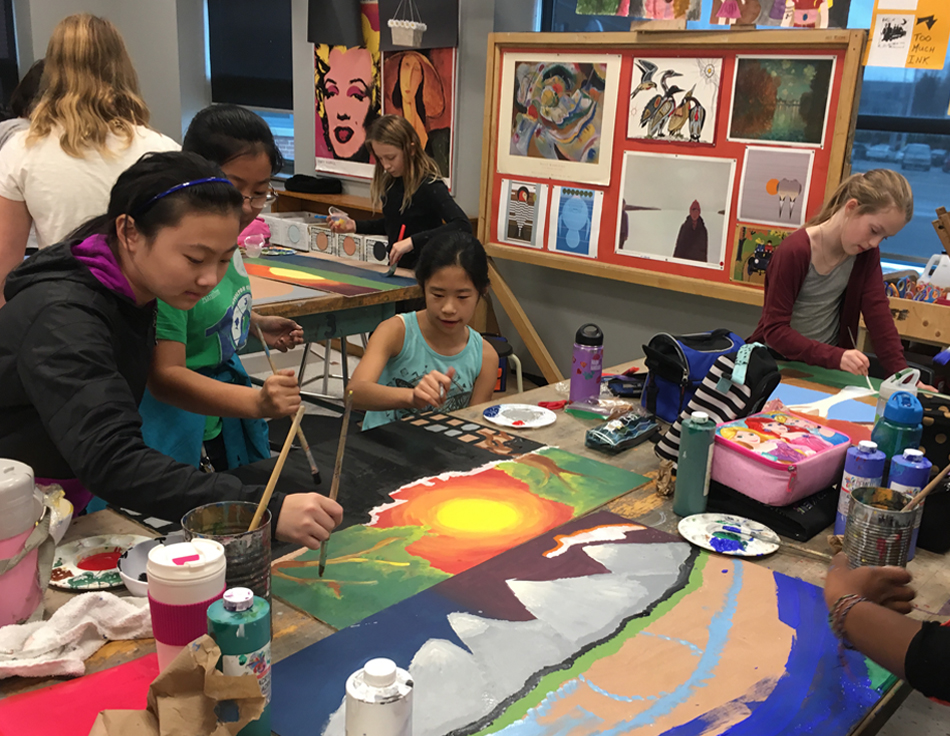 Connor: That's exciting to hear about, as it seems to shift the comfort zones of both educators and their students. Do you think that's part of the responsibility of being one of the city's arts institutions – to be actively involved in teaching art?
Sara: I do. I think as an art institution, we want to create an environment that inspires creativity, challenges perspectives, and develops a conversation that includes everyone. The Gallery offers so many hands-on opportunities for learning, and I think that is so important. The 5th visit to the gallery is going to be really impactful for students and teachers who've already been inspired by working with a professional artist, and I think it will deepen their experience here. It's all about accessibility, about making the Gallery doors as open to everyone as possible. We want everyone to feel welcomed and part of the Gallery.
Connor: It sounds like the projects represent yet another "access point" – as Tobi and I discussed in our interview – that yields another audience that wouldn't necessarily feel excited about our exhibitions unless first primed to be excited about art in general.
Sara:  That's what we're hoping for – kids will feel empowered, having created art with an artist in a classroom, and that will change their experience in art galleries. Positioning the Gallery visit at the end of their four in-class days makes the trip that much more exciting and rewarding. We want kids to leave and feel excited not only about making more art, but making more trips to art galleries.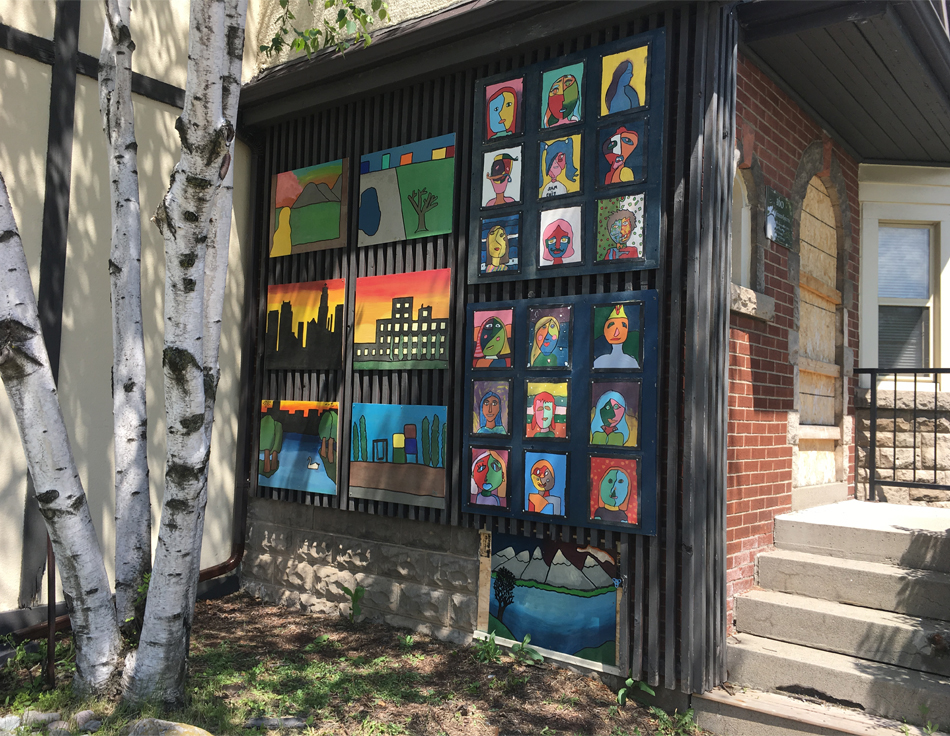 Connor: The strength of the program seems to be an extending of the space of arts learning through to the classroom and Gallery, out into the city. This same impulse seems to be at the core of the Community Corridor project. Tell us about that!
Sara: We had the opportunity to work in partnership with Metrolinx, the Hamilton Community Benefits Network, and the HWDSB to create art to cover a couple of the expropriated buildings along the proposed LRT line, that have been vacated and sitting empty for the past year. Artist-Educator Nancy Benoy worked with students from Dalewood Middle School and Cootes Paradise in Westdale to create murals, portraits, and paintings that celebrated the vibrancy of their community. You can see their work on Main West between Paisley and Bond. Visual artist and filmmaker, Vanessa Crosby Ramsay, lead students from Delta and Sir John A. MacDonald on a photography and visual arts project. Their work explored the symbolic meaning of the circle in showing unity, closure, strength, and balance, reflecting on their feelings around the closure of their schools and the creation of a new school community. You can see their work at 696 King East.
We try to integrate a community-building experiences in all our programming, whether it's the classroom community, the school community, or the city.