Spring is always an exciting time for the arts in Hamilton – the warmth of the sun and the colours of the season providing a welcome complement to trips to our city's many arts and culture organizations.
While we currently remain in lockdown, barring art lovers from the relaxing comforts of indoor Gallery spaces and our ever-popular Sculpture Garden, there are still so many engaging arts opportunities for art lovers of all levels, whether you're an established artist yourself, an emerging talent, or simply looking to build your skills!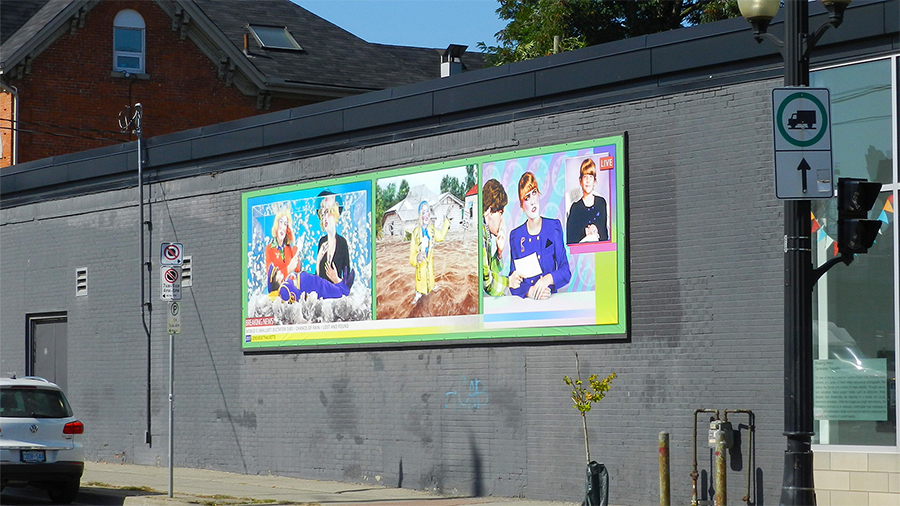 Hamilton Artists Inc presents Geneviève Thauvette's Breaking News, on view on the Cannon Project Wall until May 30. A series of hand tinted self-portrait photographs that satirize the format and content of news reports, Breaking News provides bright and enticing imagery that nevertheless demands serious contemplation.
The Inc is also currently seeking applicants for two open career opportunities, hiring both an Executive Director and a Public Programs Coordinator. Apply anytime before April 30.
Factory Media Centre also offers art to passersby, activating its window space monthly for Window Exhibitions of film and media art. Currently on view both online and in Factory's window, Play at Home Order features McMaster Multimedia undergraduate students presenting their final research-creation projects.
Looking to exhibit your work in this space? Factory is also currently seeking submissions from media and experimental film artists in all levels of their careers. 
Last but not least, the Art Gallery of Hamilton remains our favourite virtual Spring destination! While our doors remain closed, our community can still enjoy a wide range of virtual programs such as the upcoming panel talk on our newest exhibition Esmaa Mohamoud: To Play in the Face of Certain Defeat. Plus, enjoy the work of talented local artists in both the Women's Arts Association of Hamilton and Youth Art online exhibitions.
Next week also marks the launch of our favourite Spring event of all – the AGH Art Sale. Join us for this month-long celebration of over 60 talented regional artists, shop on our new eCommerce website, and support the AGH all from the comfort of your home. Register today for two days of early access through the Collectors Online Preview.
Please note that at the time of this publication, the AGH is temporarily closed. We continue to follow the advice and directives of the local public health officials, the provincial government, and our Board of Directors, so stay tuned to our Plan Your Visit and COVID-19 Guidelines page for updates. We hope our visitors remain connected to our programs and exhibitions through AGH at Home and Shop at AGH Online.
---
Header image: