Last week we published an article highlighting all the articles exploring the Gallery Level 1 exhibitions, giving visitors online and in-person a chance to preview or re-experience the work currently on display. This week, we're turning to our Gallery Level 2 exhibitions, including our permanently installed The Collection exhibition, as well as the works available to view in our Jean & Ross Fischer Gallery and Irving Zucker Sculpture Garden. We hope that whether you have made the trip recently or not, you can enjoy a range of arts experiences right here in the AGH Magazine!
---
In Residence: Sylvia Nickerson
In Residence: Sylvia Nickerson
Our newest artist-in-residence, Nickerson started her exhibition with a series of online videos before installing within the Gallery Level 2 space this past weekend! This article explores the local comics artist, writer, and illustrator, who will be using the exhibition space to spark a range of community dialogue opportunities, with the ultimate goal of developing content for her new fantasy adult-oriented literary graphic novel exploring the future of artificial intelligence.
---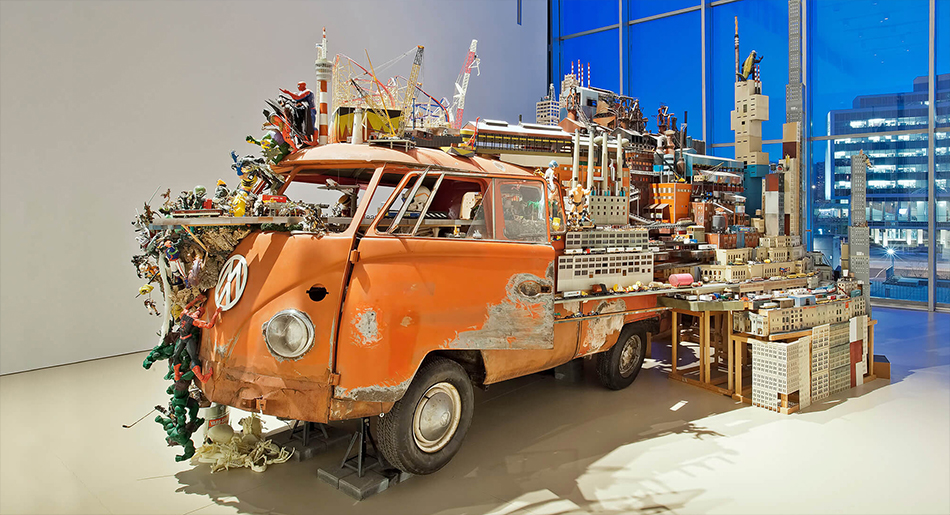 Kim Adams: The Bruegel-Bosch Bus
Collection Showcase: Kim Adams's Bruegel-Bosch Bus
Exploring the massive visitor favourite, Kim Adams's Bruegel-Bosch Bus, this article seeks to situate the work within the artist's decades-long practice. Comparing it to both the classic artistic works that inspired it, and similar Adams works, the bus stands on its own as an integral staple work on Gallery Level 2.
---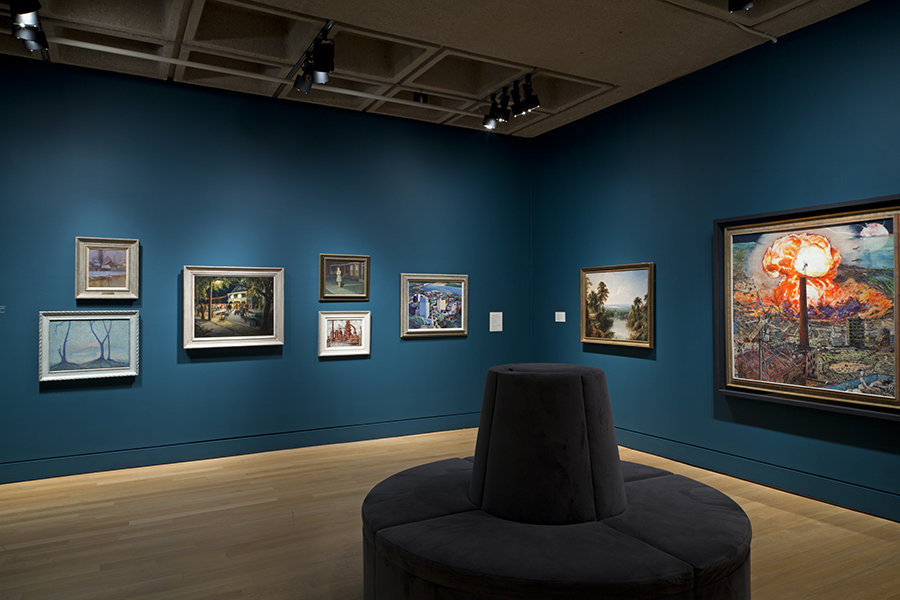 Collection Showcase: Meryl McMaster
Ottawa-based artist Meryl McMaster made international waves in 2019, exhibiting in Canada, the UK, France, and Australia. Enjoy this article to learn about the incredible artist, and why we feel so fortunate to be able to house her works within our Collection.
Collection Showcase: Tim Whiten
Currently on display in The Collection, Tim Whiten's Lucky, Lucky, Lucky exemplifies the Canadian artist's ability to re-work familiar materials into sublime sculptures. This article explores that work, and a small selection of other Whiten works, some of which have produced unforgettable moments in our recent and current exhibitions.
Collection Showcase: Robert Houle
This article looks at Saulteaux artist Robert Houle, focusing in particular on his two on-display The Collection works, Kanehsatake and Aboriginal Title, two direct responses to important moments in Indigenous resistance in Canada.
Collection Showcase: Robert Whale's View of Hamilton
A very special Collection Showcase, this article features AGH co-op placement student Lauren Broughton exploring her favourite piece in The Collection, Robert Whale's View of Hamilton. Read on to find out what Lauren loved about this dreamy landscape!
Collection Showcase: William Kurelek's This is the Nemesis
Featuring another, far-more-dramatic view of Hamilton, this Collection Showcase explores the apocalyptic This is the Nemesis from the ever-popular, ever-eclectic Canadian artist, William Kurelek.
The Four R's of Morrisseau
This article explores our former Norval Morrisseau exhibition which, while no longer fills our Gallery Level 2, included many of the artworks on view within The Collection. The exhibition's curator, Tara Ng, reveals the respect, reciprocity, relationships, and responsibility at the core of the Anishinaabe artist's practice.
---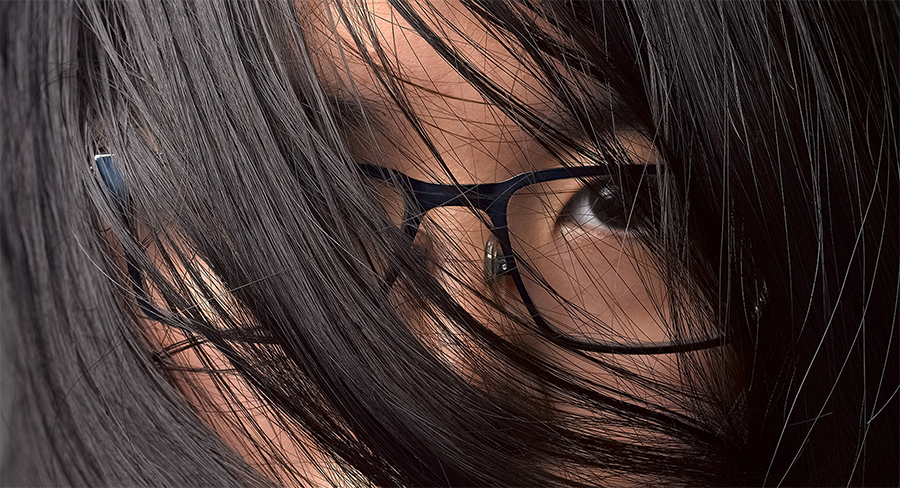 Hidden: Sharing the Stories of Ontario's Young Carers
The Invisible World of Care
Presenting 24 photo portraits taken by UK photographer Max Alexander of young people throughout Ontario who serve as caregivers to a family member or loved one, Hidden: Sharing the Stories of Ontario's Young Carers launched online with this article before filling our Jean & Ross Fischer Gallery.
---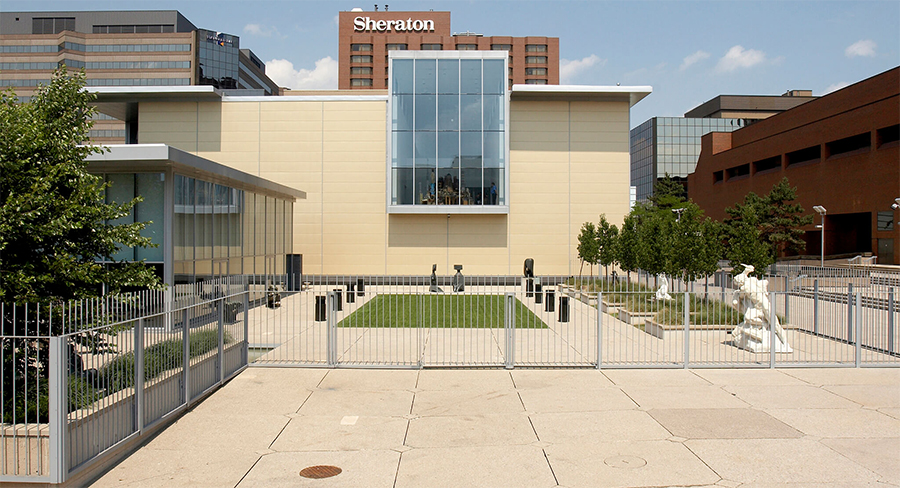 The Irving Zucker Sculpture Garden
Downtown Hamilton's Best Kept Secret: The Irving Zucker Sculpture Garden
While not housed within the Gallery itself, the Irving Zucker Sculpture Garden is home to 14 sculptures by 13 artists, many of which are major works from around the globe. This article explores just a few of the many worthwhile sights to see in our free-to-view sculpture garden!
To view even more of our AGH Magazine On Display content, check out last week's article highlighting the Gallery Level 1 exhibitions. For even more online AGH content, head to AGH at Home, the central hub for all of our online offerings! Excited to head in to the Gallery? Check out our Plan Your Visit page for everything you need to know. We hope to see you at the Gallery very soon!