Back in April and August, we published the first two instalments in a trilogy of articles taking snapshots of Michael Snow's long, prolific career. "Snow in April" and "Snow in August" explored the Canadian icon's experiments on paper, film, and in sculpture, exhibiting his work on the grandest national and international stages. Before our landmark exhibition, Early Snow: Michael Snow 1947-1962, closes on Thursday, January 3, this AGH Magazine article takes one final look at Snow in December.
Born on December 10, 1928, Snow's upcoming 92nd birthday provides fitting timing for our final Early Snow article. Exploring the artist's early formative years, Early Snow's impact is one of portraying the simultaneous building for a great artistic future and of creating work with sustained resonance. With all the drastic changes happening throughout the world during this exhibition's time on display, one minor side effect has been the housing of the work months beyond its original closing date. Throughout this prolonged time in our Gallery, the exhibition has inspired several AGH Magazine articles, a virtual tour of the exhibition, and (prior to our necessary shift online) an unforgettable exhibition opening. Before we look back to a year with Snow, let us take a detour to one more December in Michael Snow's long career.
---
Michael Snow Retrospective
Organized by National Gallery of Canada
Ottawa, Ontario
December 1978 – April 1980
Looking back from the perspective of an additional four decades of productive work by Snow, we look to the National Gallery of Canada-organized Retrospective in 1978, opening a few days after the artist's 50th birthday. Spearheaded by decorated Canadian curator Pierre Théberge, the exhibition featured 16 photographic works, 8 films, 3 projected slide works, and 3 sculptures, all travelling to Paris, Rotterdam, Bonn, Montréal, and Vancouver. Notable in its size and scope, Retrospective produced a French catalogue from the Centre Pompidou, a larger German and English catalogue from the Kunstmuseum Luzern, and a Dutch catalogue produced by the Museum Boymans-Van Beuningen. In addition to all these works and words, Snow's musical group CCMC performed at the Centre Pompidou to celebrate the occasion.[1]
Appearing in the French, German, and English versions of the exhibition catalogue, "Pierre Théberge: Conversation with Michael Snow" featured the artist and curator discussing the works on display, Snow's views on the perception of time, and the changing shape of his work over time. "The general form of the exhibition is camera-related works, or at least things that have to do with the kinds of effects the camera has on perception," said Snow, discussing the changing relationship to time between the production and perception of camera-made art.[2] Snow ruminated further on this thought, noting "one of the interesting things about the still photograph, in the same way as certain paintings, is the aspect of fixing a moment in time, which of course is also an illusion, since like everything else it's slowly changing."[3] Reading this interview as an act of retrospection observing another previous moment of retrospection, we can see Snow's point perfectly – as our view of his words changes relative to our moment in time, so too does the work itself.
Glancing back on this 1978 exhibition as a snapshot in the passing of time, we see it now as an important moment in Canadian art history – the first large-scale reflection upon the work of this great Canadian artist. Beyond looking just to Snow, Théberge too emerges as an important figure within this snapshot, himself having his own long, prolific career. Occupying positions as Chief Curator and Director at the Montréal Museum of Fine Arts, Théberge's reputation grew with daring exhibitions like Tintin's Imaginary Museum (1980), Snoopy, the Masterpiece (1992), and Masterpieces in Motion: A Century of Automobile Design (1995). Before his passing in 2018 at the age of 76, the curator earned national honours for his innovative work growing one of Canada's finest arts institutions, becoming an Officer of the Order of Canada in 2001 and receiving the Medal of the Royal Academy of Arts in 2005.
As for the artist himself, let us now return from one exhibition to another, and reflect on our year with Early Snow: Michael Snow 1947-1962.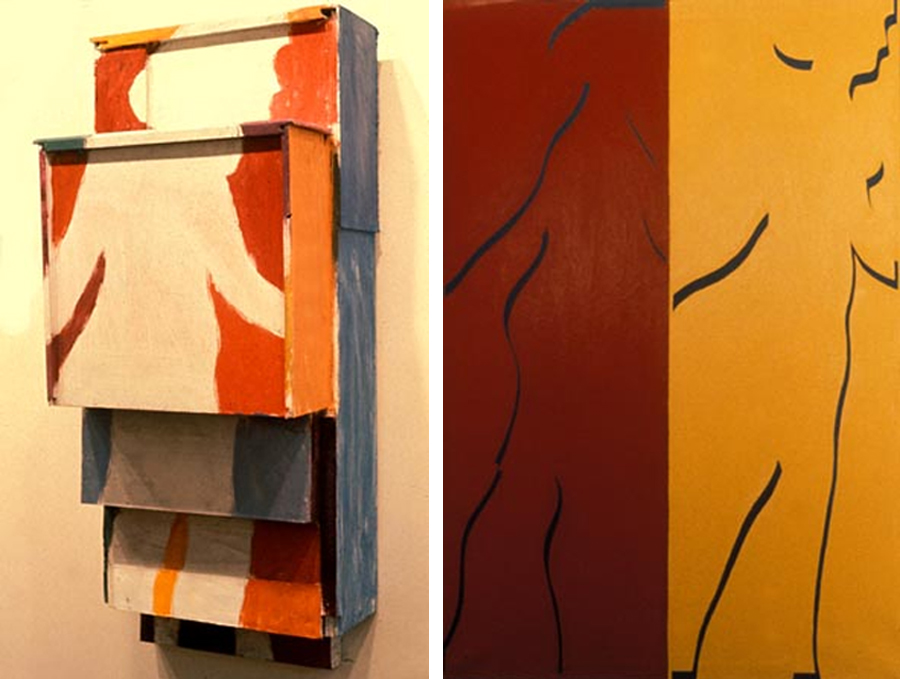 ---
Early Snow: Michael Snow 1947 – 1962
Art Gallery of Hamilton
Hamilton, Canada
February 8, 2020 – January 3, 2021
The first exhibition to focus exclusively on Snow's early formative years, Early Snow looks beyond the scope of many Snow exhibitions produced in decades past to consider the artist's blossoming style in foundational works produced as early as 1947. Comprising over 40 works reflective of Snow's broad and diverse creative practice, the exhibition follows the growth of a driven nineteen-year-old artist into the talk of the Toronto (and subsequently, New York) arts world. While Snow continues to innovate today – landing on TIFF's Canada's Top Ten list for short films in 2019 with the experimental short Cityscape – an exhibition housing such notable works as the artist's first-ever animated short (A to Z) persists in its relevance and resonance.
At the show's opening back on February 8, the work was unveiled to the public complemented by both The Artist's Dream: Works of French Symbolism and The Contemporaries – a complementary exhibition to Early Snow featuring AGH permanent collection works from notable Snow contemporaries. Divided into two groups – the artists synonymous with the iconic Isaacs Gallery and the prominent Toronto artists comprising the Painters Eleven – the exhibition features such notable artists as Joyce Wieland, Jack Bush, and Dennis Burton.
Also showcased at our Winter Exhibitions Opening was an instalment of Watch It Burn, a music/film/performance series coordinated by Zula Creative Music and Arts. Just as during the 1978 celebration at the Centre Pompidou, Snow performed with his musical group, CCMC, delivering their infamous form of jazz and improvisation. Paired with CCMC's music performance was a screening of Canadian composer John Oswald's Homonymy (1998), a short film homage to Snow's well-known short So Is This (1982). Also positing a response to Snow's work, local arts collective (For) No Other Reason performed Undercut, a performance reaction to Snow's iconic Walking Woman series.
Our time viewing the exhibition in person would only last another month after that roaring opening, as we closed to the public in mid-March in observance of public health restrictions. While we managed to squeeze in a February 27 16mm film presentation of Snow's masterpiece, Wavelength (1967), our closure urged us to continue delivering meaningful ways to engage with the exhibition. Snow fans can now read AGH Magazine articles on Wavelength (along with exhibition work A to Z), on both the Isaacs and Painters Eleven halves of The Contemporaries, on the Winter Exhibitions Opening itself, on the Undercut performance by (F)NOR, on the transportation of a Snow collection work to Los Angeles, and more! Plus, we have a Virtual Tour of the exhibition available, complete with the soundtrack to Toronto Jazz, a Don Owen NFB film featuring Snow on the piano.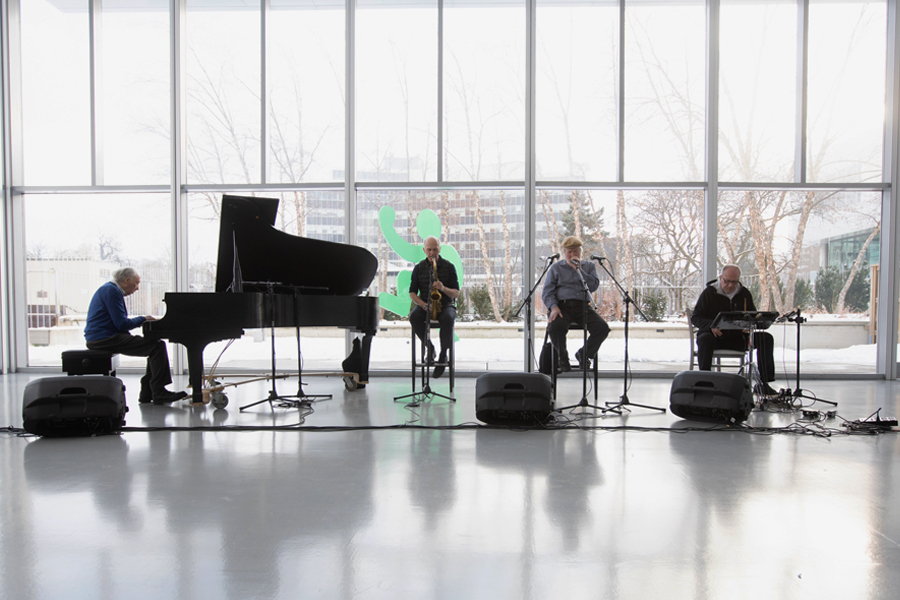 So, as we look back on this year, we in turn look forward – to the artist's 92nd birthday next week, to a final month with Early Snow on our walls for our community to see in person, and to the wide range of ways to engage with the AGH exhibitions next year. Don't forget to check our Holiday Hours and COVID-19 Guidelines page so you can see Early Snow before it's gone! While you're here, make sure to grab a copy of the exhibition catalogue or Dr. James King's Michael Snow: Lives and Works biography at the Shop at AGH.
---
[1] "Reviews: Paris," artscanada, vol. 35 no. 4, January 1978, 70, accessed December 1, 2020, http://ccca.concordia.ca/resources/searches/event_detail.html?languagePref=en&vk=8006
[2] "Pierre Théberge: Conversation with Michael Snow, 1978," The Collected Writings of Michael Snow. Wilfred Laurier University Press, 1994, accessed December 1, 2020, https://monoskop.org/images/1/18/Snow_Michael_The_Collected_Writings_of_Michael_Snow.pdf
[3] Ibid.
---
Header image: Installation view of Early Snow: Michael Snow, 1947-1962, 2020. Photo: Glenn Lowson.